Overview About Enclosed Car Transport Service
There are various choices for shipping an automobile, but covered car transport is ideal if your vehicle is an investment. If you need to transport any of the following, enclosed car transport is probably the best option: a sports car, a classic car, a luxury car, an antique or vintage vehicle, a vehicle with a custom or unique paint job, or a "garage queen" that you've spent a lot of time detailing to achieve a show-car finish.

Covered car shipping is also an option if your vehicle has emotional worth. However, we recommend using open auto transport if you need to send a normal vehicle or daily driver
These are the most common types of carriers used in enclosed car transport. As previously said, these utility trailers are ideal for classic vehicles, collecting cars, historical cars, or any other vehicle requiring extra care while being transported.
Covered car trailers offer improved protection against the weather, flying debris, and other potential hazards that may harm your car during travel.
Enclosed Single Car Trailer: Like the open counterpart, a single covered car transport is frequently towed behind a dual-wheeled truck.
However, these may also be utilized as motorcycle transporters and, when palletized, can accommodate three or four motorcycles. They are also employed for short delivery journeys or transportation circumstances with special requirements.
They will be utilized for faster door to door delivery, as will open trailers. Still, single covered car hauler is likely the most costly means of carrying a single vehicle, especially over long distances.
They provide the most protection and safety of any technique for moving vintage, exotic, and high-end luxury automobiles.
Enclosed Single Level Trailer with Multiple Cars: These differ slightly from their open-version counterparts. While they still move automobiles on a single level, being ramped or goosenecked to the hauling truck is not advantageous.
Single-level multi-vehicle trailers can transport two to five automobiles over short and long distances. Loading and unloading take less time than enclosed multilevel multi-car transporters.
Enclosed Trailer with Multiple Levels and Cars: While smaller than their open-air predecessors, these tall, enclosed trailers normally transport up to six automobiles. They may be found in both soft-sided - curtain-sided - and hard-sided trailers.
They will sit low to the ground to clear low-clearance highway bridges. Drivers must use caution even if they are experiencing problems off the road and highways.
Enclosed Hotshot Trailers: Hotshot enclosed trailers may also be utilized during enclosed shipment since some models are enclosed. These car hauler trailers are ideal for transporting two or three automobiles at once and are regularly hired for short trips.
Hard-sided carriers: Hard-sided carriers are constructed of steel or aluminium and feature solid walls, roofs, and floors to protect the cars within. They are frequently utilized for moving high-value luxury automobiles or collector's goods that must be handled with extreme care and protection.
Soft-sided carriers: Soft-sided carriers, on the other hand, feature canvas or vinyl walls and are frequently used to transport normal passenger vehicles or motorbikes. They are more adaptable and less expensive than hard-sided carriers but provide less protection from weather and road debris.
Finally, the decision between hard-sided and soft-sided enclosed carriers is determined by the vehicle owner's or transport company's demands and budget.
Oversize Enclosed Trailers: These covered transport trailers are frequently used to convey cars too tall or broad to fit in a standard enclosed trailer.
Service From Door to Door: All of Rapid Auto Shipping's automobile transport solutions include door to door service, just one of the numerous benefits our customers receive when they choose to deal with us.
Our carrier will pick up and deliver your vehicle as close to your desired destinations as feasible, regardless of where you are coming from or departing. Most of the time, this means door to door service!
Suppose there are any physical impediments, such as low-hanging branches, road closures, debris, or extreme weather. In that case, Rapid Auto Shipping will work with you to find an accessible collection location. If that isn't feasible, our carrier will keep your automobile secure until other arrangements can be arranged.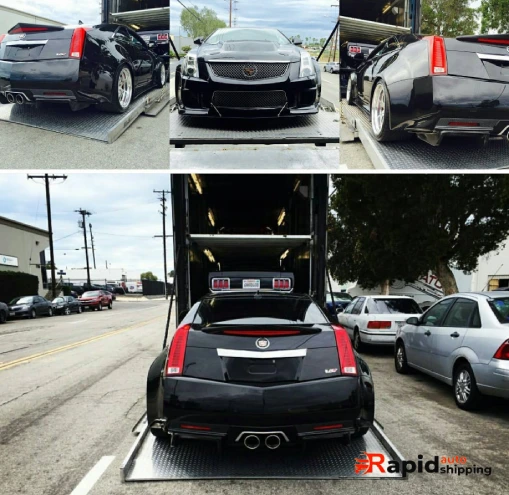 When you order with Rapid Vehicle Shipping, you will be able to choose from a variety of vehicle shipping providers. You may be confident that it is up to date and functioning well. We only work with carriers who employ the most secure, safe, and dependable modes of transportation.
Enclosed Auto Transport Across the Country: We have been transporting vehicles across the country for 15 years. Our enclosed car carrier drivers are specialists in transporting antique and exotic cars.
Enclosed Transport for Auto Shows: We realize how difficult it is to prepare an antique or exotic automobile for an auto show. With on-time delivery to and from the show, the professionals at Auto Star Transport Express ensure that your car arrives at the exhibition just as it left your garage.
Automotive Auction Transport: We provide auto transport services from and to the significant automotive auctions in the country.
Count on us for enclosed auto transportation to ensure that your new vintage, luxury, or exotic car arrives and departs the auction block in the same condition it arrived.
Individual Or Corporate Relocation Services: We can assist you in transferring your personal or business automobiles to your new home or workplace using our covered fleet of car carriers.
Corporate Enclosed Auto Transport: The corporation prioritizes vehicle museums, dealers, and manufacturers. We are the best solution for your automobile shipping needs because of our knowledge, auto transport professionals, equipment, and technology.
Enclosed Motorcycle Shipping: We carry enclosed bikes such as custom motorcycles, sidecars, and tricycles. Our enclosed trailers, flat flooring, and soft tie-downs ensure that your motorbike arrives safely, whether it's at a motorcycle show or being delivered to a new home. No crating or packing is required to send your bike!
Enclosed Race Car Transportation: Transporting racing vehicles to and from events and meets in enclosed race car transportation. On our lift gate-loaded trailers, we can carry any racing vehicle securely and service most race tracks across the country.
Due to the low clearance, our truck drivers are well-versed in handling race cars, their fragile bodywork, and their engines.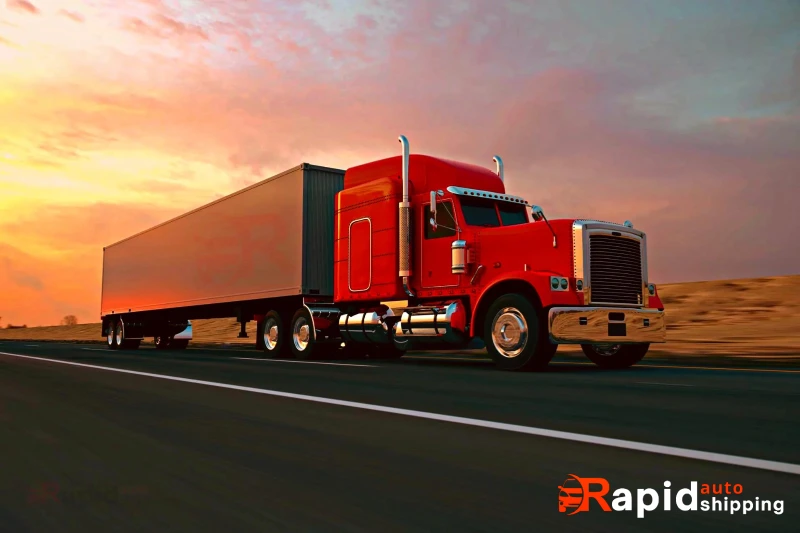 When preparing your car for enclosed auto shipment, you should take a few measures to guarantee that it reaches its destination in the same condition it was placed into the trailer. Here are some pointers to get you started:
Clean and examine your vehicle: Before exporting your car, thoroughly clean it inside and out. This will allow you to evaluate and note any damage to the vehicle.
Remove personal things and accessories: To minimize damage or theft during shipment, personal belongings such as GPS devices, auto chargers, and other accessories should be removed from the vehicle.
Secure loose components: To minimize damage during shipping, any loose pieces on your car, such as spoilers or antennae, should be removed or fastened.
Check fluid levels and tire pressure: Check the fluid levels, including oil, brake, and transmission fluid, and make sure the tire pressure is suitable for shipment.
Please keep a record of the vehicle's condition: Take photographs of your car before loading it into the trailer, and write down any existing damage or scrapes. This will allow you to compare the condition of your vehicle before and after it has been shipped.
When considering enclosed carrier vehicle transport services, bear the following considerations in mind:
Vehicle protection insurance: When using enclosed car shipping services, you must insure your vehicle. It is critical to verify that your provider provides insurance coverage that is adequate for the worth of your vehicle.
This will give you peace of mind, knowing that your car is insured no matter what occurs during transit. It would help if you also inquired about the precise insurance terms, such as what damage is covered, how much coverage is offered, etc.
This will assist you in ensuring that you are adequately protected in the event of an unforeseen event.
Cost: While this service is typically more expensive than open transportation, there are still methods to save money and get the most bang for your dollar.
Obtain quotations from suppliers to compare rates and discover the best bargain on enclosed vehicle transport services.
The vehicle type: Some vehicles are more appropriate for enclosed transportation than others. For example, if you're shipping a high-end or luxury automobile, you'll likely choose an enclosed service to preserve your investment.
Time of delivery: Due to fewer available carriers and schedule issues, covered carrier transit may take longer than open-air transportation. Before agreeing to their service, ask the provider if they have any projected delivery timeframes so you know when to expect your automobile.
Reviews: Read evaluations from prior firm customers online or on social media platforms such as Yelp and Google evaluations before choosing an enclosed vehicle transport service.
This can assist you in understanding how other individuals felt about the enclosed car transporters and whether or not they would suggest their services to others.
Your financial situation: Enclosed car transport services can be much more expensive than open-air travel. However, the increased security may be worth it for individuals who need to travel their automobiles over long miles or in adverse weather conditions.
Before making a selection, seek estimates from various enclosed car transporters and compare them.
Takeaway: Covered car transport is the way to go if you want the most safety and security when moving a car!
When safely and securely transferring your automobile or truck from one location to another, there is no better solution than covered auto transport.
Though this approach will cost more than open transportation, it will be worth every cent invested because you can keep your car secure while traveling.
Protection from the elements: Enclosed car transport is the most secure method of automobile shipment, shielding vehicles from elements such as snow, rain, sun, and wind. Cars are protected from the elements by being covered and encircled by walls and a roof.
Security: To accommodate all vehicles, the enclosed trailers are outfitted with ramps, straps, and ratchet tie-downs. These truck drivers are also highly qualified specialists who understand how to secure your vehicle during transit securely.
They will take all essential procedures to protect the safety of your car during its voyage.
Higher insurance coverage: If something occurs to your vehicle while in transportation, you'll have more peace of mind knowing you're financially insured if something goes wrong.
An enclosed car transporter may be the finest solution if you need dependable and secure enclosed car shipping services.
Faster transit: Enclosed car transport is frequently faster than open auto transport. This is because fewer automobiles are placed in enclosed trailers, making it easier for enclosed car transporters to fill the space without waiting for more vehicles to join the load.
Discretion: Enclosed auto transport provides more control because the automobile is covered and not visible to the public. This is especially crucial for costly or exotic cars, which are more likely to be stolen.
The cost of covered auto transport is higher than that of open carrier transit. Enclosed car transport is more expensive since it is a specialist service and only a few drivers have the necessary equipment. However, the actual cost is determined by various factors, including:
The beginning and finishing points. Shipping your automobile over state lines is different than sending it coast to coast: As you may assume, the longer your vehicle travels, the more expensive the journey for auto transport services will be.

The path has been chosen. Due to their weight class, large freight vehicles, such as covered auto transport carriers, are not permitted on some roads. This may necessitate the motorist taking a longer or detoured route. Examples include city streets and parkways that are designated for non-commercial usage.

It's the season. Enclosed car transport is typically more expensive during winter due to increased demand for enclosed automobile transportation due to snow, sleet, and ice. Roads are also substantially more risky, which may impact overall costs.

Dates that work best for you. Some times of the year are busier than others, mainly since most auto exhibitions occur between spring and fall, and the most active moving months are June, July, and August. Weekend pickup dates are trendy, which might drive up prices.
Enclosed car transport usually is 40% to 60% more expensive than open transport with Rapid Auto Shipping, but you can be confident that you will receive the greatest care for your vehicle with enclosed car transport.
When moving a vehicle, selecting a reputable covered auto transport company that can perform the work with care and efficiency is essential. Here are five reasons why you should hire us to move your covered vehicle:
We stand apart from the crowd when it comes to enclosed car shipping businesses. Our years of experience and commitment to client satisfaction distinguish us from our competition. We take pride in our work and are dedicated to delivering your vehicle safely and on time.
Licenses and Insurance: We recognize the importance of protecting your car while being transported. Our organization is completely licensed and insured, so your vehicle is covered from any damages or losses that may occur during transportation.
We make every effort to protect your car, providing you the piece of mind that it is in good hands.
Customer Testimonials and Reviews: Our customers are at the core of all we do. We appreciate their input and are grateful for the excellent evaluations and testimonials we receive. Our happy clients attest to the high quality of our services and the degree of attention we deliver.
Evaluating Quotes: We provide competitive prices and are transparent about our charges. We urge our customers to compare our pricing to those of other enclosed car transport businesses to determine the value we provide. We offer special prices that include all fees related to transporting your vehicle.
Communicating Requirements and Expectations: We recognize that each consumer has different requirements and expectations.
We take the time to listen to and understand your needs, ensuring that we provide a customized service that exceeds your expectations. Throughout the process, our team of specialists is always accessible to answer any questions or concerns.
Choosing us for covered auto transport means selecting a business committed to providing excellent customer service, safeguarding your vehicle, and delivering it securely and on schedule.
Contact us today to learn more about our services and how we can assist you with automobile transportation.
You may check internet tracking from any place at any time, seven days a week, and it is always up to date. When you plan your shipment, you will be assigned a unique registration number that will allow you to track its progress online.
You may also utilize the monitoring link to live chat with a shipping specialist to receive answers to any questions you have about your arrival status.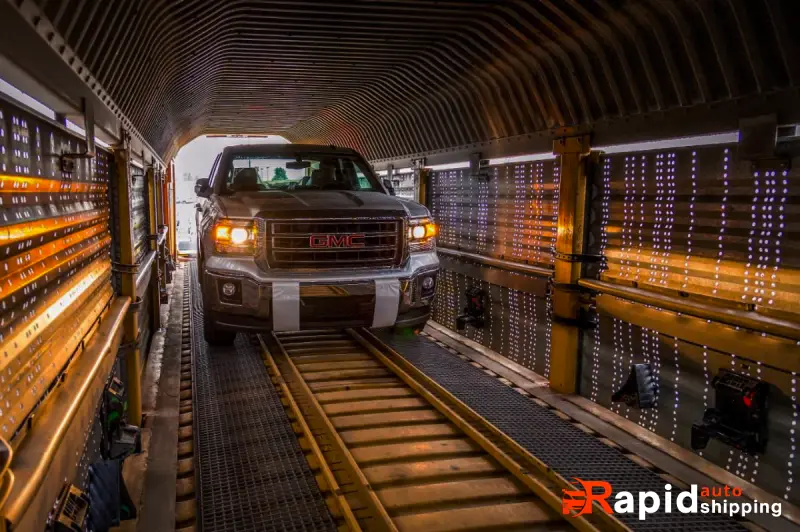 The more you learn about the enclosed car shipping procedure and how we work, the fewer surprises you will encounter. On our website, you may use our free online car shipping quote calculator to estimate the cost of transferring your vehicle.
One of our pleasant and experienced staff members calculates the free automobile delivery estimate. We work hard to guarantee that your transit experience is the best. For assistance, please call +1 (833) 233-4447. A quotation may be requested online.