As you know, automobile transport is significantly more straightforward in the spring and summer. Whether that is warmer makes logistics substantially more efficient.
The majority of house moves are likewise carried out between May to September. This is because movers prefer to stay out of inclement weather. And it is particularly true for the states in the north.
The fact that greater demand promotes higher average car shipping charges, as is the case with other industries, is a drawback. Many consumers will pay more to have their car shipped as quickly as possible from point A to point B.
Of course, some people are not constrained by cost. Due to the limited supply caused by the strong demand, many truckers would raise their automobile shipping bids and quotes. In this manner, they might make up for the winter's slack periods.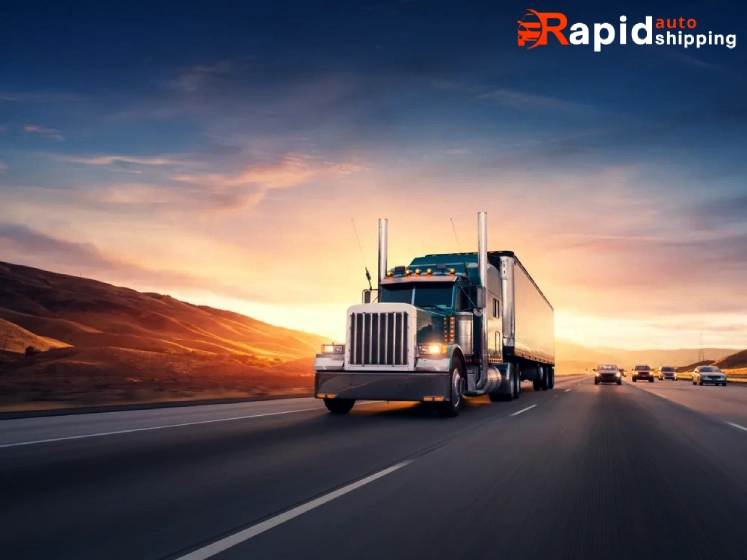 Car shipment may be less expensive when demand is lower in the fall and winter. Car shipment costs are declining as companies compete to fill their trucks. Car carriers will accept autos for less money to fill up their trailers because it is not profitable for them to have space on them.
Additionally, when there is heavy snowfall, the roads are closed, and motorists must wait until the roads are cleared and open. In general, shipping an automobile takes longer in the winter since drivers must use lengthier routes to reach their destinations when roads are closed, especially in the northern regions.
One major disadvantage of transporting your automobile in the winter is that inclement weather slows down traffic. Roads that are slick demand the utmost care and prudence. To prevent accidents, truck drivers must drive more cautiously.
However, it is advised to engage the services of a reputable car shipping business if you are moving and need to move your car in the winter. Hiring an auto transporter will be safer if you are a novice driver.
Professional long-distance drivers have received additional training to deal with various road conditions and harsh weather components. They are aware of detours and know how to respond to shifting circumstances.
Wintertime, open automobile shipping exposes the vehicle to inclement weather conditions like ice and hail. Remember that the latter has a higher likelihood of causing some harm to vintage or exotic supercars.
Consider using an enclosed car shipping carrier if you need to ship a car during the winter. If you do it that way, your vehicle will be shielded from any weather-related risks.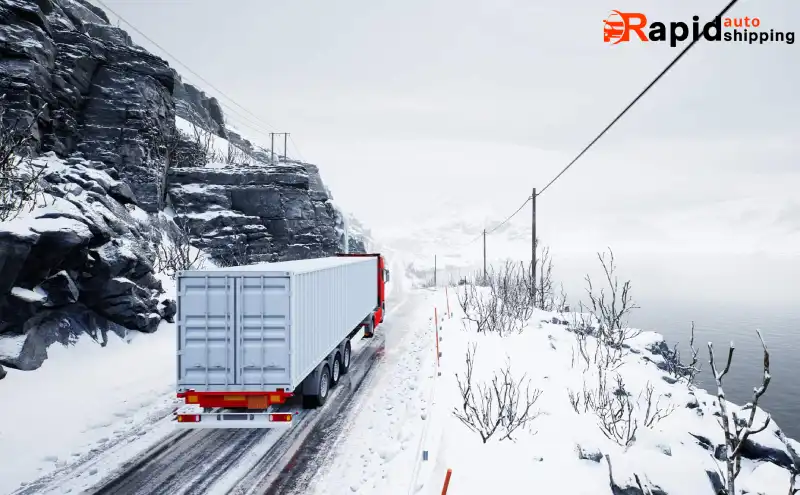 Inclement weather conditions do not affect the guaranteed shipping quote provided to you. The sailing times may impact, but the shipping cost is determined by factors such as the type of vehicle, its current location, and the final destination for delivery.
You can utilize our shipping calculator to obtain a guaranteed shipping quote and determine the estimated sailing times, particularly if you are placing an order for international auto shipping.
Experiencing delays can be quite frustrating; however, it is essential to maintain a sense of patience in such situations. Our utmost priority is to minimize any potential delays while ensuring the safety of your vehicle.
To begin the shipping process, locating a trustworthy auto transport company, such as Rapid Auto Shipping, is essential. We have extensive shipping experience and are fully equipped to handle international and domestic shipping needs.
Understanding how the weather impacts auto transport is crucial for effectively planning your budget and timeframe. We are here to assist you in getting started with this process.
Auto shipping can be affected by various factors, including the weather.
Before ordering domestic vehicle shipping, conducting thorough research on the weather conditions in the specific region where you plan to ship your car is essential. This is crucial because weather patterns can vary significantly from state to state.
When shipping your vehicle to a State, it is necessary to consider potential delays during the winter due to road blockages or icy conditions. In these states, the duration of rain and snow extends from late October to early April.
Even if you require car shipping services during the winter season, Rapid Auto Shipping dedicated team will diligently determine the most optimal route for your vehicle. Ensuring a secure and stress-free shipping experience is our utmost priority.
Rapid Auto Shipping relies on marine forecasts to assess the impact on sailing times for car shipping during late fall or winter.
You can rest assured that there is no need to be concerned about shipping your car internationally, as we have already considered any potential adverse weather conditions when providing you with an instant shipping quote.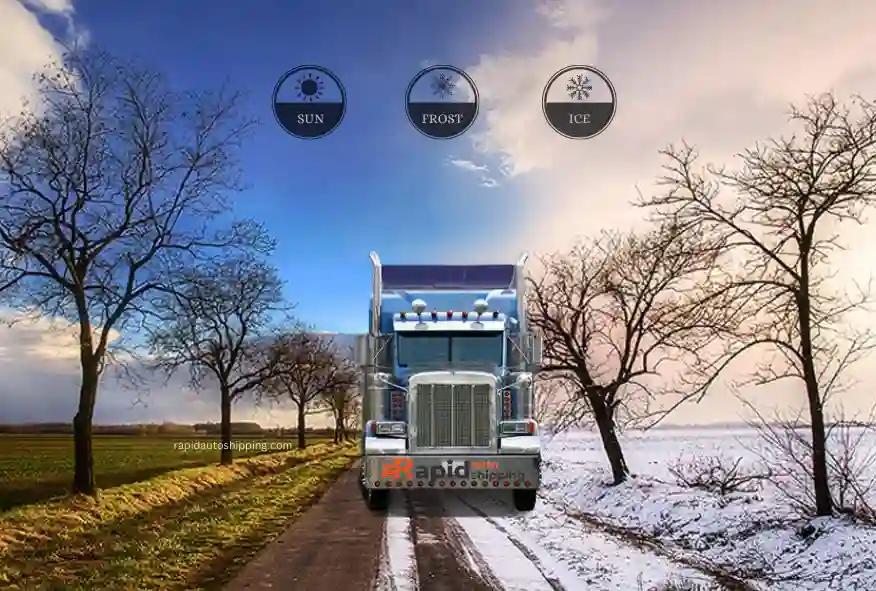 Documents:
When it comes to pick up or drop off, it is crucial to have all the necessary documents readily accessible, especially if you are selling your vehicle.
Cleaning :
When it comes to cleaning, it is essential to ensure that you remove all personal items from your vehicle before shipping. This precaution is necessary to avoid potential loss or damage to your belongings during transit.
It is highly advisable to clean your car before transporting it. This will enable you to assess its condition and identify any damages that may occur during the delivery process.
Running Condition:
It is essential to ensure that the vehicle is in running condition if it will be driven at any point during shipping or if it will be driven home from the drop-off location.
This involves ensuring that there is an adequate amount of fluid, as well as regularly checking the battery charge and tire pressure levels. Furthermore, this can assist you in making a more accurate assessment of the vehicle's condition upon arrival.
Photographic Evidence:
When preparing your vehicle for the car delivery service to pick up, it is crucial to take high-quality photographs of all parts of the car as photographic evidence. This document shows the car's condition before shipping if any damage occurs during transportation.