Transporting a jet ski requires meticulous planning and precise execution to guarantee safe delivery. Below is a step-by-step guide that outlines the process of shipping a jet ski:
Research shipping options:
Please search for reliable shipping companies transporting recreational vehicles such as jet skis. To determine the most reliable option, compare the services, prices, and customer reviews of different providers.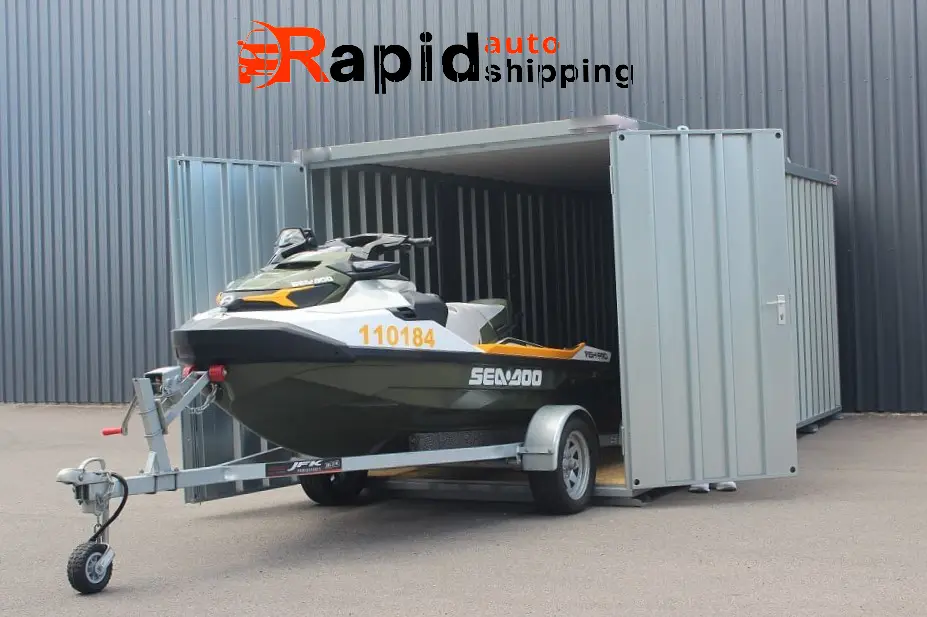 Choose the correct type of shipping:
Two primary options for Jet Ski shipping are open transport and enclosed transport. Open transport is a cost-effective option, but it does leave the jet ski vulnerable to the elements while being transported. Enclosed transport provides superior protection, although it may come at a higher cost.
Get the Jet Ski ready to transport:
Before shipping, ensuring that your jet ski is adequately prepared for transportation is essential.
Please clean the Jet Ski thoroughly to remove any dirt, debris, or saltwater residue.
To minimize potential hazards during transport, it is recommended to drain the fuel tank to approximately a quarter full to reduce the weight.
Please remove any personal belongings, accessories, or loose items from the Jet Ski.
To prevent damage during transit, securely fasten any removable parts or accessories.
Document the condition:
Please take clear photographs of your jet ski from all angles, capturing any existing damage or marks. This documentation will be a reference in case any issues arise during transit.
Obtain necessary paperwork:
Please ensure you have all the required paperwork prepared, such as the registration, title, insurance, and any shipping-related documents the shipping company provides.
Secure a trailer:
If you plan on transporting the jet ski yourself, it is essential to ensure that you have a suitable trailer for securely accommodating the size and weight of the jet ski. When you use a shipping company, they usually arrange the trailer.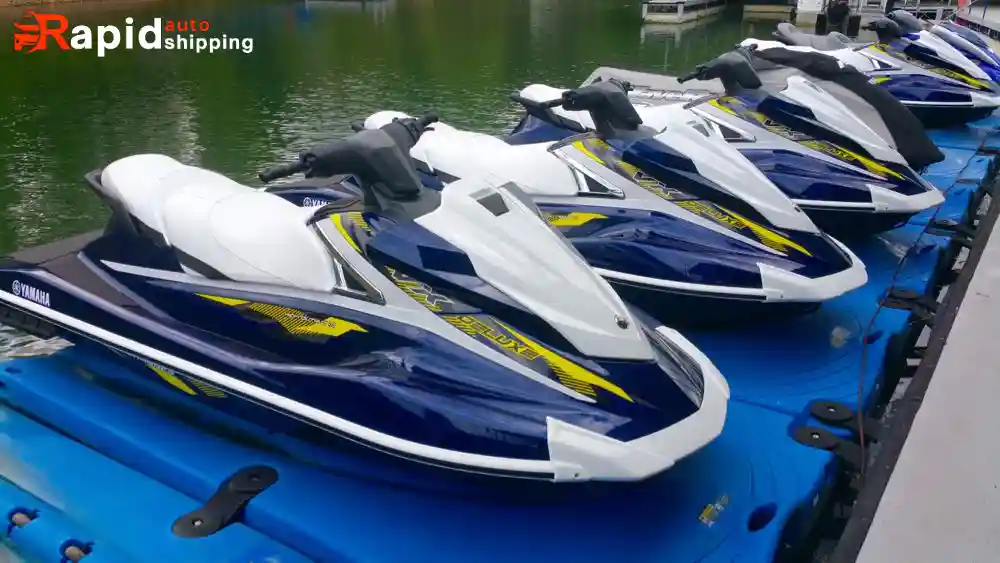 Choose appropriate tie-downs and covers:
Investing in high-quality tie-down straps is essential when transporting a jet ski. These straps will securely fasten the Jet Ski to the trailer, ensuring safe transportation.
It is also advisable to use a cover to safeguard it from damage caused by road debris and adverse weather conditions.
Schedule the shipping:
Please ensure you coordinate the pick-up and delivery dates with the shipping company or the driver if you handle the transportation yourself. Ensure you or someone you trust is available to facilitate the process.
Loading and unloading:
When utilizing a Jet Ski shipping company, their skilled team will handle the loading and unloading procedures. When loading and unloading the jet ski yourself, it is important to exercise extra caution to prevent any potential damage.
Insurance:
Please confirm the insurance coverage with the shipping company. If you plan to transport it yourself, reviewing your vehicle insurance policy to determine if it offers any range during transportation is advisable. If necessary, please consider obtaining additional insurance.
Tracking and communication:
When using a Jet Ski transport company, make sure to ask about the tracking options available so that you can monitor the journey of your jet ski. Ensure regular communication with the shipping company is maintained to stay updated on your shipment's progress and address any concerns.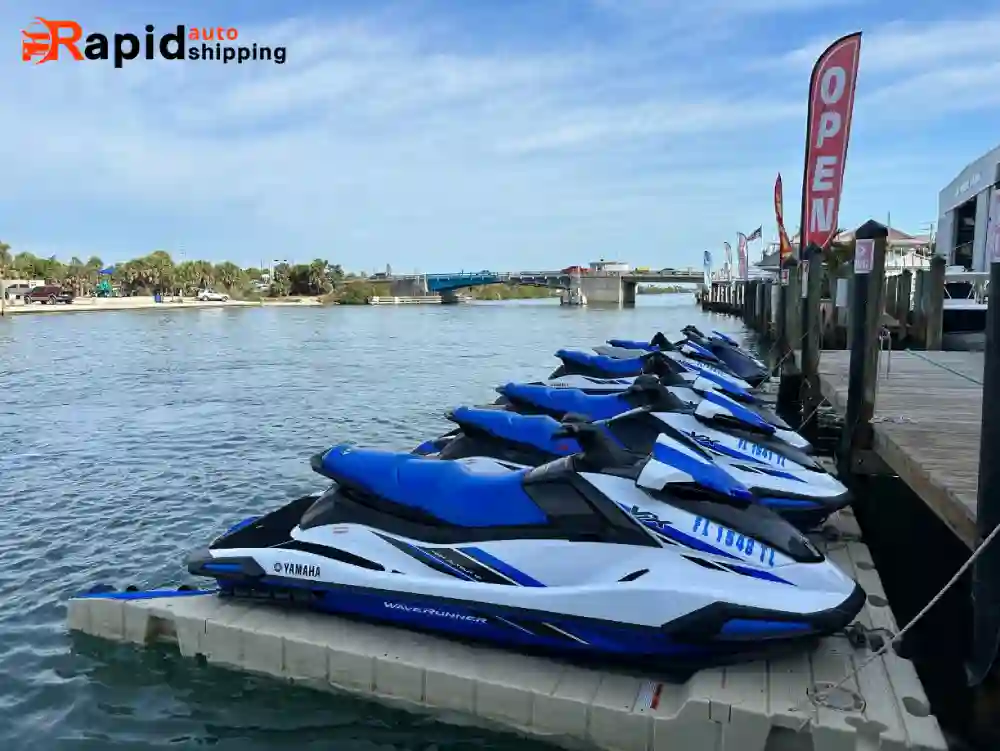 The shipping options for Jet Skis can vary based on factors such as the distance, location, and the specific shipping company chosen. Here are several commonly used options for Jet Skis shipping:
Open Trailer Shipping:
The most straightforward and economical approach is this one. Your Jet Ski will be delivered to the location and put into an open trailer. It will, however, be exposed to the elements while in transit.
Enclosed Trailer Shipping:
To enhance the safety of your shipment during transportation, you can choose enclosed trailer shipping. The Jet Ski will be securely stored inside a closed trailer, protecting against weather conditions and potential road debris.
Crated Shipping:
Certain shipping companies provide crated shipping services, including securely placing the Jet Ski inside a wooden crate. This method offers additional protection against potential damage that may occur during transit.
Door to Door Shipping:
By choosing this option, the shipping company will conveniently collect the Jet Ski from its current location and transport it directly to your desired destination. While it provides convenience, this option may be more expensive compared to other alternatives.
Terminal to Terminal Shipping:
Terminal to terminal shipping differs from door to door shipping in that it necessitates the delivery and retrieval of the Jet Ski at specific terminals designated by the shipping company. Generally, it is more affordable, although it may be less convenient.
Before shipping the Jet Ski, emptying the gas tank and removing the battery may be necessary. Please remember to include the keys for the Jet Ski and any essential shipping documentation.
If you plan to travel across international borders with your jet ski, it is essential to note that you will need to complete customs declarations and other necessary paperwork.
It is essential to consider that the mode of transportation you select will significantly influence the type of Jet Ski you should choose. Specific components of the Jet Ski are small and susceptible to damage.
Before you look for Jet Ski shipping options, having all the specific details about your item is essential. Ensure you gather all the necessary data and keep it readily available while searching for the optimal service option. Here are a few essential details you need to obtain before shipping.
Brand and model information for the Jet Ski
Estimated Cost (consider having an evaluation performed)
Fully Charged
Heights, widths, and lengths
Particular Requests/Needs (such as an enclosed trailer)
Full Pickup and Delivery Address Details
Timeline Requires Dates
Jet Ski shipping cost can vary based on various factors. There are several factors to consider when shipping a jet ski. These factors include the distance of the shipment, the chosen shipping method (air freight, sea freight, or ground transportation), the size and weight of the jet ski, the shipping company you select, and any additional services you may need.
It is important to note that Jet Ski shipping cost may vary over time due to factors such as changes in fuel prices, transportation fees, and other variables. Therefore, it is advisable to obtain current quotes when you are prepared to ship your jet ski.
There are several reasons why choosing a company for Jet Ski shipping can be beneficial.
Expertise in Handling Watercraft:
Shipping firms specializing in carrying watercraft, especially jet skis have the knowledge and experience to move these vehicles securely.
They know the unique criteria and measures to be taken while shipping jet skis, guaranteeing that your equipment is treated with care during the procedure.
Professional Packaging and Handling:
A reliable shipping company will have the appropriate equipment and materials to package your jet ski securely. Proper padding and restraints will be used to prevent any damage during transit. If you transport it yourself, this reduces the risk of scratches, dents, or other accidents.
Insurance Coverage:
Shipping companies that have been established typically provide insurance coverage for the items they transport. This means that if there is any damage or loss during shipping, which is unlikely, you may be eligible for compensation.
Convenience and time-saving:
Transporting a jet ski can be challenging and intricate, particularly when moving it across significant distances. Hiring a shipping company can alleviate the burden on you, enabling you to concentrate on other aspects of your move or trip.
Cost-Effective:
Although there is a cost involved in hiring a shipping company, it can be more cost-effective than attempting to ship the Jet Ski on your own.
Engaging in do-it-yourself shipping can result in unexpected expenses, and any damage incurred during transit could be more costly to repair than the original shipping fee.