We offer an auto transport service specifically designed to transport cars for dealerships. Our service ensures that your vehicles are transported quickly and efficiently, all while keeping costs affordable.
We provide the safe and secure transportation of cars by utilizing our approved auto transport carriers for both pick-up and delivery. We offer dealer transport services that can be conveniently arranged locally or nationwide.
We usually use two transport modes for Transporting cars for dealerships.
Open transport:
The transportation of cars for dealers is commonly done through open transport. Car shipping can be done at the most affordable rates by dealerships and individuals.
Our company offers car delivery services, ensuring that vehicles are conveniently transported from one location to another, right to the customer's doorstep.
To access additional details about this particular method of automobile transportation, we invite you to visit our page dedicated to open carrier transport.
Enclosed transport:
Enclosed transport is the safest method for shipping a car and is highly recommended for dealers. Our company transports vehicles in a secure container inside a semi-truck.
The enclosed car transport carriers can hold anywhere from 1 to 6 vehicles, depending on their configuration. Transporting cars for dealerships using enclosed trucks also provides increased insurance coverage policies.If you need dealer transport and desire optimal protection, it is essential to consider using enclosed trailers.
You can safely ship a wide range of vehicles, including new cars, exotic cars, classic cars, custom vehicles, and virtually any other type of car you desire to have transported. Enhance customers' experience by ensuring their purchased vehicles are delivered using enclosed transport.

Compare pricing to other market prices and services being provided. Similarly, pay a lot of attention to details as well. Regarding the transportation of cars to the dealership, Rapid Auto Shipping provides the dealership with fair value for money.
We want you to use your money wisely. You can compare this to other costs on the market and estimate what Rapid Auto Shipping provides you to transport vehicles to car dealerships.
High level of service Quality of service is the next item you should check. What is the quality story? Remember that shipping vehicles to a dealership require much care and work.
It is better if companies carrying new automobiles stay away from them. You have the assurance with Rapid Auto Shipping that all legal considerations will be addressed when transporting cars for your company.
All your issues regarding the transportation of vehicles to the dealership will be handled by Rapid Auto Shipping which will systematically resolve them. After all, Rapid Auto Shipping will only provide the best.
Any car can use our vehicle transportation services. Either new or secondhand automobiles. From standard sedans and coupes to powerful and compact SUVs and many types of trucks.
The quickest method to ship a car is on an open carrier, which Rapid Auto Shipping can do. The trailer holds 7–10 automobiles when using open transport, dividing the trip's expense.
We also provide enclosed vehicle transport, the safest automobile shipping method. When transporting cars for dealerships, it will be appropriate to offer safety for a vintage car or another high-end luxury vehicle.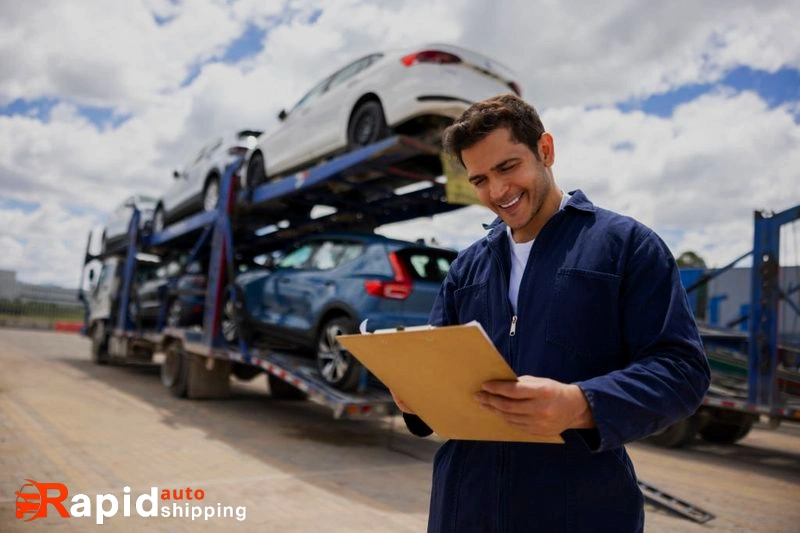 Auto auctions are excellent places to buy autos from dealerships to resell. The majority of the most fantastic offers will be somewhere else.
Our drivers can deliver vehicles for dealerships from any auction nationwide because we are a seasoned auction auto shipping business. among others, Copart, IAA, Manheim, and Adesa.
Hiring auto transport companies that do not specialize in auctions may result in daily storage fees while the vehicle is on the lot, which means you may already be losing money before it leaves. Dealerships continue to lose money at every stage where there is a delay.
For instance, waiting for someone who transports vehicles too slowly causes delays in your schedule. For example, getting the car refurbished takes more time.
This indicates that you are spending more money on dealer holdover while waiting for your package to ship. Join the tens of thousands of customers who enjoy quick automobile delivery with no hassle. Use Rapid Auto Shipping to ship an automobile for the most outstanding results.
For a long time, a significant portion of our company has transported cars for dealerships. We offer car shipping services to dealerships of all sizes, from mom-and-pop shops to well-known chains. Brickell Luxury Motors, The Collection, Chariots of Palm Beach, Calabasas Luxury Motorcars Our auto shipping has been utilized for shipping priceless vehicles by Cats Exotics and many others.
No matter who our customers are, at Rapid Auto Shipping, we value them all. This enables us to remain the dealerships' first choice for car transportation, and it constantly manifests in our dedication to providing top-notch service, regardless of whether our drivers are moving an ancient Honda Civic from a tiny lot at the edge of the city or a Lamborghini from a renowned exotic vehicle store.
Whether the shipping distance is across the street or on the other side is the same. We are your one-stop transport provider for dealerships.
When you collaborate with reputable car hauler companies, they typically offer a tracking system that allows you to monitor the location of your vehicle throughout the shipment process.
A reputable car transporter for dealerships should prioritize transparency regarding a car's status throughout the process, ensuring no evasive tactics or uncertainties exist.
At Rapid Auto Shipping, we prioritize informing customers through our dealer car transport services. When we transport cars for dealerships, we prioritize open communication by providing you with the contact information of our drivers. This allows you to check the status of a specific order quickly.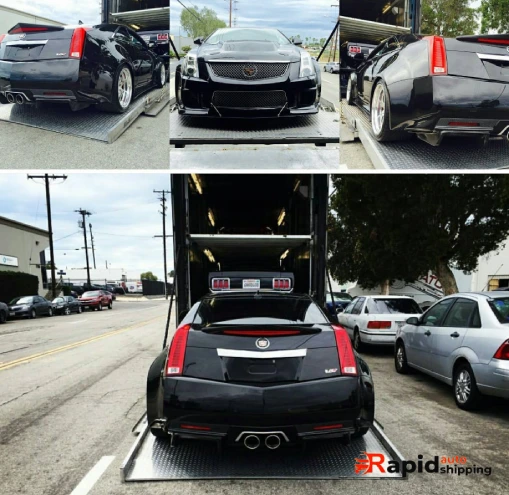 It is essential to ensure you have all the necessary documents readily available, mainly if you are engaged in distance-selling activities.
Removing any accessories and valuables from your vehicle is advisable, as these items are unlikely to be covered by insurance. Please ensure that any items that may become loose during transit are securely fastened or removed.
Before transporting the vehicle, it is essential to make notes of its performance while it is running. Doing this lets you quickly identify any changes once the move has been completed. Please ensure that the fluid and fuel levels of the vehicle are sufficient if it will be driven for delivery.
Regularly cleaning your vehicle is essential to prevent damage caused by dirt that can rub against the paintwork. Additionally, keeping your car clean enables you to promptly identify any scratches or scrapes that may occur during the delivery process.
One effective method to provide evidence of any damage that may occur during vehicle transport is by taking photographs before the transportation process.