There are many states in the USA that demand snowbird car shipping. Most are demanded for southern states like Florida, Arizona, or even Texas in winter. Let us know the common States that are used to ship a car from north to south in winter:
Northeast to Southeast:
From: States like New York, New Jersey, Massachusetts, and Connecticut.
To: Florida destinations such as Miami, Tampa, Fort Lauderdale, and Orlando.
Midwest to Southeast:
From: States like Illinois, Ohio, and Michigan.
To: Various parts of Florida and sometimes coastal Georgia.
Pacific Northwest to Southwest:
From: States like Washington and Oregon
To: Arizona (Phoenix, Tucson) and sometimes Southern California.
Midwest to Southwest:
From: States such as Iowa, Missouri, and Nebraska.
To: Arizona or Texas (Houston, Dallas, or San Antonio)
Northeastern states.
From: States like Washington and Oregon
To: Arizona or Southern California.
So, if you live in any of the states mentioned, you can easily access snowbird car transportation, and don't if you book in advance. Rapid Auto Shipping can provide you with snowbird auto transportation at your location's affordability.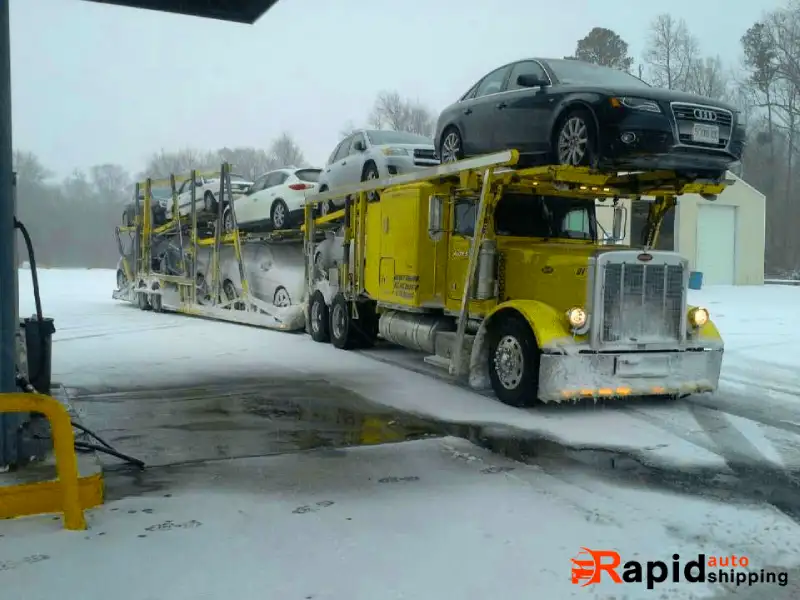 First, Snowbird car shipping is just like a car shipping service but is made to withstand winter snow and obstacles when Shipping your car to Snowy Areas. Rapid Auto Shipping provides three major car shipping services with Snowbird Auto Transport. These are as follows:
Open Air Shipping:
This is the most common and affordable way to ship your car, It is like driving your car but on a carrier. It exposes your car to open air and road debris, making it suitable to ship family or daily use cars.
Enclosed Shipping:
This is for special vehicles like vintage, classic, or sports cars. In this, your car will be loaded in an enclosed container. This provides a unique, secure vessel for your car, cutting it off from harsh winter elements. This comes at an extra cost but offers complete safety for your car.
Express Shipping:
As in the name, these are used by individuals who require urgent shipment of their vehicles (collectors use this for Car events in the hills). You can book these services 2 to 3 prior, but these could be very costly. as last-minute preparations need specialization.
In Addition, Rapid Auto Shipping provides Door to Door shipping on demand. You can check our list of services by contacting our experts at +1 (833) 233-4447.
Snowbird is a unique set of carriers, but it also gets affected by external factors like Distance, Climate, Fuel prices, etc. Due to these factors, it is hard to calculate the cost of shipping a car using Snowbird car shipping.
So, with the help of a Cost Calculator and Recent car deliveries done by Rapid Auto Shipping using Snowbird Auto Transport, we have created the following to provide an estimate or an overview of cost.
| Distance | Estimated Time | Estimated Open Transport Cost | Estimated Enclosed Transport Cost |
| --- | --- | --- | --- |
| 100 to 500 Miles | 1 - 3 Days | $710 | $930 |
| 501 to 1500 Miles | 3 - 5 Days | $1070 | $1440 |
| 1501 - 2500 Miles | 5 - 7 Days | $1370 | $1720 |
| 2501 Miles And Above | 7 - 9 Days | $1680 | $1,580 |
As Snowbird car shipping provides a different set of services, it could be a little costlier. But it is still an excellent option to buy a new car. The cost of snowbird car transportation can vary from time to time due to many external factors. For more quotes, contact Rapid Auto Shipping experts at +1 (833) 233-4447.
Along with many Auto shipping advantages, Snowbird car shipping also comes with its own set of benefits. Let us know the following advantages:
Convenience:
Rather than driving your car through long distances or in harsh weather, it is better to hire an Auto shipper like Rapid Auto Shipping as they will ship you for relatively less than the cost of driving the car yourself without any trouble.
Cost Effective:
When we sum up the cost of driving a car yourself (Food, Fuel, Tolls, Lodging, etc.), it will cost much more than snowbird car transportation.
Time-Saving:
You have to spend days on the road if you drive it yourself, while snowbird car transportation will transport your car in less time than you will drive it yourself
Safety:
Long trips, especially in winter, could be dangerous; snowy roads and blizzards would make driving the car impossible. Snowbird car shipping carriers are made only for this kind of situation.
Multiple Vehicles:
Nowadays, two or more cars are standard in families, which could be haptic while moving, but not with Snowbird car shipping, as it could handle many cars simultaneously. Multiple cars can save a lot of money, too.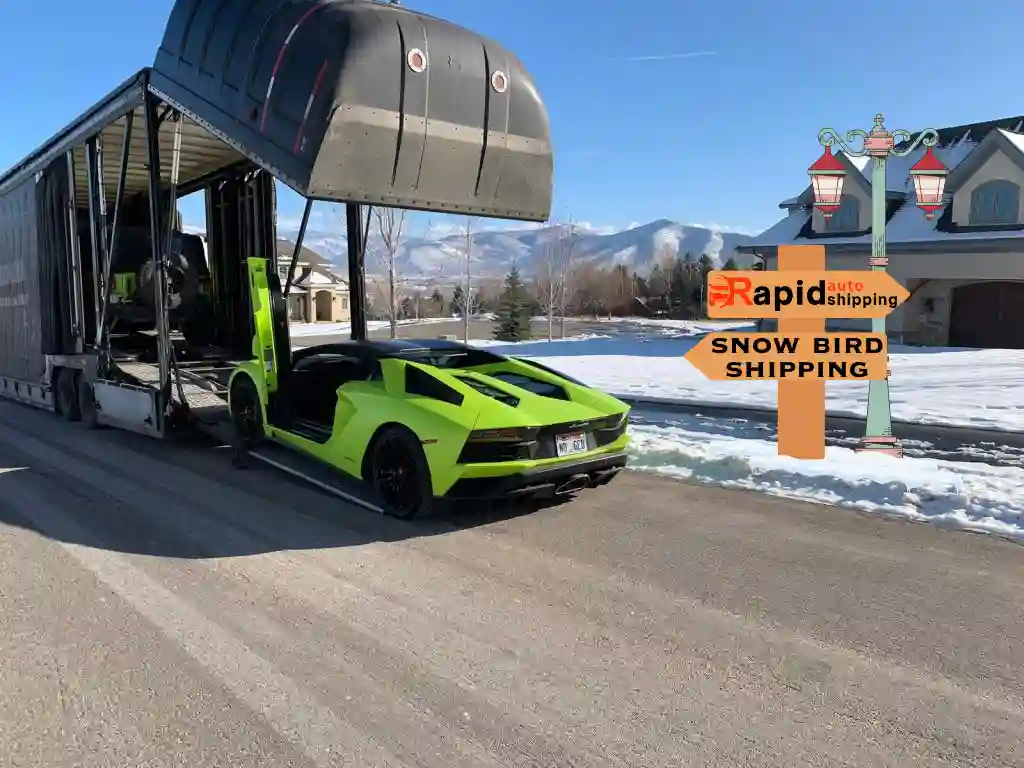 There are always some procedures or steps that could help save money or time. At Rapid Auto Shipping, If you follow the following steps, you could score a good deal :
Get Multiple Quotes:
Check the quote as per your requirements multiple times to get a better deal and knowledge of Snowbird car shipping provided by us.
Wash the Car:
This is the important part, By washing, you can get a clear view of any damage or dent or your car's condition. By this, you can see the condition of your car after shipping.
Paperwork:
Always collect the paperwork related to the cat in advance you never know what paper comes in handy at what time.
Remove Personal Belongings:
Please ensure to clear out every personal item from your car as it could damage the car interior while shipping.
Get Insurance:
Insurance is essential, especially in Snowbird car shipping due to harsh winter. Rapid Auto Shipping provides standard insurance coverage. But please check that it fits with your car.