Enclosed auto shipping is likely the preferred choice of most customers over open auto transport. Why? Enclosed car movers offer the highest level of security and protection from weather conditions for your vehicle. Enclosed auto transport costs around 60% more than open car transport, but it provides superior vehicle protection.
This makes it a highly recommended option for luxury or vintage vehicles. Although it may not be the most economical means of transporting cars, it is considerably safer.
Enclosed car shipping services offer various advantages over open auto transport, including the flexibility of enclosed auto transport trucks to load vehicles in different ways.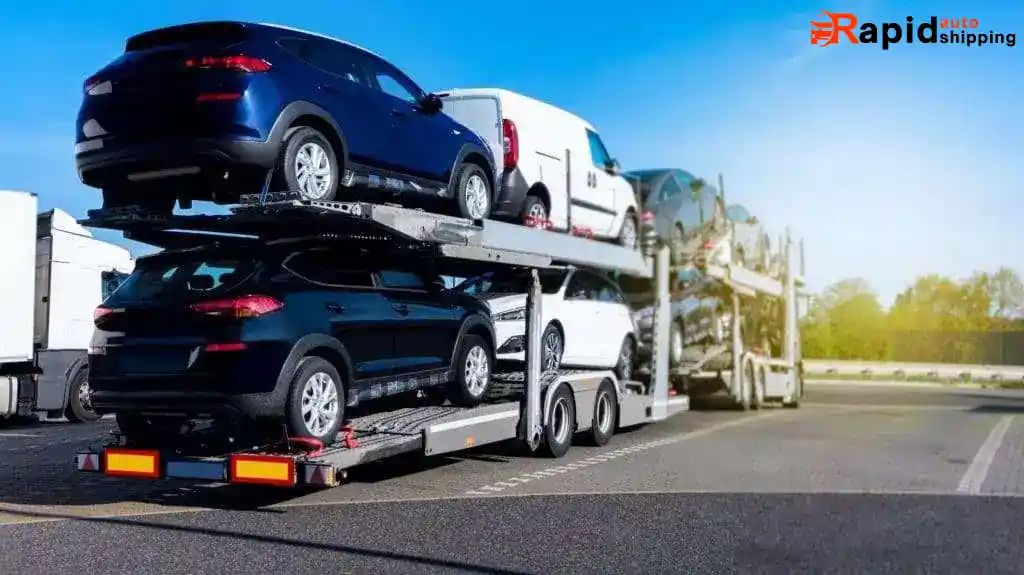 Many car transport trucks have extended ramps or lift gates, eliminating the need for drivers to manually load their vehicle onto the car, as is required with open auto transport trucks.
Nowadays, enclosed auto shipping trailers come equipped with luxurious features such as air-cushioned suspension and smooth ride suspension. These features are designed to minimize any disturbance to the luxury vehicle being transported.
or vintage cars they transport. In addition, liftgate elevators can provide added protection for vehicles under their care by reducing the likelihood of dents or scratches. This is particularly beneficial for vintage or luxury cars.
If you desire complete protection for your luxury vehicle throughout the entire transportation process, you may prefer utilizing door to door car shipping services via an enclosed vehicle shipping truck.
While it may come at a higher cost than other transportation options that are open to the public, investing in it can prevent significant issues in the future.
We have discovered multiple methods to decrease the expenses associated with auto transportation during our investigation. Included are the following items:
Booking your shipment in advance will provide ample time to compare different options. Using a shipping broker gives carriers more time to compete with your company.
By offering a wider pickup and delivery window, you can increase the number of bids from vehicle carriers, which may lead to more competitive pricing for your shipment. If you need a specific delivery date, an extra fee will apply.
It is more cost-effective to opt for terminal to terminal transportation whenever possible instead of door to door shipping.
If you need to transport a classic car or any other high-value vehicle, it might be worth paying extra for an enclosed carrier as it offers additional protection. Opting for an open carrier is usually a more economical choice if you want to save money.
If you live in a remote rural area or plan to move to one, arrange to meet your transporter at a more convenient pickup or delivery location.
Transportation companies usually offer lower rates when the pickup and drop-off locations are near urban areas or major highways.
The above tables demonstrate that shipping costs vary among providers, even for identical shipments. Getting free estimates from several vendors allows you to compare and choose the one that provides the most competitive pricing for your needs.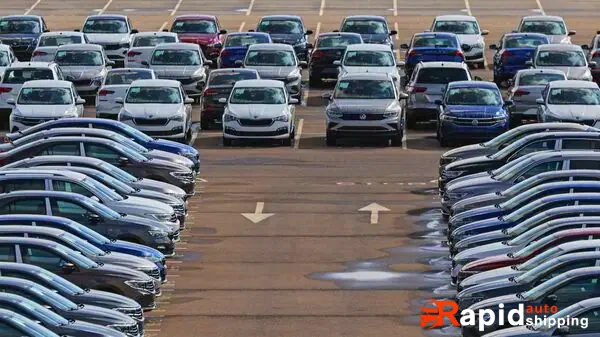 Before considering the most cost-effective methods of shipping a vehicle, it is essential to understand the variables that can affect the costs associated with shipping. Awareness of this can help you make informed decisions and save money.
Distance:
The distance your car needs to move is important in determining the shipping cost. In general, as the distance covered increases, the cost increases. It is generally less expensive to ship a car within the same state than to ship it to another state.
The size and weight of your car may affect shipping costs. Larger and heavier vehicles require more resources to transport, making prices comparatively higher than smaller, lighter cars.
Time of Year:
Car shipping costs can be affected by seasonal changes. Prices are higher during peak demand periods, such as the summer months when many people walk or travel. To get the best rates, schedule your car shipments during off-peak seasons.
Non-operational cars cannot be loaded and driven onto a car shipping carrier. The auto shipping company must use alternative methods to load your vehicle onto the car carrier truck. The forms of car transport will vary depending on the carrier you choose. I can provide an example.
Open auto transport:
The carrier uses an attached chain to pull the car onto the carrier. Open car shipping carriers may transport non-operational vehicles if forklifts are available at pickup and delivery locations for loading and unloading.
Open car transport carriers usually provide affordable auto transport services, so most non-operational vehicles are transported using open car transport trucks.
Enclosed auto transport :
Carriers transporting enclosed vehicles typically employ a liftgate to load inoperable cars onto the carrier. While enclosed car shipping carriers can have a winch, they're less prevalent on these types of trucks than open car transport trucks.
A liftgate is generally a better option for most vehicles, especially those in use. They are handy for cars with low clearance, protecting them from damage during loading and unloading.
Door to Door Transport:
We offer an affordable car transportation service that follows the standard door ton door conveyance method. The vehicle will be picked up from the address provided and delivered to the specified address or the nearest location accessible by truck.
By adopting this approach towards public transportation, you can ensure maximum peace of mind and easily find affordable auto transport options.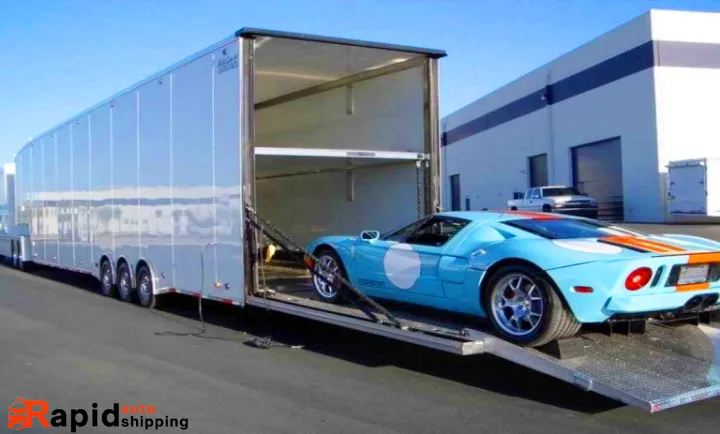 Terminal to Terminal:
While terminal to terminal shipments can be advantageous for auto transport companies as they can pick up multiple vehicles from a single location, loading cars at these facilities can pose some challenges. Drivers may need help with the loading space, traffic, and transportation time at these facilities.
While terminal to terminal shipping may be the most cost-effective method for shipping a car, we generally advise against it due to the higher risk of damage to the vehicle resulting from transfers between multiple parties. Furthermore, we advise against using this mode of transportation as it increases the transit time at all checkpoints.
Booking at the last minute can frequently result in elevated prices. Planning and booking your car shipment in advance is recommended to ensure that you secure the most affordable rates.
Doing this will give you more time to research various companies, compare quotes, and negotiate better deals. Booking in advance can help avoid rush fees often charged for urgent or expedited shipping requests.
The average cost of the cheapest way-to-ship car option for transporting a car over 2,000 miles is $0.58 per mile. The average price per mile for distances less than 100 miles is $2.75.
Certain factors will affect your shipping costs no matter which mode of transportation you choose.
size and weight
The size and weight of your car are directly proportional to the shipping cost. The cost of transporting an SUV or truck is typically higher than that of a passenger vehicle.
type of vehicle
The type of vehicle being shipped will affect the cost. Shipping motorbikes or all-terrain vehicles (ATVs) will be less expensive than the average while shipping recreational vehicles (RVs) will be more costly.
pickup and delivery location
Shipping costs can be reduced by choosing pickup and delivery locations in cities rather than rural areas.
Condition of car
The car's condition plays a crucial role in determining the shipping cost. A vehicle in working condition is easier to ship and hence, costs less to transport than a non-functioning one.
distance
Shipping costs are more expensive per mile when the distance is shorter, but the total price is lower.
Time of year
The cost of moving a car is higher during January and summer as these are the peak seasons when most people prefer to move their vehicles.
Transportation Type:
If you want cost-effective car transport, consider using an open carrier. Using a covered trailer is the safest option to protect your belongings from road debris and inclement weather.
fuel prices:
High fuel prices may lead companies to impose additional fees on their customers.
Preparing your car appropriately for affordable shipping is crucial to ensure a hassle-free and seamless experience.
Before being picked up, cleaning your vehicle's interior and exterior is crucial. Ensuring that your car looks its best upon arrival and identifying any scratches or damage that may have occurred during shipping is essential.
It is advisable to remove any personal belongings from your car to avoid misplacing or damaging them. Finally, it is recommended to maintain your gas level below a quarter tank to prevent excessive weight and potential leaks.
By following these straightforward steps, you can ensure that your car is properly prepared and ready for its journey to its new destination.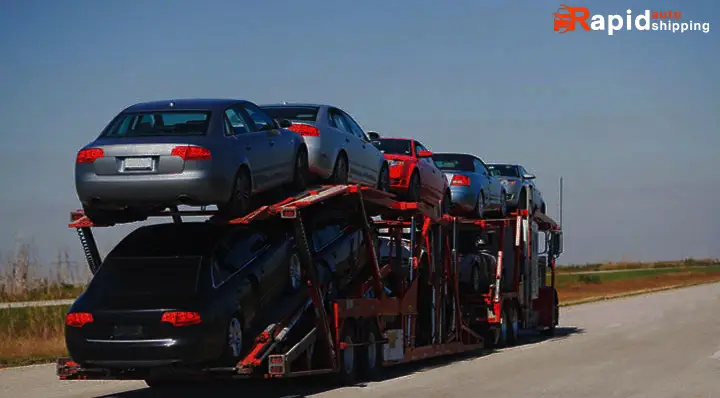 It is essential to thoroughly review and comprehend the terms and conditions of the contract before making any commitments with an auto transport company.
It is necessary to carefully review the pricing structure, cancellation policies, insurance coverage, and any potential additional fees before deciding.
Knowledge of the terms and conditions will assist you in avoiding any unforeseen fees and guarantee a comprehensive comprehension of the services offered. If you have any queries or apprehensions, please get in touch with the company for further clarification.
To find the most affordable way to ship a car, it is essential to conduct thorough research, remain open to different options, and consider multiple factors.
To make an informed decision that suits your budget and needs, it is essential to understand the elements that impact shipping costs, research reputable auto transport companies, and explore options such as terminal-to-terminal or door to door shipping.
It is essential to remain flexible with your preferred dates and timeframes, consider the affordability of open economy transport, and ensure that your vehicle is adequately prepared before shipping.
Finally, it is essential to carefully review and comprehend the terms and conditions of any agreements to ensure a seamless and economical car shipping process.
By implementing these strategies and considering the specific requirements of your car shipment, you can successfully navigate the process and discover the most economical and secure method for transporting your vehicle.