Examples of Snowbirds Auto Transport Cost
| From | To | Vehicle | price |
| --- | --- | --- | --- |
| Newark,NJ | Kissimmee,FL | 2012 Toyota Camry | $580 |
| Joliet,IL | Clearwater,FL | 2005 Ford Mustang | $800 |
| Seattle,WA | Fort Lauderdale.FL | 2017 Tesla Model S | $1280 |
| Detroit,MI | Long Beach,CA | 2006 Porsche 911 | $990 |
| Cleveland,OH | Las Vegas,NV | 1987 Chevrolet Corvette | $1030 |
| Green Bay,Wi | New Orleans LA | 2015 Hyundai Santa Fe | $1340 |
| Green Bay,WI | New Orleans,LA | 2015 Hyundai Santa FE | $1340 |
| Boston,MA | Cape Coral,FL | 2010 Mini Cooper Clubman | $780 |
Note: Prices are based on recent shipping and current market scenario. For the Customised and Accurate Auto Transportation quote please call our toll free number : (833) 233-4447
Snowbird car transport is a service tailored to the needs of individuals who migrate seasonally, often to escape cold winters. It provides a means for them to transport their vehicles between their summer and winter residences without having to make the long drive themselves.
Snowbirds can schedule the pick-up of their vehicles at their current location, and the service will transport the vehicle to their desired destination. This service offers convenience and peace of mind, as it allows seasonal travelers to focus on their journey and enjoy a seamless transition between their two residences while keeping their vehicles in good condition.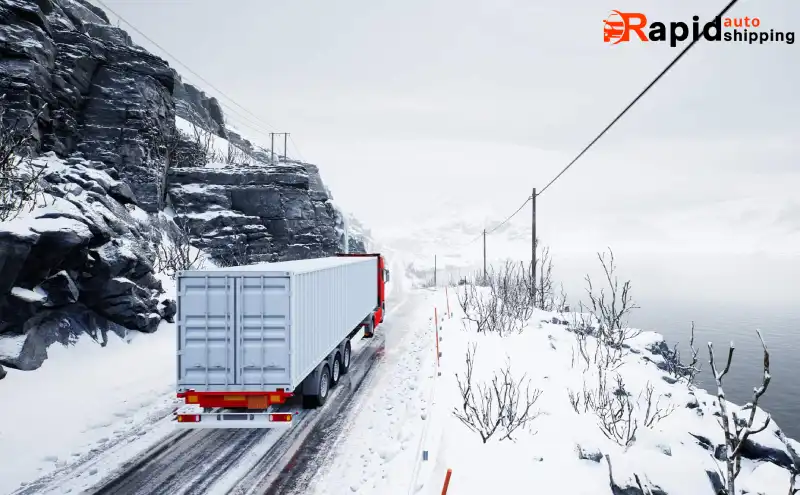 Snowbird car shipping is a specialized service designed for individuals, often retirees or seasonal travelers known as "snowbirds," who relocate their vehicles between their summer and winter residences. It offers a convenient solution to transport their cars without the need for extended road trips. Snowbird car shipping services typically involve the following steps:
Reservation:
Snowbirds schedule their car shipments, providing details about the pick-up and delivery locations, preferred dates, and vehicle information.
Pick-Up:
A professional car shipping company sends a driver or carrier to collect the vehicle at the designated location, typically the snowbird's home.
Transport:
The vehicle is loaded onto a carrier or trailer for transport to the snowbird's winter destination. This can involve long-distance travel, especially when moving between regions with varying climates.
Storage (if needed):
Some car shipping services offer storage options at the winter destination for the vehicle until the snowbird returns.
Delivery:
When it's time for the snowbird to return to their summer residence, they contact the car shipping service to arrange for the vehicle's return. The service delivers the car back to the specified location.
Snowbird car shipping services offer advantages like convenience, time savings, reduced wear and tear on the vehicle, and safety during transport. Costs can vary based on factors such as distance, vehicle size, and the chosen shipping method, so it's essential for snowbirds to research and select a reputable service that meets their specific needs.
Snowbird transport refers to the process of relocating one's personal belongings, including vehicles and household items, when migrating seasonally between two different regions. This term is commonly used in the context of retirees or individuals who temporarily move from colder, northern regions to warmer, southern areas during the winter months, often to escape harsh weather conditions.
Here's an overview of snowbird transport:
Vehicle Transport:
Many snowbirds have vehicles that they want to transport between their summer and winter residences. Snowbird car transport services are often used for this purpose. These services can arrange for the pick-up of the vehicle at the current location and its safe delivery to the destination.
Household Items:
Snowbirds may also have household items, furniture, and personal belongings that they wish to transport. This may involve renting a moving truck or hiring professional movers to handle the packing, transportation, and unpacking at both ends of the journey.
Storage:
Some snowbirds opt to store their belongings at one location during the off-season, using storage facilities until they return to their primary residence.
Logistics:
Planning is crucial for a smooth snowbird transport. Snowbirds need to coordinate the timing of their move, make reservations with transport or moving companies, and ensure their destination is ready for their arrival.
Cost Considerations:
Snowbird transport can incur costs, including transportation fees, storage fees, and potential lodging expenses during the journey. Snowbirds should budget accordingly.
In summary, snowbird transport is a logistical operation that involves moving between two residences to take advantage of more favorable weather conditions in each location. Whether it's vehicles or household items, careful planning and coordination are essential to make the transition as smooth as possible.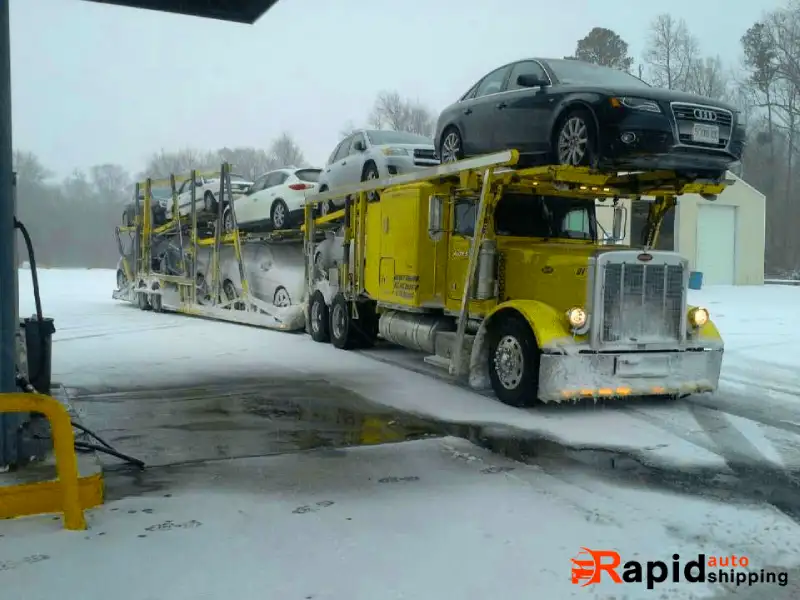 | Snowbird car shipping | Snowbird vehicle transport |
| --- | --- |
| Focus: Primarily centered on transporting personal cars used by snowbirds during seasonal migrations | Focus: Broader in scope, potentially encompassing a wider range of vehicles beyond just cars. |
| Specificity: Narrower in scope, with a primary emphasis on car transportation. | Versatility: May include services for transporting various types of vehicles, such as cars, trucks, motorcycles, boats, RVs, and more. |
| Term Usage: Often used to describe services that cater specifically to snowbirds relocating their cars to warmer regions during winter. | Term Usage: Could refer to the transportation of any vehicle used by snowbirds or other seasonal travelers. |
| Seasonal Aspect: : Typically associated with the migration of snowbirds to escape colder climates. | Seasonal Aspect: Still associated with seasonal migrations but not exclusive to snowbirds. |
| Vehicle Types: : Mainly deals with cars, sedans, SUVs, and other personal vehicles. | Vehicle Types: Can involve a variety of vehicles, from personal cars to boats and recreational vehicles. |
| Geographic Focus: : Commonly used in regions with significant snowbird populations, like Florida or Arizona during the winter months. | Geographic Focus: May be used more generally for vehicle transportation services regardless of location. |
Note: Prices are based on recent shipping and current market scenario. For the Customised and Accurate Auto Transportation quote please call our toll free number : (833) 233-4447
Snowbird auto transport refers to a specialized service in the vehicle transportation industry designed to accommodate individuals, often retirees or "snowbirds," who temporarily relocate between different regions of the country to escape extreme weather conditions.
This service is particularly popular in the United States, where many people move between northern states (which experience harsh winters) and southern states (which have milder winters) during the year.
Here's how Snowbird Auto Transport works:
Booking and Scheduling:
Snowbirds typically plan their migration in advance. They contact auto transport companies to book their services. It's advisable to book well in advance, as this service can be in high demand, especially during the fall and spring when people are making their seasonal moves.
Choosing the Transport Type: Snowbird auto transport offers two main options:
Open Transport:
This is the most common and cost-effective option. Your vehicle is loaded onto an open trailer along with other vehicles. It is exposed to the elements but is safe and secure during transit.
Enclosed Transport:
This option is more expensive but offers extra protection. Your vehicle is placed in an enclosed trailer, shielding it from weather conditions and road debris.
Vehicle Pickup:
The auto transport company will arrange for a carrier to pick up your vehicle from your northern location. They will often provide a window for pickup to accommodate your schedule.
Transportation:
Your vehicle is loaded onto the chosen trailer and transported to your destination in the southern region. The transport company will provide you with an estimated delivery date.
Vehicle Drop-off:
Once your vehicle arrives at your chosen southern destination, the transport company will coordinate with you to arrange a convenient drop-off location and time.
Inspection:
It's a good practice to inspect your vehicle for any damage upon delivery. Most auto transport companies have insurance coverage in case of any unforeseen damage during transit.
Return Trip:
When the winter season is over, you can arrange for the auto transport company to move your vehicle back to your northern location. The process is essentially the same as the initial trip but in reverse.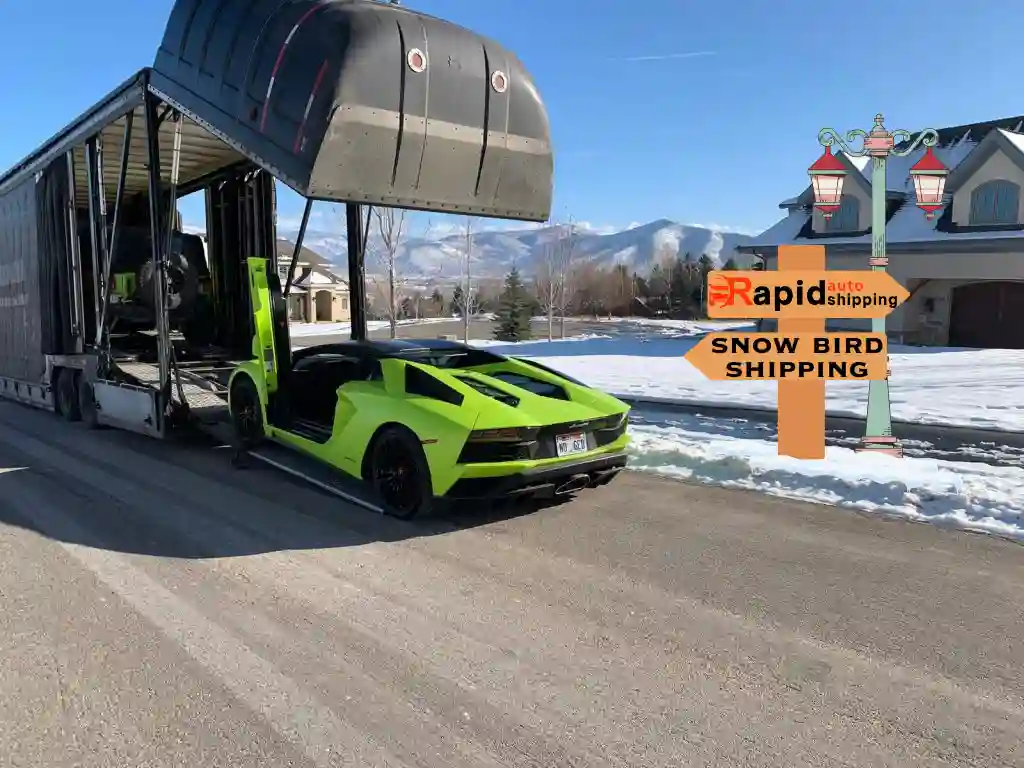 Planning:
Start planning well in advance of your planned migration to ensure availability and to secure the best rates.
Cost:
The cost of snowbird auto transport can vary based on factors such as the distance, the type of transport chosen, and the time of year. Enclosed transport is generally more expensive than open transport.
Insurance:
Ensure that the auto transport company provides adequate insurance coverage for your vehicle during transit.
Paperwork:
Make sure to complete any necessary paperwork, including the bill of lading and any additional agreements with the transport company.
Communication:
Maintain open communication with the auto transport company to ensure a smooth and hassle-free process.
By using Snowbird auto transport services, individuals can easily and safely move their vehicles between their summer and winter residences, allowing them to enjoy the best of both climates without the hassle of long drives.
Introducing Rapid Auto Shipping: Your Trusted Snowbird Car Delivery Service!
Are you a snowbird looking for a hassle-free solution to transport your vehicle between seasonal homes? Look no further than Rapid Auto Shipping, your reliable partner for safe and efficient car delivery.
Experience and Expertise:
With years of experience in the auto transport industry, we understand the unique needs of snowbirds. Trust our expertise to ensure your vehicle arrives at its destination in pristine condition.
Nationwide Coverage:
Whether you're moving from the icy north to the sunny south or vice versa, we've got you covered coast to coast. Our extensive network ensures reliable service wherever you call home.
Customized Solutions At Rapid Auto Shipping, we know that every snowbird's situation is different. That's why we offer a range of transportation options, including open and enclosed transport, to suit your preferences and budget.
Competitive Pricing We believe that quality service should be affordable. Our competitive pricing ensures you get value for your money without compromising on safety or reliability.
Hassle-Free Process We handle all the logistics, so you don't have to worry. From pickup to delivery, our dedicated team takes care of every detail, keeping you informed every step of the way.
Fully Insured Your peace of mind matters to us. We provide comprehensive insurance coverage for your vehicle during transit, giving you added protection and confidence.
Timely Delivery We understand the importance of timing for snowbirds. Count on us to deliver your vehicle promptly, so you can enjoy your seasonal escape without delay.
1-Request a Quote Visit our website or call our friendly customer service team to get a free, no-obligation quote tailored to your needs.
2-Schedule Your Transport Once you're ready to move forward, schedule your car delivery with us. We'll work with you to pick up your vehicle at your convenience.
3-Relax and Enjoy Leave the rest to us. While you're soaking up the sun or embracing the winter wonderland, we'll ensure your vehicle reaches its destination safely.
Don't let the stress of long drives or unpredictable weather dampen your snowbird experience. Trust Rapid Auto Shipping for your car delivery needs and enjoy the best of both worlds without the hassle.
Ready to make your snowbird transition smoother than ever? Contact Rapid Auto Shipping today and let us take the wheel for your seasonal journey!