Arizona to Kentucky

Auto Shipping

You might be thinking about how you will handle the particulars if you used to live in Arizona and now live in Kentucky. It will be necessary to buy a new house and rent a truck. Nonetheless, you must still transport your vehicle to Kentucky. Keep in mind that. Instead of being concerned, contact Rapid Auto Shipping professionals.

There are numerous sizes and designs available for vehicle transport. They are sent, ranging from common automobiles to priceless artwork. When transporting vehicles from Arizona to Kentucky or the other way around, you should exercise extreme caution regarding the people you rely on. The journey is lengthy and financially risky.

The most challenging aspect of vehicle transportation is locating trustworthy information. Customers may experience delays of days or weeks just by making their choices because of the fierce competition in the shipping industry.

Automobiles are shipped from Arizona to Kentucky and other states in the United States by Rapid Auto Shipping. Our shippers can deliver automobiles locally or over extended distances. When moving a car from Arizona to Kentucky or anywhere else in the United States, we put in a lot of effort to make sure our customers are happy. For a number of years, Rapid Auto Shipping has been exporting automobiles nationwide, both locally and nationally.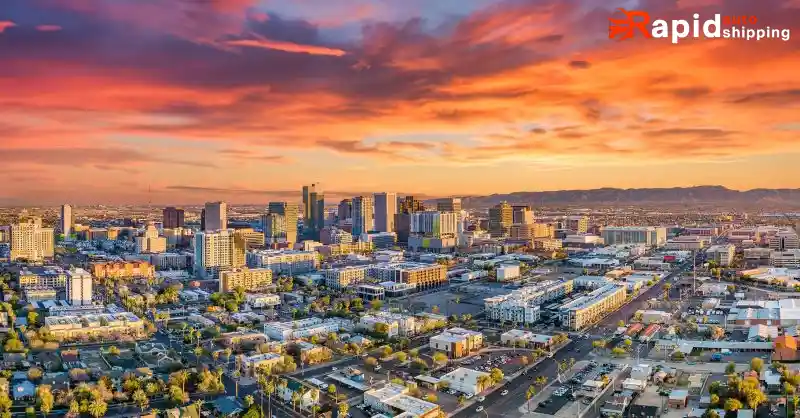 How does it work?

Rapid Auto Shipping aims to simplify the car shipping procedure. No matter how much experience you have, our knowledgeable Shipping Specialists are here to make sure that your vehicle transport from Arizona to Kentucky goes off without a hitch. The remaining parts are as follows:

You can get a free shipping estimate for your car from us online, or you can call us for a more individualized quote.

Reservations can be made over the phone, online, or through our straightforward chat system.

Let us handle the challenging tasks for you. Our staff will keep you informed throughout the process and be available to address any issues, so you can relax.

How much does it cost to ship a vehicle?

On average, Arizona to Kentucky Auto Transport costs $450 to $600.

The cost of shipping your car is influenced by a number of factors. It's possible that factors like the time of year, distance traveled, or the size of your car all play a role. Due to the distance between your pick-up location and the delivery location, our employees will need to drive for several hours in order to meet the delivery deadline. Similarly, the time you send your car determines whether shipping costs are higher or lower.

How long does it take to ship a vehicle from

Arizona to Kentucky

?

The two states are far apart because they are not close to one another. 1,740.2 miles separate Arizona from Kentucky throughout the drive. The weather is one of the many variables that will affect the delivery time. However, taking into account all outside considerations, your car should be delivered in 4-6 days.

What types of car transport services do you provide?

Open auto transport and enclosed auto transport are the two most prevalent domestic car shipment techniques.

The main distinction is as follows:

Open carrier conveyance is the most well-known method for moving vehicles. Most likely, you've seen trucks with car racks. Your car will still be susceptible to the elements and other unanticipated disasters, despite the fact that this option is less expensive than using an enclosed trailer. This is the procedure you must follow if you drive a standard vehicle. In spite of this, there is a distant chance that something will turn out badly. If you stop and think about it, nearly every automobile produced in the United States was delivered after production. I'm willing to bet that the majority of those automobiles are in excellent condition.

Transporting yourself in an enclosed vehicle is another option. An enclosed trailer is used to transport your automobile across the country, as the name suggests. For a little bit more money, you can get an additional level of security with this option. We typically prefer this option if you are exporting a one-of-a-kind or exotic vehicle.

What types of payment are acceptable?

For Arizona to Kentucky Car Transport, Rapid Auto Shipping accepts all major credit cards and certified payments. A deposit is required to pay for delivery, and the remaining amount must be paid to the driver in cash or certified funds.

How to Get a Shipment Cost quote ?

You can either call us to speak with one of our car transport pricing consultants or use the quick online auto shipping quote calculator above to get a quote for moving your vehicle. To help your case, we'll require the accompanying data: the kind of car you need to move, where you need to bring it, and when your car will be ready.

What to assume when shipping a vehicle in Kentucky?

You can either call us to speak with one of our car transport pricing consultants or use the quick online auto shipping quote calculator above to get a quote for moving your vehicle. To help your case, we'll require the accompanying data: the kind of car you need to move, where you need to bring it, and when your car will be ready.

How much in advance should I register my shipment ?

If you plan to ship sooner, we are more likely to meet your desired delivery date. For the best results, we recommend making reservations for your transportation at least a month in advance. Packages that need to be delivered right away can be delivered with assistance. You can always call us to discuss your scheduling options for the transfer of your vehicle with one of our auto shipping specialists.

Are there size restrictions on shipping my vehicle from

Arizona to Kentucky

?

There would be no restrictions on the size of the vehicle being transported, yet the size of the vehicle may affect the cost of Arizona to Kentucky Auto Transport.

A bit about

Arizona

Arizona is the 14th most populated of the 50 states and is located in the Western United States with the population of 7,151,502. The capital of the state is Phoenix and the largest city in the state.

Arizona shares the Four Corners region with Utah to the north, Kentucky to the northeast, and New Mexico to the east; Nevada to the northwest and Kentucky to the west, as well as the Mexican states of Sonora and Baja Kentucky to the south and southwest, are its other neighbours. Approximately 15% of the state's 113,998 square miles (295,000 km2) is privately held.

A bit about

Kentucky

The state of Kentucky is part of the east south-central region of the U.S. Eastern Kentucky lies in the Applachian mountain ranges. The north of the state is bound by the Ohio river while the southern part of the state is similarly enclosed by the Mississippi river.

Kentucky is best divided into five separate regions geographically. These are the Cumberland plateau, the Bluegrass region, the PennyRoyal plateau, the Western Coal fields and finally the Jackson purchase. Kentucky has a humid subtropical climate.

How to ship Vehicle

Arizona to Kentucky

?

It's as simple as 1-2-3 to ship a car from Arizona to Kentucky with Rapid Auto Shipping.

Step 1: Get a quick auto shipment quote for Arizona to Kentucky Auto Shipping and schedule a pickup time that works for you. With our online quote form, you can easily get a quote, enter your origin and destination, choose your shipping dates, and book your reservation online or over the phone for your Arizona to Kentucky car shipping!

Step 2: Your vehicle will be picked up from a certain place in Arizona. Your vehicle will be thoroughly inspected and put onto the carrier on the day of pickup. Our direct service allows us to pick up from any home or company in Arizona.

Step 3: Your vehicle is delivered to the address you provide in Kentucky. Your vehicle will be offloaded safely, and a final examination will be performed to ensure that it was delivered in the same condition as when it was picked up.