Long-distance transportation, particularly for vehicles, has become more necessary as people continue to move for jobs, family, or simply to begin a new chapter in their life.
Cross country car shipping offers a practical way to move vehicles over long distances without putting undue strain on them. Let's look at the fundamentals of cross-country auto shipping, including what it means, what to think about, how much it will cost, and more.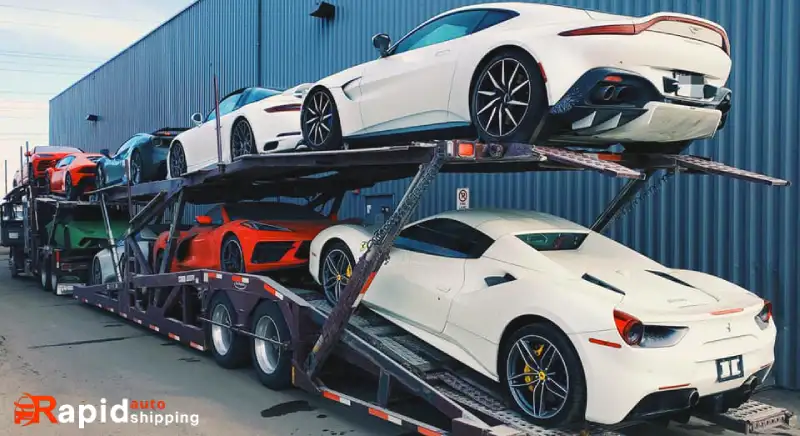 Cross country car shipping is the term for the use of specialist auto carriers to carry vehicles across great distances (often across several states or coast to coast).
Professional auto shipping firms will ship autos across the country in their trucks and deliver them directly to your selected place instead of you driving the car yourself or hiring a driver.
These businesses frequently employ open or enclosed carriers and offer solutions for clients with particular requirements, like vintage cars, high-end automobiles, and even motorbikes.
It's critical to comprehend numerous crucial factors when thinking about cross-country auto shipping:
Getting Your Car Ready:
You should get your car ready for shipment before sending it. This entails taking away personal things, turning off alarms, checking fluid levels, and making notes of any existing damage.
In order to save weight, certain carriers could additionally ask you to keep your petrol tank at a particular level (often less than half).
Carrier varieties
Open or enclosed carriers are available for cross-country shipments. Open carriers are more prevalent and less expensive but provide less weather protection.
Enclosed carriers offer better protection, but the price is higher. Your choice will rely on the kind of vehicle you're shipping and your financial constraints.
Insurance protection:
The majority of cross country vehicle shipping firms are required to have insurance to cover potential losses incurred during transport. It is crucial to confirm the conditions and coverage limits of the insurance as well as how it interacts with your personal auto insurance policy.
Scheduling:
Reserve your car shipment in advance to guarantee there will be enough room on a carrier and that you can rely on precise shipping timetables. This is especially crucial during busy times, like the holidays or summer vacation.
Distance, traffic, weather, and carrier schedules will determine your delivery window. Cross-country auto transports typically take 7 to 10 days. If you're shipping between densely populated areas, you should anticipate shorter travel times, whereas lengthier transit times are to be expected for more distant destinations.
Working with your auto transport firm to anticipate the transit time for your cross country vehicle transport is crucial.
Several elements influence the cost of cross country car transport. The following are some of the most prominent ones:
Distance:
In general, the service cost will increase with the length of the shipping route. The cost of fuel, potential tolls, and the particular locations involved in the travel can all affect rates.
Make and model of the car:
The ultimate price may vary depending on the kind, weight, and size of the car being sent. Larger and heavier vehicles might need more room and resources, which would increase the rate.
Due to particular handling and transit requirements, luxury car, vintage, or bespoke vehicles may also fetch premium pricing.
Shipping approach:
As we have indicated, your choice of an open or enclosed carrier will affect the final cost. Despite providing additional safety, enclosed carriers can be much more expensive due to the constrained number of vehicles they can hold. Although terminal-to-terminal service may not be as convenient as door-to-door, it will typically be less expensive.
Season:
The year-round demand for car shipping services varies. The summer and holiday seasons are often the busiest for businesses, which raises pricing. You can save money by scheduling your shipping far in advance and by avoiding busy times.
Now that you realize how crucial it is to entrust vehicle shipping professionals with your cross-country auto shipment, let's get started with the top ten suggestions for making the procedure simple and stress-free.
Check out the auto shipping business:
Before sealing the agreement, look into the business. Check their USDOT number, then look for reviews online. This will confirm that they are a respectable business that looks out for their clients.
Pick the Proper Mode of Transportation:
Open and enclosed carriers are the two main modes of transportation for cross-country car freight. Open carriers are more affordable but offer less weather protection for your car.
Although they are more expensive, enclosed trailers provide more vehicle protection. When making a choice, consider your spending limit and the kind of protection you desire for your car.
Getting Your Car Ready for Shipping
Check the battery, fluid levels, and tire pressure to ensure your car is operating well before giving it to the cross country vehicle shipping firm. Take out any valuables, possessions, and aftermarket components that could not be protected by the insurance of the carrier.
Maintain a Record of Your Car's Condition:
Take detailed photos of your car from all angles prior to pickup. Make sure the images are well-lit and accurately depict your car's present State, including any prior damage. Give the carrier access to these pictures, and keep them yourself as proof in case of a dispute.
Keep Your Options Open for Delivery and Pickup Dates:
Usually, auto transporters give customers a few days' window for collection and delivery. The business can efficiently aggregate shipments by being flexible with these dates, cutting expenses, and saving you money.
Inquire about the Insurance Coverage:
Make sure you are aware of the scope of the business insurance coverage. Before you sign the contract, be aware of the deductible, the types of damages covered, and the claims procedure.
Maintain Clear Lines of Communication
Keep in touch with the cross country vehicle shipping firm during the journey. Although carriers frequently give updates, it's essential to be proactive and ask questions as necessary.
Examine Your Car After Delivery:
When you get your car at the destination, properly check it for any potential transit-related damage. Take pictures of any problems you discover right away and notify the car transportation business of them.
Be Aware of Extra Fees and Costs:
Ask the car transportation company about additional costs, including terminal storage fees or possibilities for accelerated delivery, before signing your contract with them.
It's essential to put your trust in cross country vehicle shipping professionals when it comes to moving a priceless property like you are shipping car across country.
Professional cross country vehicle shipping firms have the training, tools, and insurance to guarantee a hassle-free and easy cross country vehicle transport process. You gain the following advantages from working with these experts:
Comfort of Mind:
You can unwind knowing that your automobile is in the capable hands of car shipping professionals who have moved cars safely across the nation. These professionals are also familiar with interstate transportation's legal specifications and difficulties.
Cost and time savings:
Driving across the nation might take a lot of time and money. Professional cross country vehicle shipping services handle everything from pickup to delivery, saving time and lowering costs.
Insurance Protection:
Any potential damages during shipment must be covered by valid insurance for reputable auto shipping firms. This guarantees that your car will be financially protected in an accident.