There are multiple reasons why one might choose to ship their motorcycle. A motorcycle movers transport service is a highly convenient method to transport your bike over long distances, spanning hundreds or even thousands of miles.
This approach ensures that your bike remains safe and protected from any potential damage during transportation. Choosing a reliable and experienced motorcycle movers team, such as Rapid Auto Shipping, is your optimal decision.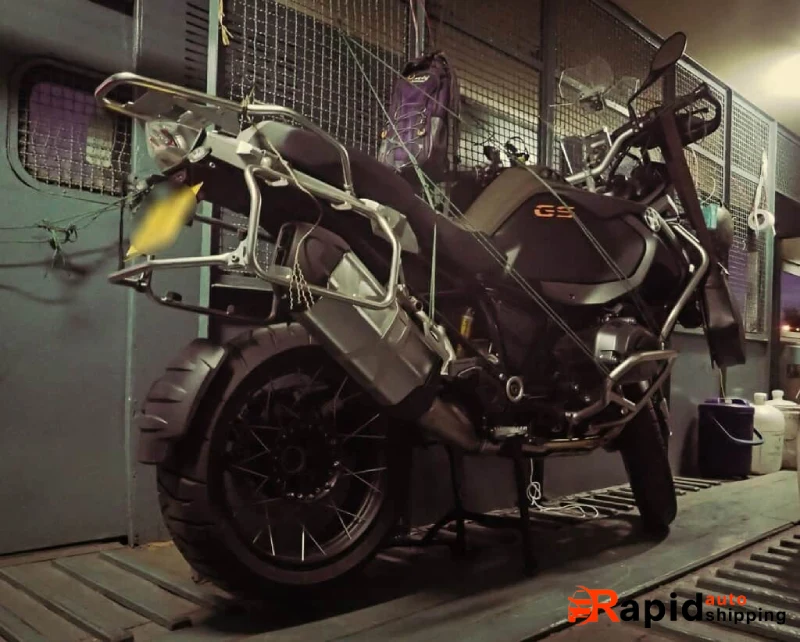 An enclosed motorcycle movers carrier is one of the most secure methods for transporting your motorcycle. The durable sides of the bike cover protect your bike's intricate detailing, leather seats, and overall body, shielding them from potential damage or breakage caused by external factors.
Your motorcycle will be shipped and delivered safely to your destination by being placed in an enclosed motorcycle movers carrier. It will be securely strapped to a custom pallet and carefully separated from another motorcycle.
We provide two options for motorcycle shipping through enclosed motorcycle movers as an example.
Soft-Sided Enclosed Motorcycle Movers:
The carrier is equipped with a durable canvas material that effectively shields your motorcycle from various weather conditions, such as wind-blown debris, rain, sleet, snow, and other elements.
Hard-Sided Enclosed Motorcycle Movers:
Hard-sided carriers protect your motorcycle if exposed to potential damage during transportation.
Have you considered using an open transport service to ship your Harley motorcycle? Open carriers are the same as double-decker carriers commonly used by dealers.
In addition, we ensure that your Motorcycle Movers are safeguarded using cutting-edge equipment, guaranteeing their safe arrival at the designated location within seven days.
Open transport is a reliable and secure shipping method that ensures your motorcycle's safety. It protects against road vibrations and jolts, giving you peace of mind during transportation.
Distance:
The cost of shipping a motorcycle increases as the distance of transportation increases. However, it is essential to note that there are significant exceptions.
Imagine if we were to transport your Motorcycle to a destination along a well-traveled shipping route, such as a city located on Interstate 95 between New York and Florida.
You can benefit from remarkably affordable shipping costs as your bike is transported in a fully loaded carrier. Putting a partially loaded truck on the road is a more costly option for our customers and us.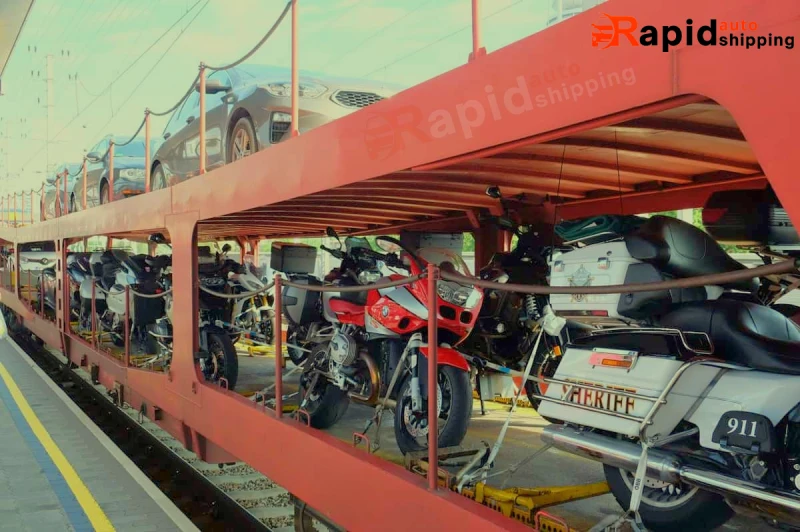 Away from the crowds:
Another factor contributing to higher Motorcycle Movers expenses is when your destination is not located along a primary interstate route. Traveling to an out-of-the-way destination incurs additional fees, such as the cost of leaving the interstate.
Motorcycle Design:
Certain motorcycles possess distinctive frames that make it challenging to fasten them onto our motorcycle transport carrier securely. To prevent scratches or damage, it is necessary to mount and support them on specialized cradles.
Motorcycle Weight:
To provide you with an accurate quote, we must also have information about your bike's weight. We have encountered instances where specific Motorcycle Movers give a quote without considering the bike's weight.
Consequently, when customers arrive to collect their motorcycles, they are informed that the transport cost is higher than initially anticipated.
Before our Motorcycle Movers team arrives for pick-up, it is advisable to prepare your Motorcycle Movers.
Before proceeding, it is important to thoroughly inspect your motorcycle for any pre-existing damage and document it accordingly. Please ensure that you clean your bike thoroughly. While doing so, carefully inspect it for any chips, dings, scratches, or other cosmetic damages.
It is essential to note down any existing damage that you observe. Additionally, taking clear and detailed photographs of your bike would be beneficial, explicitly focusing on the areas where the damage is present.
When the motorcycle delivery driver arrives to pick up your bike, they will also perform an inspection. This allows you to compare notes and obtain documentation of your Motorcycle's condition.
Please remove all loose items, including accessories, from your motorcycle. When riding, these items can become dislodged, lost, or damaged, and it is essential to note that they are not covered by insurance.
Our marketplace has been carefully created for simple navigation so that you can quickly shortlist motorbike transporters that meet your needs and budget. Create a listing for your scooter or motorcycle in the first stage, including the model and make and a detailed description.
You will receive quotations from motorcycle shipping service providers after the listing is published and can be approved.
Your next move should be to research each transporter's job history, safety certifications, and feedback history via their Rapid Auto Shipping profile history. Our strategic platform guarantees the lowest prices for bike transport anywhere in the US and internationally without any problems.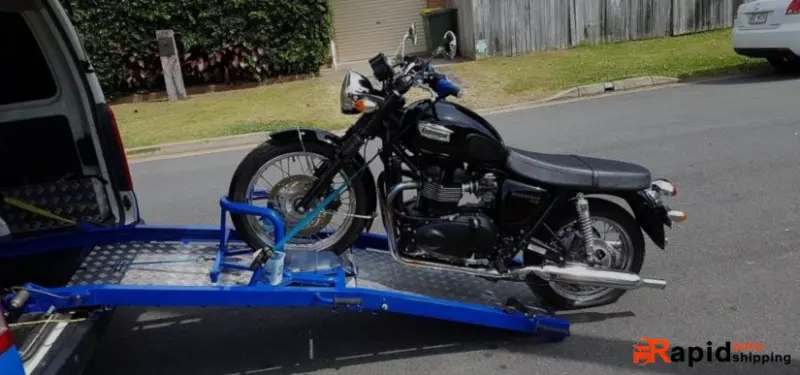 The last but certainly not least option for shipping your car is to work with a reliable moving firm. The relocation will be simple and stress-free if you deal with an expert car transport business. Motorcycles can also be transported by movers who provide door to door shipping and terminal-to-terminal auto shipment.
In other words, you can have the machine delivered to your door or pick it up in a predetermined area. You will also have the option of enclosed or open trailers for transporting your vehicle.
This way, you can save money and use open transporters or give your two-wheeler additional security by shipping it in an enclosed trailer. Whatever option you choose, your two-wheeler will be in the capable hands of experts.
Motorcycles can be transported on open or enclosed trailers, just like cars.
What is the difference between Open and Enclosed?
Enclosed Trailers The safest way to transport your motorcycle is in an enclosed trailer, which shields it from weather and road debris. However, enclosed shipping typically costs more and takes longer than open shipping.
This is so that shipping companies can wait until a trailer is filled before sending it on its way, as enclosed trailers can transport more bikes than open trailers. If you're the first to book a delivery, you could wait until the business receives more reservations.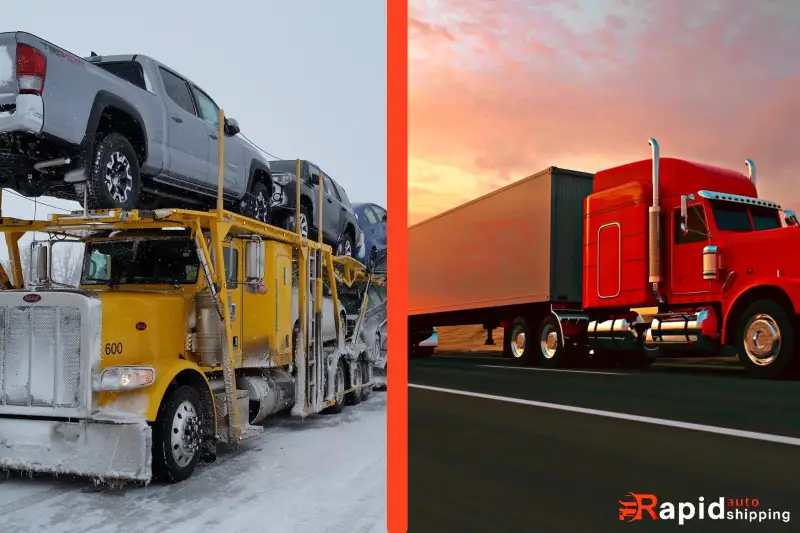 Open Trailers Your motorcycle is susceptible to flying rocks and other roadside litter when transported in an open trailer. Since they can store fewer bikes, open trailers are cheaper and ship out more quickly. Just be prepared if your bike arrives with a few dings or scrapes that must be visible in the seller's photos.
Which delivery approach is best for you? Enclosed shipping is the way to go if you have room in your budget and lots of free time. Open shipping may be more advantageous if you have a tight budget or need your bike urgently.