What's In This Article?
Electric vehicle shipping refers to the process of shipping and transporting cars and vehicles from one location to another, usually by truck or trailers. This may include shipment of cars and vehicles between dealerships, shipping cars for personal use, or relocating cars for military personnel. The service can also include door-to-door delivery or terminal-to-terminal delivery.
Electric vehicle shipping can transport cars and vehicles using various methods, including open-air and enclosed trailers and flatbed trucks.
Open-air trailers are the most common affordable options for each and every customer, but they have low safety measures as the cars are transported in open containers or trailers. Enclosed trailers and flatbed trucks cost us more and are expensive as they take full safety measures as they ship our cars and vehicles in a closed trailer or truck.
The electric vehicle shipping industry was indeed growing at a significant rate. There was a strong global push for electric vehicles (EVs) as countries and automakers aimed to reduce carbon emissions, combat climate change, and transition away from traditional internal combustion engine vehicles.
Since then, the growth of the electric car and electric vehicle shipping industry has likely continued, with numerous new EV models being introduced, increased investments in EV infrastructure, and expanding consumer interest. Governments worldwide have been implementing policies to encourage the adoption of electric vehicles, such as incentives and emissions regulations.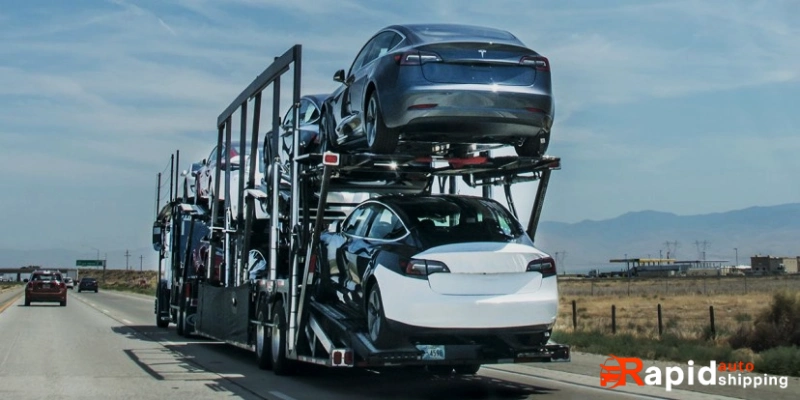 Electric vehicles (EVs) differ from regular vehicles, which are typically powered by internal combustion engines (ICE), in several ways-
Power Source-
EVs use electricity stored in batteries to power an electric motor, while regular vehicles rely on gasoline or diesel fuel to run an internal combustion engine.
Emissions-
EVs produce zero tailpipe emissions. Regular vehicles emit pollutants such as carbon dioxide (CO2), nitrogen oxides (NOx), and particulate matter, contributing to air pollution and climate change.
Fuel Efficiency-
EVs are generally more energy-efficient, as they convert a higher percentage of the electrical energy from the grid into vehicle movement. ICE vehicles lose a significant portion of their energy as waste heat.
Maintenance-
EVs typically have fewer moving parts in their electric drivetrains, leading to lower maintenance costs. There are no oil changes, and brake wear is reduced due to regenerative braking.
Silent Operation-
EVs are quieter than regular vehicles, which can reduce noise pollution in urban areas.
Range-
EVs may have limitations on range compared to some gasoline vehicles. However, this is improving as battery technology evolves.
Charging Infrastructure-
EVs rely on a network of charging stations rather than traditional gas stations. While charging infrastructure is expanding, it may not be as widely available in some areas.
Cost of Operation-
EVs are often cheaper to operate on a per-mile basis because electricity is generally cheaper than gasoline, and maintenance costs are lower.
Environmental Impact-
EVs can be more environmentally friendly, depending on the source of electricity. If the electricity comes from renewable sources, the carbon footprint of EVs can be significantly lower.
Government Incentives-
Many governments offer incentives, such as tax credits and rebates, to encourage the adoption of EVs, making them more affordable for consumers.
Electric vehicle shipping is similar to shipping a conventional vehicle in many ways, but there are some specific considerations due to the nature of electric cars, primarily related to their batteries. Here's a general overview of the process for shipping an electric car-
Choose a Reputable Shipping Company-
Choose Rapid Auto Shipping Company because it has experience in handling electric vehicles, as they will be aware of the specific requirements and precautions.
Preparation-
Before shipping, make sure the electric vehicle or car is fully charged. This helps ensure the vehicle's battery is in a safe and stable condition for transport.
Notify the Shipping Company-
Inform the shipping company that you are transporting an electric vehicle so they can make the necessary arrangements for handling the battery safely.
Battery Concerns-
Electric vehicles or car batteries are heavy and contain sensitive components. The shipping company should be aware of the weight and safety precautions needed when handling these batteries.
Secure the Vehicle-
Make sure the car is securely fastened or placed in a transport container to prevent any damage during transit.
Documentation-
Complete all the necessary paperwork and documentation required for shipping a vehicle, including any specific information related to the electric car's battery.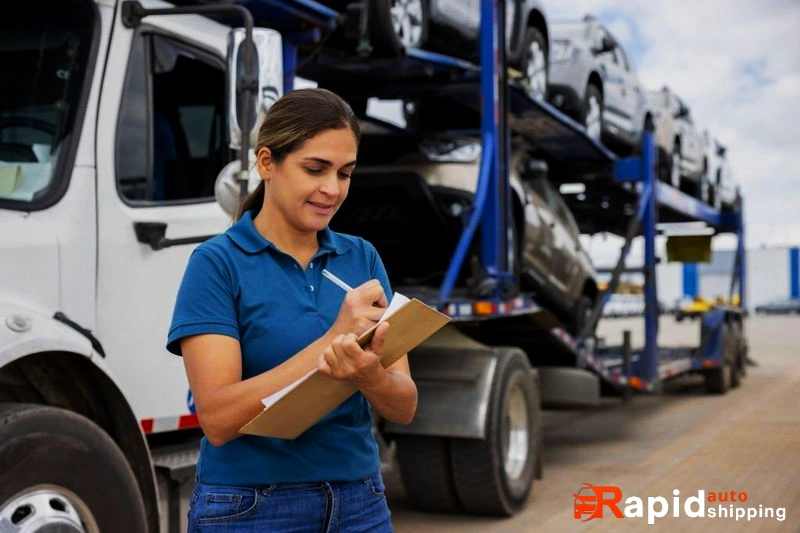 Charging Cable-
If applicable, pack the charging cable and any accessories securely with the vehicle.
Insurance-
Verify that the shipping company has insurance that covers potential damage during transport. Consider additional insurance if needed.
Delivery Address-
Provide clear instructions regarding the pickup and delivery locations and any special requirements for unloading the vehicle.
Monitoring and Communication-
Stay in contact with the shipping company during the transportation process to receive updates and ensure a smooth delivery.
Receiving the Vehicle-
When the electric car arrives, inspect it carefully for any damage that may have occurred during transport.
Charging After Delivery-
If the vehicle has been in transit for an extended period, you may need to charge it upon delivery to ensure it's ready for use.
It's essential to work with a reputable and experienced shipping company to ensure the safe and secure transport of your electric vehicle. They should be knowledgeable about handling electric cars and their batteries to prevent any potential issues during shipping.
Introducing Rapid Auto Shipping- Your Trusted Partner for Electric Vehicle Transportation!
✅ Electric Vehicle Experts-
At Rapid Auto Shipping, we specialize in electric vehicle shipping. Our experienced team understands the unique requirements of EVs, ensuring safe and secure transport for your prized possession.
✅ Safety First-
We prioritize safety throughout the entire shipping process. Our experts know how to handle EV batteries and drivetrains, ensuring your vehicle arrives in the same condition as when it left.
✅ Comprehensive Insurance-
Your electric vehicle deserves top-notch protection. We offer comprehensive insurance coverage to safeguard your investment during transit.
✅ Outstanding Reputation-
We are proud of our impeccable track record. Read our glowing customer reviews and testimonials that attest to our reliability, professionalism, and care for your electric vehicle.
✅ Competitive Pricing-
Quality service doesn't have to break the bank. Rapid Auto Shipping provides competitive rates, ensuring that you get exceptional value for your money.
✅ State-of-the-Art Equipment-
Our specialized equipment is designed to load, secure, and transport electric vehicles safely. Whether it's a plug-in hybrid or a full electric car, we have the tools and knowledge to handle it with care.
✅ Legal Compliance-
We're fully licensed, registered, and compliant with all regulations, giving you peace of mind knowing your electric vehicle is in capable hands.
✅ Customer-Centric Service-
Our commitment to outstanding customer service means you'll receive updates, clear communication, and support throughout the entire shipping journey.
When you choose Rapid Auto Shipping, you're choosing the best in the business. Trust us to transport your electric vehicle with the utmost care and professionalism.
Contact us today for a free quote and experience the peace of mind that comes with having your electric vehicle transported by the experts at Rapid Auto Shipping! Your EV deserves the best, and we deliver it with excellence. 🚗🔌⚡