The definition of heavy haul trucking is transporting loads or cargo that transcend standard size regulations. This method is utilized when your cargo is deemed large or wide. This indicates that the transit freight is more prominent in width, length, weight, height, or a combination of these qualities.
Step deck trailers, RGN trailers, drop deck trailers, and other trailers are commonly used in heavy haul shipping. Heavy haul trucking cargo requires specific equipment, permits, and the correct type of driver in order to avoid any potential dangers or hazards on a regular route.
For shipments that exceed any of the following loaded dimensions: 14 feet, 6 inches in height, 14 feet, 6 inches in width, and 100 feet in length, heavy haul shipping service is typically necessary.
Additionally, any load with a single extreme dimension (for example, one wider or taller than 16 feet) will require heavy haul shipping service.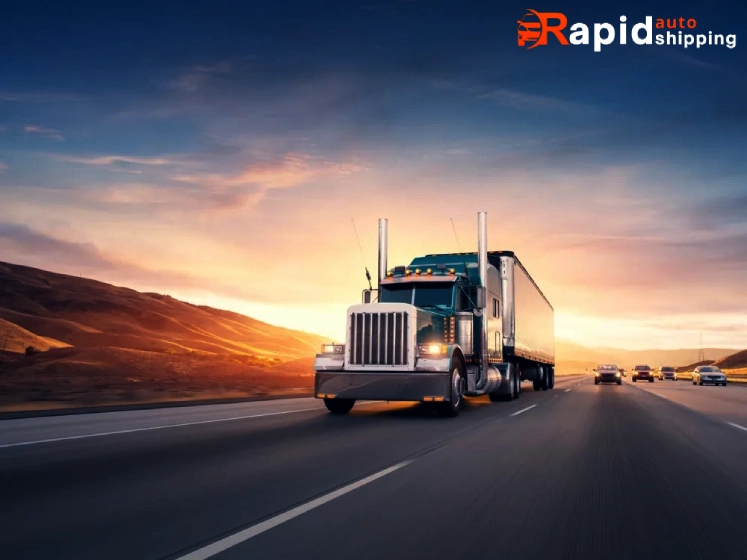 Any shipment whose total weight exceeds 55,000 pounds is designated a heavy haul shipment.
To reliably transport cargo weighing more than 55,000 pounds, additional truck, and trailer axles are required, classifying these shipments as "heavy haul."
Heavy haul shipments exceeding the dimensions mentioned above and weight limits necessitate the most specialized trailers the heavy load transportation industry offers.
For large haul shipments exceeding 14 feet, 6 inches in height, 14 feet, 6 inches in width, and/or 100 feet in length, but not 55,000 pounds, it is not always necessary to add axles. Here are some typical trailers used in such situations:
RGNs are removable gooseneck trailers.
Extendable RGNs
Step-deck, flatbed, and double-drop trailers
Extendable flatbed vehicles
Lowboy trailers that feature outriggers
As the overall weight of a heavy haul load increases, the trailer's composition will alter. To more uniformly distribute weight, additional axles are required.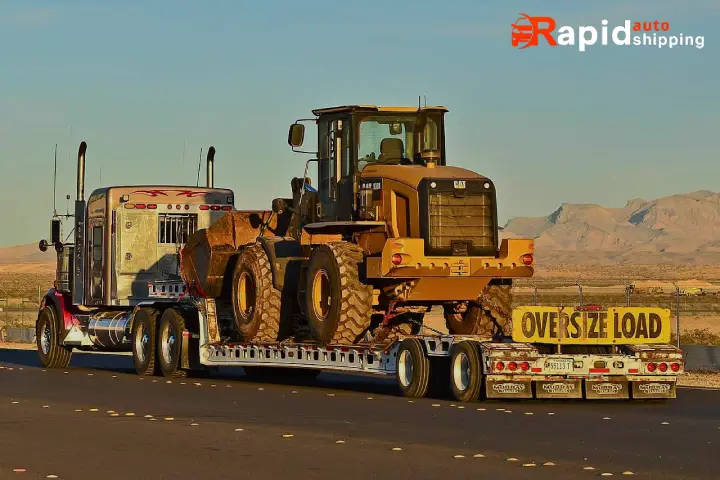 A four-axle semi-truck with one steer, one pusher, and two drives is called a "standard heavy haul tractor" and is made to move massive loads. These tractors have a double frame, a front axle supporting 20,000 pounds, and much bigger steer tires.
Hefty haul tractors are typically paired with trailers with more than two axles, giving carriers the seven (or more) axles required to transport oversized cargo.
When a shipment's total cargo weight exceeds 65,000 pounds, a 7-axle configuration is typically required. It is possible to acquire these seven axles in a variety of methods.
However, carriers will normally employ a four-axle heavy haul vehicle and a three-axle trailer, which may be flatbed, step-deck, or RGN.
From this point, handling shipments exceeding 7-axle weight thresholds is typically accomplished by adding jeeps and/or stingers; legal axle weight limits differ by location, but this naturally occurs at approximately 85,000 pounds.
There are 4-axle trailers (known as "closed quads"), but jeeps and stingers are typically used to accomplish the eight, nine, and 10+ axles required for the heaviest moves.
Now that you are familiar with the thresholds at which your shipments will require heavy hauler transport service and the typical equipment used, you may be pondering why carriers bother to classify heavy haul trucking differently than other heavy load transportation services.
Would it not be simpler to combine large haul loads with other open-deck shipments, adjust the number of axles or trailer type required, and then proceed?
However, the complexities of heavy haul shipping extend far beyond the apparatus required to physically transport products. In order to direct these shipments without a mishap, providers of heavy haul shipping must also possess expertise in other areas.
Heavy haul freight transfers necessitate, among other things:
Drivers have the necessary experience and education
There is route planning and route surveying
The proper permits are obtained
Contracting the essential safety services
To give you a better comprehension, let's discuss each of these unique complexities of long-distance trucking.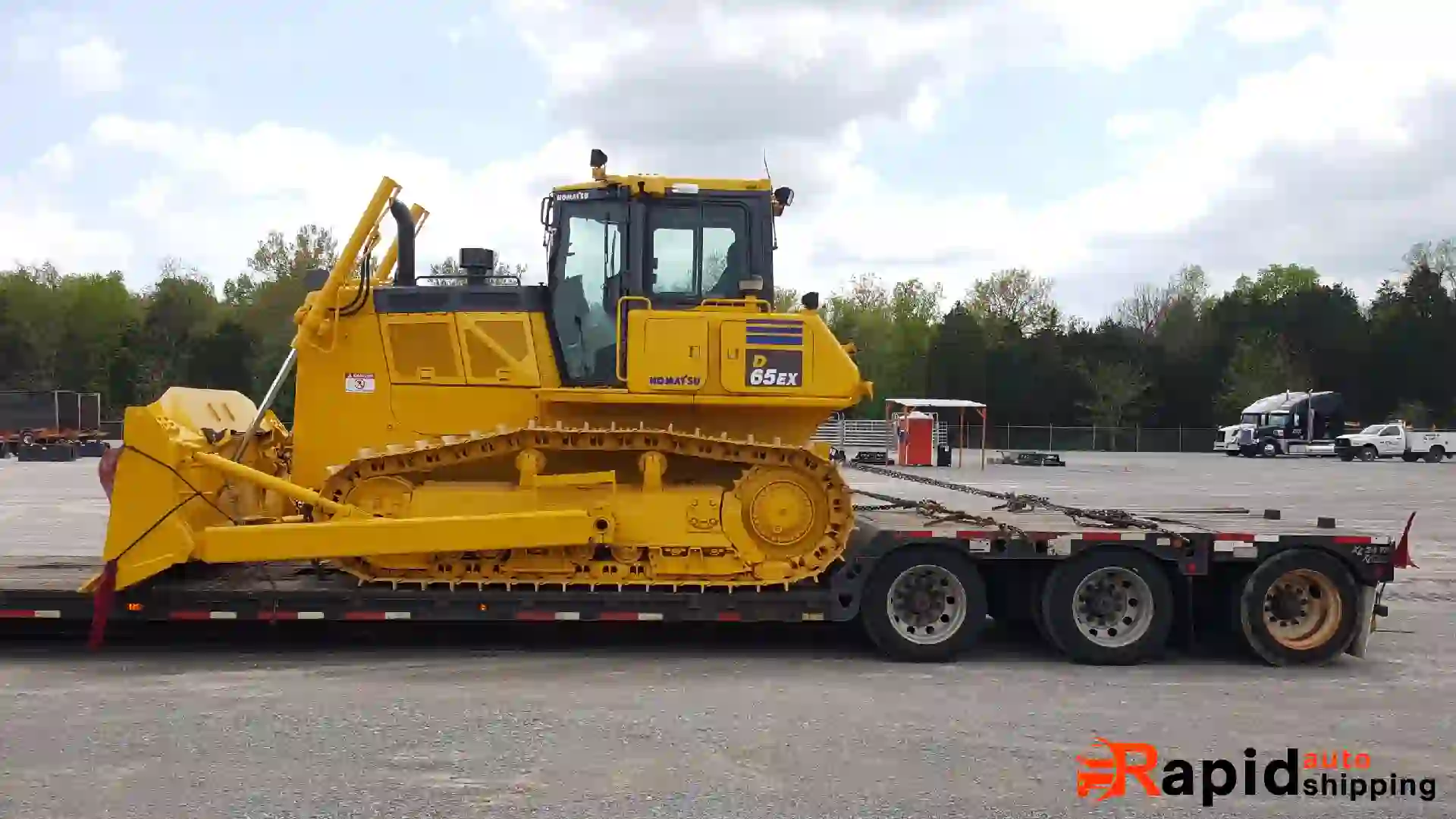 As with many other heavy load transportation services, the price of heavy haul trucking varies significantly depending on the situation. Due to this, it is challenging to generalize the cost of your specific shipment.
Your heavy hauler transport should realistically cost between $5 and $10 per mile, plus fuel. Nonetheless, this is a vast spectrum.
Heavy load transportation requires specific documentation and permits. Before dispatching drivers on the road, fleet administrators will need to address these issues.
Different states, localities, and counties will restrict the time and hours an oversized freight can travel. Additional permits may be necessary Depending on the cargo being transported as a heavy burden.
When transporting a shipment across state lines, be aware that state-by-state regulations vary.
Heavy load transportation can necessitate the use of alternate routes, the lifting of power lines, or the removal of obstacles. Despite these particular considerations, however, oversized and overweight loads have additional requirements.
Safety symbols
These orange or red fluorescent flags are typically set at the extreme corners of the heavy-load truck to assist drivers and other road users in determining clearance.
Lights
Certain states mandate that large-load vehicles be equipped with rotating yellow LED lights. When traveling at night or in conditions of low visibility, lights may be required in lieu of safety flags.
Escort vehicles
Heavy haul trucks are accompanied by escorting or pilot vehicles. Some states may even mandate a police escort for goods more comprehensive than 16 feet. The necessity of a companion will depend on the following:
The kind of cargo transported
Load Capacity
Travel route
Banners
The "oversized load" banner is placed on the front and rear of the vehicle transporting the heavy load.
Occasionally, a "wide load" banner can be substituted for the oversized load. Generally, banners are sold as reversible signs to increase your versatility.
Each year, billions of dollars worth of products are shipped to the United States. Heavy-haul cargoes are only a portion of this market, but this niche continues to be profitable.
Beginning in heavy-hauling and expanding a profitable trucking enterprise requires:
Selecting the market to serve
Establishing your per-mile heavy-haul rates
Developing an enterprise strategy
Determining legal requirements
Obtaining business financing
Purchasing the required assets (and insuring them).
Getting vehicles ready for the road
Identifying and training significant haul drivers
Developing fleet procedures
Increasing your customer base
Not positive what constitutes heavy hauling equipment? It may include excavators, bulldozers, cranes, rock vehicles, tractors, and other industrially heavy objects.
We need precise dimensions and weight of the equipment in order to determine what needs to be done to transport your cargo. This will assist in deciding what sort of trailer is required for the shipment.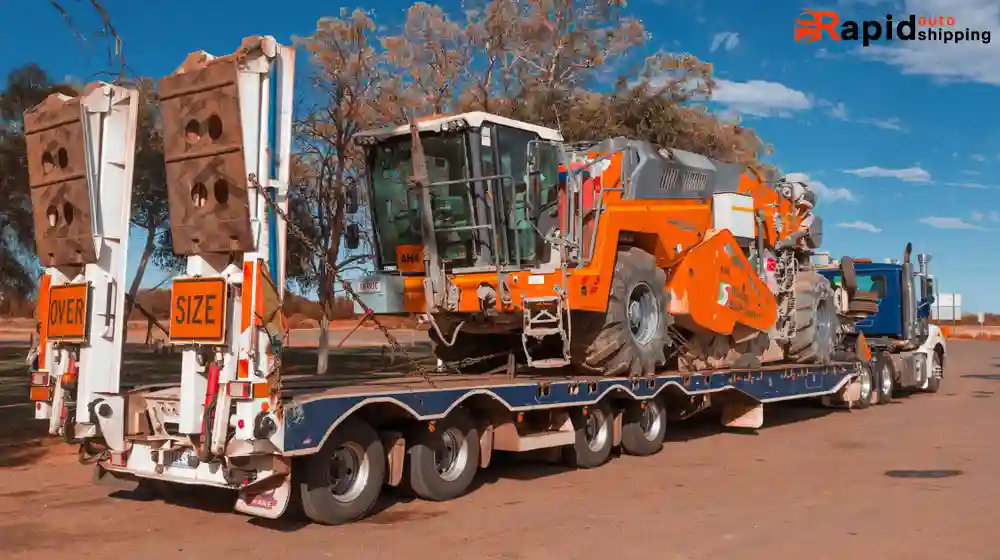 Heavy haul shipping companies ' specialty is transporting hefty and oversized loads across the nation and the globe. Heavy haul shipping companies deliver large structures such as power grid equipment, steel for bridges and other construction materials, as well as industrial machinery for electricity and nuclear power plants.
Multi-axle drop deck trailers and RGN trailers such as flatbed, step deck/drop deck, and double drop deck/lowboy are frequently used to transport loads up to 18 feet wide and 16 feet high, weighing up to 400,000 pounds or more.
Experienced heavy haul shipping companies can transfer anything from your home to construction and agricultural equipment and advise you on customs declarations for international shipments.
You can rest assured that the truck's owner-operator will have experience packaging and transporting oversized loads and that your shipment will be insured against damage.
For success in long-distance transportation, Rapid Auto Shipping's GPS tracking software facilitates the identification of risks and the correction of inefficiencies through real-time asset visibility.
With automated post-trip counseling, the fleet safety software of Rapid Auto Shipping increases driver safety and improves driving behaviors.
Providing fleet managers with the ability to monitor vehicles and equipment in near real-time and employing artificial intelligence to compare the route's historical performance to the current situation can enhance the customer experience.
In addition, couriers are less stressed and can drive more safely while still meeting delivery deadlines and expectations. This can reduce accidents by up to 30 percent while also reducing vehicle wear and tear.