Although it is commonly believed that shipping cars from state to state independently is the most cost-effective option, it is essential to take into account the hidden expenses involved. When considering the costs of transporting a vehicle cross-country, it is necessary to account for various factors.
These include fees such as fuel for driving the car or towing it with a trailer hitch, the potential loss of work time, costs for food and lodging, and the inevitable wear and tear that may occur during the shipping process.
Shipping a car via train is typically cheaper than shipping it by plane or truck. However, it is essential to note that to transport your vehicle; you must purchase a passenger ticket and accompany it during the journey. This process can be time-consuming and may require adjusting your schedule.
The cost of shipping a vehicle through plane transport is typically high and is usually only feasible for individuals or companies with substantial budgets.
Although the flight time between cities can significantly impact your total travel time, the exorbitant prices associated with air travel make it unaffordable for the average customer. In addition, if you need to arrange ground transportation to collect the car from the airport, you will incur additional expenses.
When considering the overall value, one method of shipping cars outshines the others; for consumers seeking an efficient and affordable option to ship their vehicles between states, car transport by truck is ideal.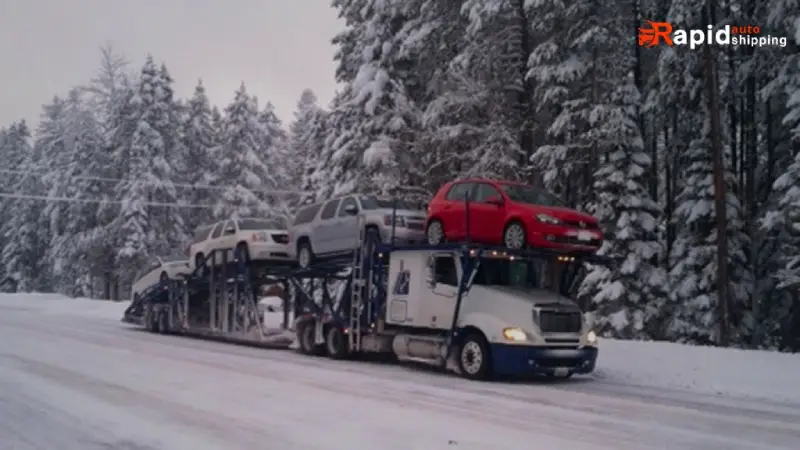 When it comes to shipping a car, there are various alternatives. You could be relocating across the state or the country – the choices are unlimited, so go with the open-air option first. Open-air travel is the most cost-effective way for short distances. It's less costly and more simpler.
Remember that it will eventually expose the automobile to the elements, so be prepared for possible damage depending on the season.
You should consider container shipping if you're transporting a classic car or traveling a long distance. It will be more expensive but also safer, so keep that in mind and make sure you select the best option. Finally, the decision is yours!
There are several compelling reasons why shipping your state to state car shipping is better than driving it yourself. When you are moving to another state, you probably have numerous tasks that demand significant time and effort.
These tasks may include managing work-related changes and organizing the packing of your belongings, to mention a couple. Given this, it is unnecessary to burden yourself with an additional task.
Simplify your life by shipping as many of your vehicles as possible. Save yourself the hassle and let the pros handle the intricacies of shipping your car to another state. Rapid Auto shipping lets you cross one task off your long to-do list.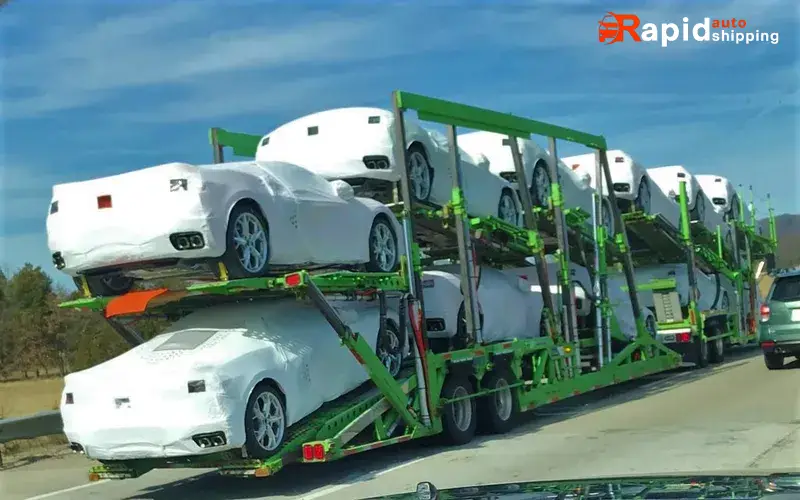 If you're new to car shipping, Rapid Auto Shipping introduces you to the many types of auto transportation, and it's helpful to understand how they operate. There are two primary types of auto transportation: open and closed.
Each type has its advantages and disadvantages, making it essential to clearly understand them before deciding. Keep reading to discover popular methods of car transportation in Michigan.
Open state to state car shipping:
Drop shipping cars from state to state is more expensive than this method. In this technique, the professionals put your automobile in a vast open trailer with similar belongings.
Multiple vehicles are being moved to different locations simultaneously. Rapid auto shipping carriers use flatbed and multi-car trailers. The first can transport a car without sides or top.
The latter is a three-level semi-trailer that can transport ten automobiles. Due to the number of stops, this approach takes longer but is safe and successful when done by experts. Consider a long-standing organization specializing in moving cars from Michigan using this approach.
Enclosed state to state car shipping:
An automobile is transported in an entirely secured truck or trailer while being ship car state to state. The car is not exposed to the weather or dirt since it sits within a truck or trailer.
In this situation, the vehicle is shielded from the weather and road debris like pebbles and dust that might harm your car. If you want to move your luxury, antique, exotic, or classic automobile safely, enclosed car shipping is an excellent option.
To guarantee that your automobile travels in the same condition as when the shipping comp picked it up, enclosed car shipment offers additional protection. Therefore, covered vehicle transportation is often more costly than open auto shipment.
The most optimal method for car delivery from state to state is transporting a car across state lines using a truck. While it may not be as inexpensive as train transportation on average or as fast as plane transportation, it offers a satisfactory compromise that is affordable and accessible for the average consumer.
Partnering with a reputable and trusted state to state vehicle shipping company like Rapid Auto Shipping makes the experience even more advantageous.
Several top companies in the vehicle transport industry provide comprehensive door-to-door shipping services, ensuring a seamless transportation experience from the origin (Point A) to the destination (Point B).
Do you need affordable open car transport services from New York City to Seattle? Are you interested in transporting a vintage car from Chicago to Miami using a secure, enclosed trailer?
Regardless of the timing, a reputable truck transport company is the ideal choice if you require any car transportation service.
They possess the necessary expertise and resources to efficiently transport vehicles across different states. Our shipping method provides exceptional flexibility, affordable rates, and unmatched ease of use in the car transport industry.
When you are looking to transport a car to another state using a truck, a company stands out for its secure and exceptional door to door shipping services.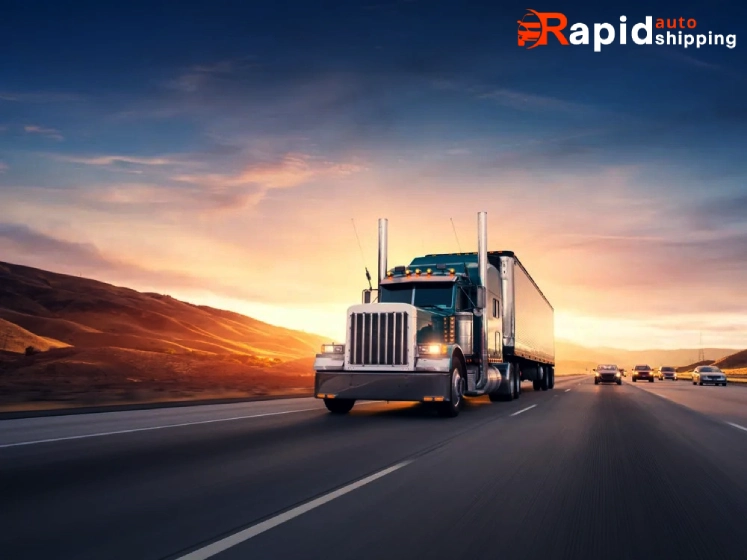 Several factors determine the time it takes to ship a car:
The distance not only affects the cost but also influences the duration of the journey. Carriers typically cover approximately 500 miles within a single day of travel. Due to the large number of vehicles on a carrier, it is essential to note that the transportation of a car over a distance of 1000 miles typically requires 2-3 days. A truck driver can typically complete a 1,500-mile trip within 3 to 4 days.
Poor road conditions can significantly impact travel, causing delays or necessitating alternate routes.
Inclement weather can significantly impact transportation, often resulting in delays or even complete halts in traffic. This can lead to increased travel time for commuters and other travelers.
If you prefer to pay for single-vehicle transport, it will result in a shorter travel time but a higher price. Additional vehicles and stops have the potential to increase travel time.
A person may like to ship their vehicle to a distant location, whereas another may wish to transfer their vehicle locally. As a result, there are several options.
Before transporting your car from state to state, you should consider the transportation methods. A vehicle can be transported in one of two ways. The open-air approach is one of them:
When transporting an automobile over a short distance, an open-air method is the most cost-effective option.
The enclosed method is the second technique:
Your car is shipped in a covered trailer using this method.
You should ship your vehicle using the enclosed approach if it is precious.
When compared to the open-air process, this method is more expensive.
However, it is a much safer approach than open auto transport.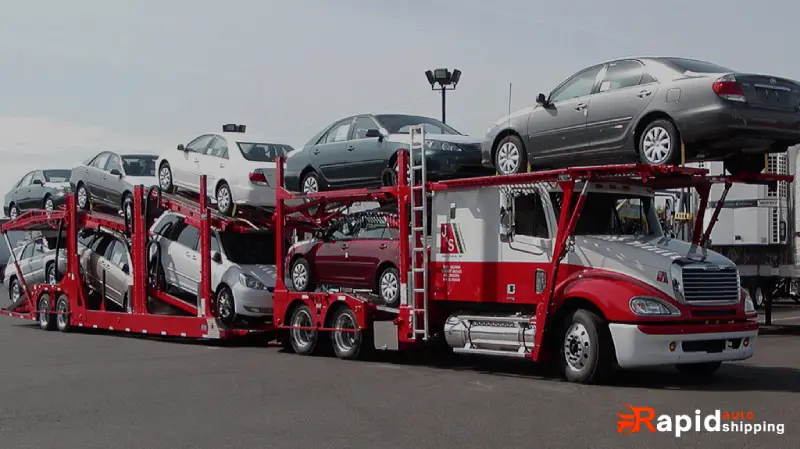 Throughout the process, we provide excellent service in every aspect. When you choose us to handle your state to state car shipping needs, we prioritize your job. When transporting an automobile to another state, we also create a specific route for you, whether you choose an enclosed or open transport carrier.
We ship all types of vehicles countrywide, door-to-door, and door-to-dorm, from a Nissan Frontier to a Rolls-Royce. Our consumers expect safe and dependable service, distinguishing us from other businesses.
We've been in the car company for ten years, from purchasing and selling to transporting. Whether it's your first or fourth time shipping a car, our network of over 8,500 carriers and car movers is one of the industry's largest, most experienced, and most professional, guaranteeing a fantastic experience.
As a result, we can provide some of the most cost-effective car shipping quotes for state-to-state transportation. Your quote is guaranteed for 14 days, twice as long as the industry standard.
Working with us is simple: we take care of everything, beginning with contacting your buyer, seller, auction house, or whoever you're working with. We'll appoint a dedicated Transport Coordinator to you, and you'll have direct access to them, as well as the name and phone number of your hauler, so you may contact him while your vehicle is en route.