About America's Auto Auction
Americas Auto Auctions is a company that specializes in conducting wholesale automobile auctions. America's Auto Auction provides a comprehensive range of dealer services that are essential for effectively meeting the remarketing requirements of both buyers and sellers.
Choose a Transport Method: Make sure to decide whether you prefer using an open or enclosed transport. Open transport is an affordable option; however, it does leave the vehicle vulnerable to external elements. On the other hand, enclosed transport offers more excellent safety but arrives at more expense.
Select a Transport Company: Do thorough research and carefully select a reliable auto transport company, such as Rapid Auto Shipping, with an excellent track record. Please seek reviews, ratings, and suggestions from individuals previously engaged in vehicle shipping services. Please verify that they possess the necessary licenses and insurance coverage.
Request for Quotations: It is beneficial to contact multiple auto transport companies to obtain cost estimates. It is advisable to thoroughly compare prices, services, and shipping times to make a well-informed choice that satisfies your specific requirements and budgetary constraints.
Book the Transport: Once you choose a company, making the necessary arrangements for shipping well in advance is beneficial. Please ensure that you furnish them with full details, encompassing the vehicle's make, model, and condition, in addition to the designated pick-up and delivery locations.
Prepare the Vehicle: Before transportation, it is essential to thoroughly clean the vehicle and ensure the removal of all personal belongings. It is advisable to carefully document the car's condition by recording photos or videos.
This can provide a comprehensive record of any potential damage occurring during transportation. Additionally, verifying that the vehicle is in optimal efficiency is essential, as any cars that are not operational may result in additional fees.
Choose Pickup and Delivery Locations: Please finalize the specific places for pickup and delivery. In situations where the auction site restricts the entry of transport trucks, it can often be more advantageous to use spacious parking lots or nearby terminals for reasons of accessibility.
Verify Insurance: Check the shipping company's insurance. To protect your ancient or valuable autos, you may need extra insurance.
Prepare Required Documents: Get the vehicle's title, registration, and other transport company-requested documentation.
Check the Contract: Read the shipping agreement. You must agree to the terms and delivery timeframe.
Pickup and Loading: Be available or have a trustworthy individual hand over the vehicle on the specified pickup date. The transporter will examine and load the car.
Monitoring and Communicating: Keep in contact with the shipping company and track your shipment. They should update the vehicle's location during transportation.
Deliveries and Inspections: Check the vehicle when it arrives. Check its condition against pre-transport pictures or videos. Damage may be included in the bill of lading.
Final Payment: Pay the transport firm as agreed. Some companies charge a deposit and the rest upon shipment.
Transferring and Registering Title: If needed, transfer and register the title at a new location according to local rules.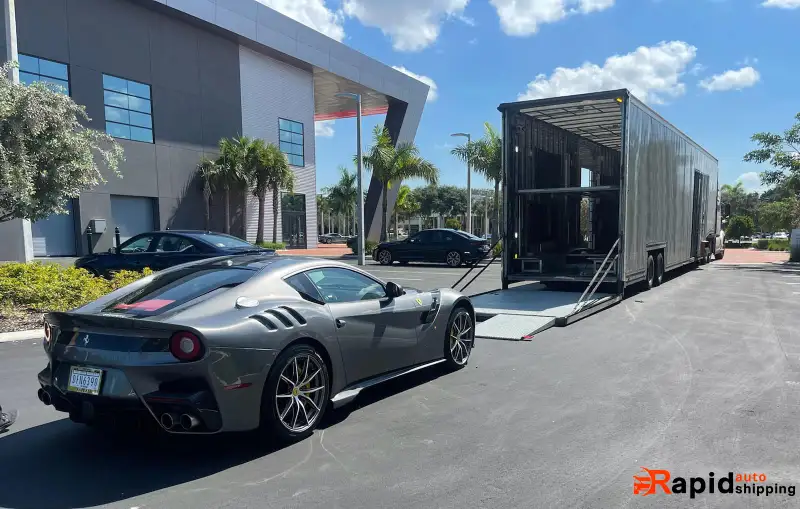 Rapid Auto Shipping is a reliable transportation company that provides efficient and secure shipping solutions for cars from America auction. Our primary goal is to guarantee your helpful car assets' safe and timely delivery by focusing on reliability and dependability.
Our team of highly skilled professionals uses modern technology and follows the best practices in the industry to handle every aspect of the shipping process effectively. We acknowledge whether you collect, sell, or love cars, your vehicles are vital to you.
We personalized choices to your requirements. Contact us quickly with any inquiries or requests. Smooth, stress-free service is guaranteed.
A few shipping methods are available for the shipment of a car purchased from America's car auction. The two most commonly experienced options are open transport and enclosed transport. Open transport is an affordable choice, although it subjects the vehicle to various environmental elements.
Enclosed transport provides increased protection, only at a higher cost. Please get in touch with Rapid Auto Shipping to start the procedure for shipment once you decide on the method of your choice. Please provide the required details, such as the make and model of your car, the pick-up and drop-off locations, and your planned delivery time.
We will facilitate the car's transportation using carriers or trailers, guaranteeing its secure transit to the chosen destination. Verifying insurance coverage and monitoring the shipment is advisable to ensure peace of mind.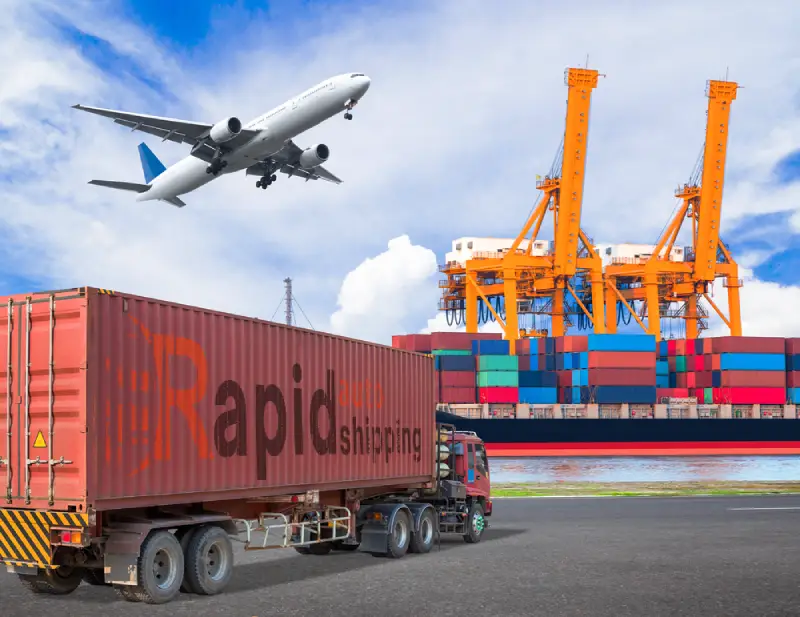 The shipping cost for cars obtained from America's car auction can show significant variation, depending upon various factors.
Factors include the distance separating the auction location and the desired destination, the particular qualities of the vehicle being shipped (including size and weight), the choice of shipping method (whether open or enclosed transport), and any additional features like insurance coverage or quick delivery.
The average cost of domestic transporting cars within the United States typically ranges from $500 to $1,500 or higher. Requesting quotations from shipping companies to obtain accurate pricing knowledge is advised.