The best auto shipping companies should be chosen, and this is an important consideration. After all, your car is already in the company's care when you turn in the keys to the carrier.
The price is one of the key considerations when selecting an auto shipping company. Check out websites to compare pricing and receive estimates. Let's now identify the variables that affect the price: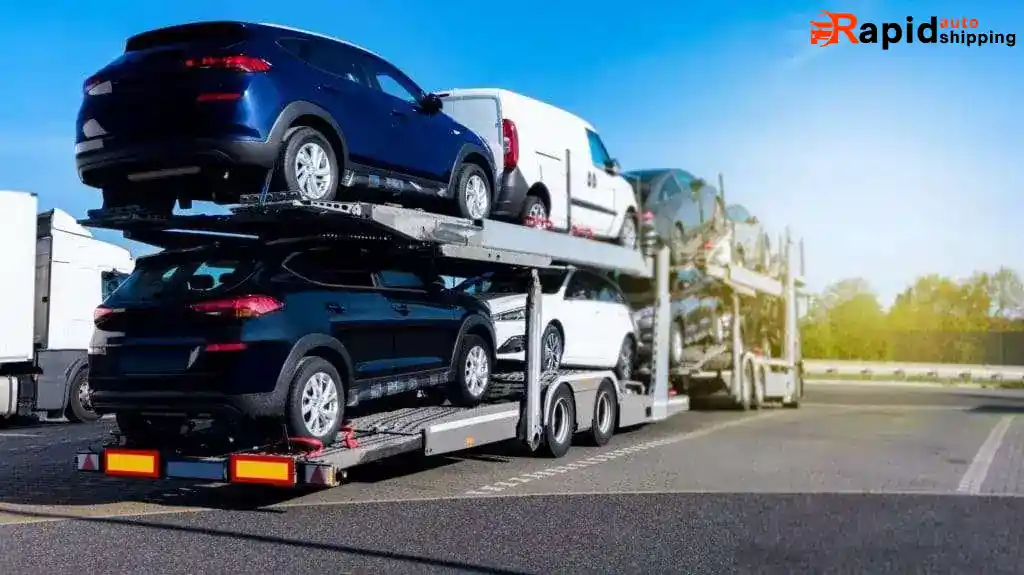 In order to ensure a smooth journey, it is essential to prepare your vehicle just as you would when getting ready for a cross-country trip. Below are several crucial steps to properly prepare you for country car transport.
Cleaning Your Vehicle Before Shipping:
Ensure that you meticulously clean your car, paying attention to every detail, and then proceed to capture high-quality photographs. Before shipping your vehicle, washing the exterior and meticulously cleaning the interior thoroughly is highly recommended.
While it may appear counterintuitive, cleaning and washing your auto shipping before embarking on a long journey across American highways and freeways is beneficial.
This practice helps document any damages that may occur during the shipping process. After washing and cleaning your car, it is advisable to capture comprehensive interior and exterior photographs.
Your gas tank should only be 1/4 full:
Ensure your gas tank is filled to approximately one quarter of its total capacity. As you approach the last few days before handing over your car to the shippers, it is advisable to ensure that your gas tank is approximately one-quarter full.
The amount of gas provided should be sufficient for the necessary movement of cars on and off the truck at each stop.
However, it is essential to leave the tank, as the additional weight of a full gas tank (especially if every car has one) would increase the load and result in lower gas mileage for the truck.
Keep a record of the vehicle's condition:
It is essential to document any pre-existing damages to your car and ensure that you remove any valuables from the interior. I hope you have chosen a shipping company that will not attempt to avoid any responsibility for damages such as dents, dings, and minor cracks in the windshield.
Cleaning and documenting the interior of your vehicle is a precautionary measure if someone gains unauthorized access to your car and tamper with its contents.
It is also an excellent opportunity to retrieve valuable items from the vehicle, such as important documents or essential belongings, in the glove box.
Verify Insurance Coverage Again:
First-time automobile shippers worry about vehicle safety. Open-air shipping is safe for your automobile. Every 200 shipments had less than one claim. A bumper scrape or dent is typically harmless.
Your vehicle will be in the center or rear of the auto transport truck, at least behind the freight truck, so pebbles and other debris won't damage your windshield or undercarriage.
Insure your car anyhow. Car transporters insure your vehicle. Car Shipping policies are a crucial indicator of a reputable shipping firm. Avoid companies without six-figure insurance. Find a firm that covers your automobile for $100,000 or more for the best.
Over-insurance is preferable to under-insurance. Thus, your automobile transportation firm can be someone other than your exclusive insurance provider. Check your auto insurance for shipment coverage. Auto shipping should include car insurance.
Open auto shipping is the most common type of car transport service. It's simple to set up, convenient, and offers great value for money. An auto shipping companies transport your car and other vehicles using open car transport.
They pick up and load your car from a place of your choosing and transport it to another one of your choosing. It exposes your car to the elements but is still the safest and most secure option if you're on a tight budget.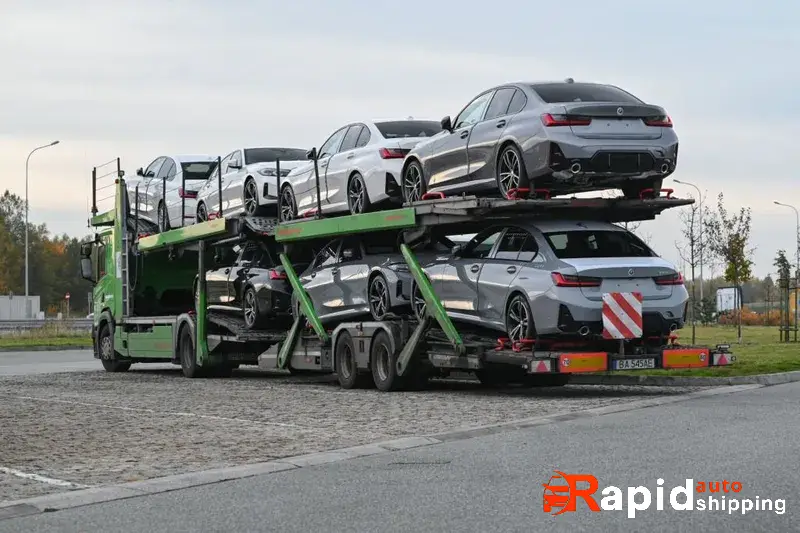 Enclosed auto shipping, also known as enclosed vehicle transport or enclosed carrier auto transport, is a auto shipping method that offers enhanced protection.
If you are the fortunate owner of a high-end, classic, or custom car, enclosed car transport is the ideal option for safely and efficiently transporting your vehicle from its current location to its desired destination.
Enclosed auto transport offers a secure and reliable method of transporting your car from one place to another. This service involves using a fully enclosed trailer that provides complete protection on all four sides.
Enclosed transport protects your vehicle from various external factors, such as adverse weather conditions and potential damage from traffic debris.
This ensures that you can have peace of mind throughout the transportation process, knowing that your car is safeguarded and you won't have to worry about any potential issues.
The standard window for car pick-up service is typically between 1 to 4 days company starting from the first available auto shipping date. To ensure a reliable vehicle shipping service, the pick-up time will be scheduled within the agreed-upon dates as discussed with your auto shipping advisor.
Several factors come into play when calculating the cost of shipping a car. On average, auto transport companies in the US charge approximately $2.92 per mile for journeys under 200 miles.
For distances between 200 and 500 miles, the rate drops to $0.93 per mile. If the journey exceeds 1,000 miles, the cost decreases to $0.78 per mile.
Due to difficulties and distance,
auto shipping estimates usually need to be revised. It may need covered trailers or shipping containers for your automobile.
Shipping dates affect pricing
If you can be flexible with timings, your car transport service may charge less since they can fit your vehicle delivery into their timetable and decrease overheads, passing the savings on to you. Expedited shipment, which requires a trailer and driver for your delivery, will cost extra.
The cost of transporting your car depends on its height,
length, and breadth. SUVs cost more to haul than Sudan and need larger trailers. Please inform the vehicle shipping company of any bike racks, roof racks, or other automotive attachments since they might affect the trailer size required for delivery.
Vehicle Condition:
A non-drivable automobile may increase auto shipping costs. Getting your car on and off the trailer may need a winch or forklift.
If your automobile has a locked wheel, it cannot be rolled onto a trailer and off again, requiring more time, effort, and equipment than a regular car transfer service. An automobile that breaks, rolls, and steers is usually shippable.
Car shipping costs depend on the vehicle transport provider you choose
Since single-vehicle trailers and enclosed transport need special equipment, they are more expensive than having someone drive your automobile to its destination.
Enclosed automobile transportation is the most costly since it requires specialized equipment to load, unload, and safeguard your car.
Pickup and delivery locations might significantly boost automobile transportation costs
If it's a popular destination, automobile shipping in urban regions is frequently affordable. Rural deliveries cost more since they involve business modifications and more miles.
If a pickup or drop-off site is in an unusual or hard-to-access location, more steps may be needed to load your vehicle, increasing the auto shipping cost.
Vehicle shipping Insurance:
While all vehicle shipping firms must have liability insurance, many do not provide extra insurance since it is not required by law. If a car shipping business does not offer cargo insurance, you should get it for your vehicle.
As with other insurance plans, be sure you understand what damage is covered, if there is a deductible, what sections of the car are protected, and any further queries.
Time of Year:
Ice and snow delay roads, making winter automobile shipments more expensive. Seasons affect motor transport costs:
Vehicle shipping is most costly in winter
Ice, snow, and blizzards may slow automobile delivery services and create traffic delays. Drivers are on vacation in December, and many go to warmer locations in January, raising car transportation expenses. February is calm. Therefore automobile transport firms offer fantastic pricing.
Car shipping in spring is ideal
Spring automobile transport might be cheaper and more available due to better weather, longer days, and more drivers. March is usually better than April or May for shipping automobiles from chilly to warmer regions, although there is sometimes a hurry.
Summer
Summer is the best time to transport automobiles since the days are the longest, kids return home from college, employers take vacations, and many people relocate. Summer automobile transportation is expensive since June, July, and August are popular auto transport months.