Bill of lading
An old English verb that implies "to load" is "lading." An official receipt or written statement is called a "bill." As a result, the Bill of Lading serves as a record of loading your car onto a carrier.
The necessity of this paperwork, sometimes known as the "BoL," cannot be overstated while transporting your vehicle. It is evident that a carrier has your car and was in good shape when it was picked up and delivered.
Before signing this agreement, you must make a note of any damage to your vehicle. Repairs will only be paid for by insurance carriers if the damage has been recorded in the Bill of Lading.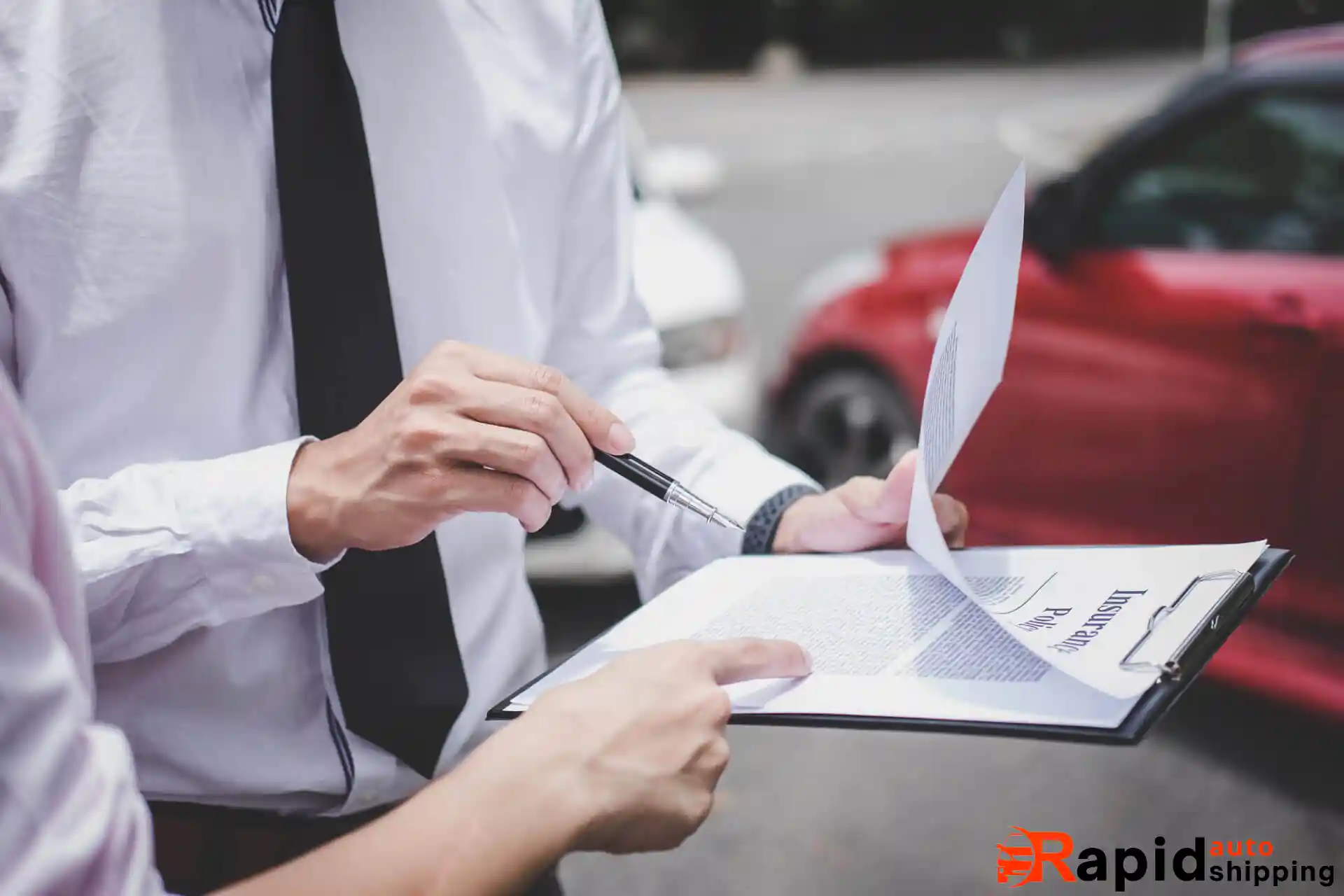 Terms and conditions of insurance
As a customer, you usually don't need insurance to send your automobile, but your auto shipping company most likely does.
You should confirm that the transporters you're considering are sufficiently insured because coverage amounts can vary. Before you sign on the dotted line, always review the terms and conditions of your insurance coverage information.
Lienholder authorization
You may need formal approval from the lienholder (such as your financial institution) before exporting an automobile if you're still paying for your vehicle loan.
We use the word "sometimes" because a lienholder's consent is only required if the car shipper utilizes a seaport. The only state this truly applies in Hawaii, but if you need more clarification, you can always check with your financial institution.
Absence of owner authorization
Only if your vehicle is being exported through a port will this document be necessary. If you wish to permit someone else to pick up your car at the destination port instead of you, you will need this.
Proof of insurance
Rarely is a customer needed to obtain personal insurance for their vehicle to ship their car. However, only some shipping companies will have sufficient insurance for the kind of vehicle you have.
Consider investigating additional shipping coverage options from your insurance provider in these circumstances.
Both registration and title
Your vehicle's title attests to your ownership of it. In contrast, the registration attests to compliance with all local and federal laws (the police can identify you when they scan your license plate).
Most companies don't request these car shipping documents, but checking with your carrier to see if shipping your automobile involves providing a title and registration never hurts.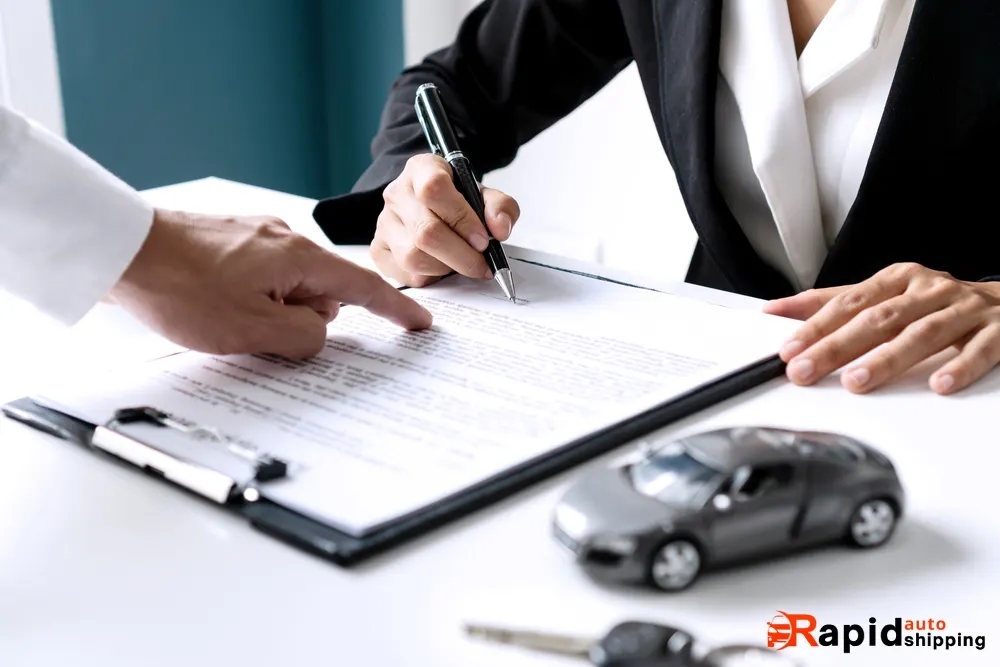 A photo ID
Rarely is a photo ID needed to ship a car. The critical question is whether transportation corporations want the data for their databases. You only need a driver's license when a photo ID is required.
Even while most companies will only need some of the documents mentioned above from you, it's always advisable to ask what papers you might need to gather before shipping.
To ensure everything is current and give yourself enough time to get in touch with your lienholder, if necessary, we advise finding your papers early in the process.
In short: Car shipment documentation
When it comes to transporting your car, it is essential to handle two critical documents: the bill of lading and the terms and conditions of the insurance.
When your vehicle enters a port, it is necessary to provide additional paperwork, including lienholder and absent owner authorizations.
Although certain companies may ask for other documents like your photo ID, proof of insurance, and title and registration, it is essential to note that these car shipping documents are not legally required for transporting your vehicle.
Yes. When you engage the services of a car shipping company, they will furnish you with a bill of lading. This car shipping document serves two critical purposes: it acts as proof of delivery and enables you to record any damages your vehicle may have incurred while in transit.

To prepare for transport, it is necessary to clean the interior and exterior of the vehicle thoroughly. Additionally, all personal items should be removed from the interior.
Lastly, it is essential to ensure adequate fuel in the tank for transportation. Before shipment, you may need to turn off specific features such as alarms or GPS systems.
It is advisable to capture photographs of your vehicle before handing it over to the shipping company.
It is essential to ensure that your vehicle is in excellent working condition and has no mechanical problems.
Please remove all personal items, including any valuable belongings, from the car.
Please ensure the gas tank is filled to a maximum of one-quarter capacity.
Please remove or securely fasten any loose parts, such as spoilers and antennae.
To properly maintain your car, it is essential to regularly clean the exterior and check for any signs of fluid leakage.
Please check the tire pressure and confirm that the tires are adequately inflated.
Please ensure that the battery is fully charged and functioning properly.
Please ensure that the car is adequately secured on the shipping truck.
Please ensure that you have all the required paperwork prepared in advance for the delivery.
If you plan to transport your car or truck across the United States, consider hiring an auto transport service. Auto transport services provide a cost-effective, secure, and convenient solution for transporting your vehicle between different locations. There are several advantages to utilizing an auto transport service.
Save both time and money:
Using a Rapid Auto Shipping service can be a beneficial way to save both time and money. They have a team of skilled professionals and state-of-the-art equipment to ensure your vehicle's fast, efficient, and safe transportation from point A to point B.
You can now put your worries about driving long distances or dealing with expensive repairs caused by road wear and tear to rest.
Transportation that is secure and safe:
When utilizing a rapid Auto Shipping service, you can have peace of mind knowing that your vehicle will be well taken care of by experienced professionals throughout the transportation process.
Professional companies utilize specialized equipment to securely fasten your car during transportation, thereby minimizing the risk of any potential harm or mishaps throughout the journey.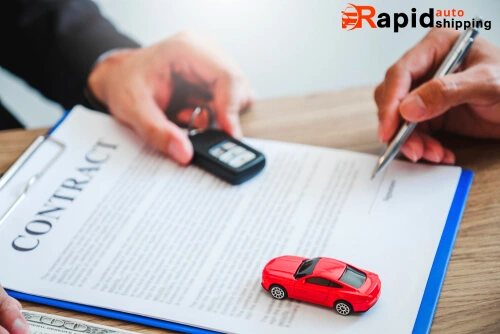 Options that are adaptable:
Auto transport services provide a wide range of options to cater to your specific requirements, ensuring that you can select the one that suits you best.
Whether you require open or closed-air transportation, door to door delivery, or terminal to terminal drop-offs, a suitable solution is available for your needs.
Carriers who are licensed and insured:
When selecting an auto transport company, it is essential to ensure that they possess the necessary licenses and insurance. This will provide you with peace of mind throughout the process.
Ensuring that the insurance policy of the transportation company covers any potential damage to your vehicle during transit, as well as their compliance with all federal regulations, is crucial in guaranteeing a safe and secure service for all customers.