A comprehensive understanding of the process involved in transporting historic automobiles can significantly enhance your experience, regardless of whether you are a classic car collector or an individual purchasing your dream car.
We're here to assist you from pricing to planning to choosing the best historic car carrier for your driveway. A classic car can be transported slower than most other types of freight.
Your car represents a significant time and financial investment. Thus it requires extra attention to be transported securely and effectively. Understanding the procedure and your options will help you make an informed choice regarding the shipping of your vintage vehicle.
There are various methods available for classic car shipping. We frequently opt for the enclosed carrier method when transporting vintage cars. This decision is made after conducting a thorough evaluation and considering our clients' specific requests.
Enclosed carriers provide optimal protection and security throughout the operation. We exclusively employ modern enclosed carriers for transporting your classic car.
We take pride in our highly efficient carrier network, enabling us to provide exceptional vehicle transportation services across all states. If you buy, collect, or sell classic vehicles, you can trust our fleet of enclosed carriers to handle the delivery of your standard cars.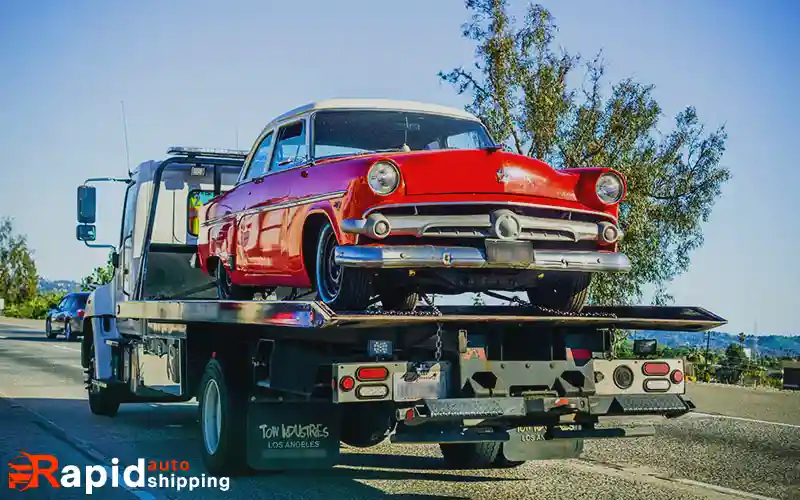 The cost of transporting a classic car is approximately $1.90 per mile for shipments within the 0-500 miles range. As an illustration, the average cost of transporting a classic car over a distance of 425 miles is approximately $807.50.
As the distance your classic car shipping carrier needs to cover increases, the cost per mile decreases. If you need to transport a car from one state to another, it is possible to find services that charge an average rate of $1.30 per mile.
Rapid Auto Shipping provides cost-effective classic car shipping solutions for vehicles of various shapes, sizes, and values. The cost of transporting classic and exotic cars can vary depending on several factors.
These factors include the time of year, the specific route for shipping the vehicle, the availability of drivers, any special considerations like transporting inoperable vehicles, and additional benefits offered for exotic car transport, such as expedited enclosed shipping.
The typical timeframe for state-to-state delivery is usually between 3 to 6 days. Delivery for a coast-to-coast shipment typically takes 7 to 10 days. For a comprehensive analysis, please refer to our webpage, which provides the required duration.
As a general guideline, it is reasonable to expect the carrier to cover a distance of approximately 300-500 miles daily. The journey time will depend on the prevailing weather conditions and the state of the roads.
The availability of the other individuals receiving the vehicles also plays a role. There is another advantage to consider when opting for the more expensive enclosed auto shipping option.
Whether you need exotic classic car transport, antique shipping, or any other type of unknown transport service, it is worth noting that certain carriers have a smaller capacity, allowing them to arrive more swiftly as they have fewer drop-offs to make.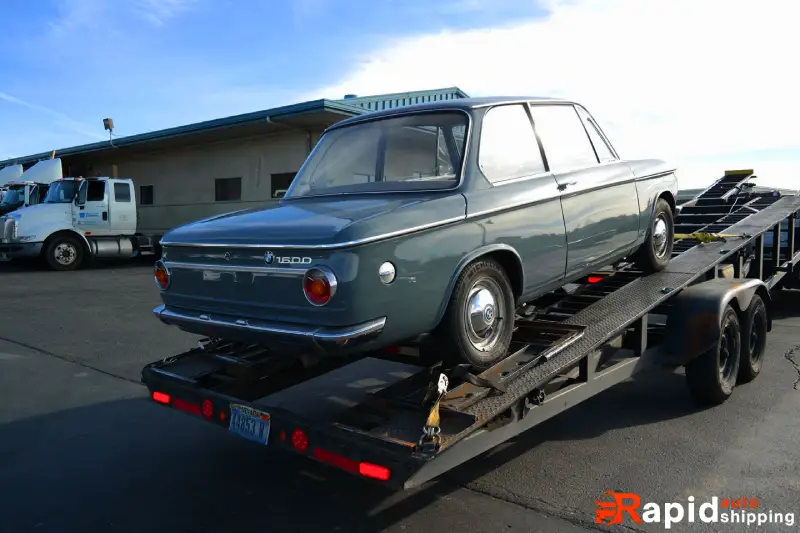 In this section, we will examine each option more thoroughly.
Open car shipping:
The most commonly used method for transporting vehicles is through this particular method. Most companies you contact will only provide this specific method. This is the reason why certain providers can offer significantly lower quotes. Please exercise caution when dealing with them as they only provide open transport services.
The cars are loaded onto a trailer in their current condition using this method. The carrier transports them precisely as they are. This implies that the vehicles lack any form of protection from the elements and the dirt or debris present on the road.
In all fairness, the most popular means of transport is relatively low risk. The likelihood of your car sustaining damage is approximately 5%. That is considered quite impressive, regardless of any criteria or benchmarks. Moreover, owning an average-priced vehicle can lead to significant cost savings. The likelihood of damage is minimal, and in the rare event that any issues arise, the cost of repairs is affordable.
On the contrary, if you own a higher-priced vehicle such as a Lexus or Ferrari, the 5% risk mentioned earlier becomes more noteworthy. Repairing even a tiny scratch on a luxury vehicle can be pretty expensive. When handling antique cars, relying on the expertise of experienced classic car shipping services such as Rapid Auto Shipping is advisable.
Scratches on a collector's item car can diminish its value significantly. Regardless of the circumstances, it is only advisable to transport high-value vehicles with proper protection. One of the benefits of utilizing open transport is its affordability. Another advantage is the ease of finding a carrier.
Open carriers are significantly more prevalent compared to their enclosed counterparts. When selecting transportation services for antique cars, it is essential to consider all associated expenses, including the cost of classic car transport per mile.
Enclosed car shipping:
To ensure the vehicles are well protected, utilizing a trailer that provides ample security measures is necessary. There are two available types; we will discuss this in more detail shortly.
Enclosed carriers offer a significant advantage by providing enhanced protection for the vehicles they transport. Cars are more effectively shielded from the elements and airborne debris that may be propelled from the road.
If you seek the utmost protection for your vehicle, look no further than this. It is essential to remember that the cost of enclosed auto transport will be slightly higher due to the additional protection it offers. If you are passionate about collecting classic cars, Rapid Auto Shipping traditional car auto transport services are tailored to meet your needs.
In addition to what our antique car shippers can accomplish due to their prior knowledge, you can also get your vehicle ready for shipping by doing the following:
Clean Your Car Clean and wash the inside and outside of your car. For transportation, the vehicle needs to be practically wholly empty.
Identify and Record Damage Pictures of any dents or scratches that are already present. Pictures offer accurate proof in the event of a dispute over the damage.
Discard Aftermarket Components Antennas, DVD players, baggage racks, bike racks, toll passes, and other items are just a few examples of these parts and components.
1/4 Gas Tank An almost empty tank will save weight and prevent unnecessary fees. Reduce the gas level in the tank to a quarter or an eighth.
Conduct a mechanical inspection. Check the battery, ignition, tires, fluids, and brakes, including emergency brakes. Minor leaks might result in serious issues, primarily if the automobile is driven hundreds of kilometers.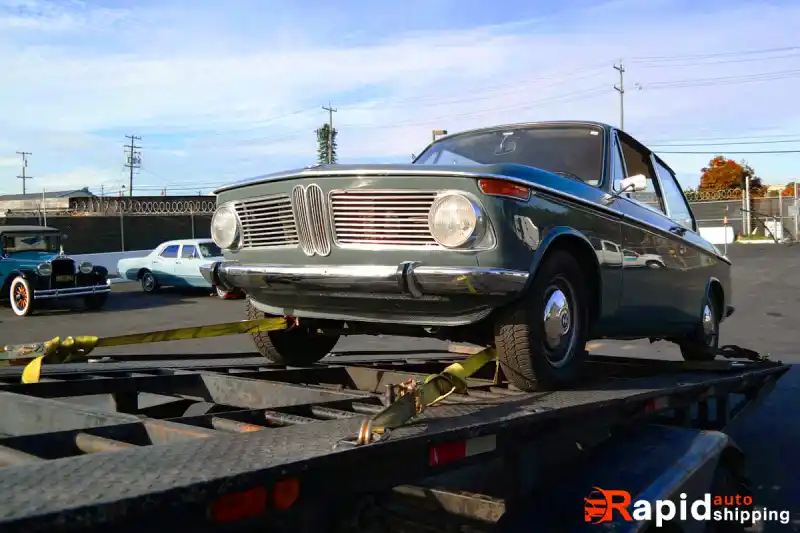 There are several methods available for calculating car transport quotes. You can obtain the cost of transporting a car through the transport company's website or by contacting them directly. Please inform them ahead of time if you require a prompt pick-up for your vehicle.