| Approximate Distance | Estimate Time | Estimate Price |
| --- | --- | --- |
| 1,200 miles | 4 to 6 days | $800 to $1,100 |
When it comes to Minneapolis to Austin auto transport or any other route, the typical approach is to hire a car shipping company. Here is a specific outline of the process:
Research and Choose a Car Shipping Company: Research car shipping companies that provide services along the Minneapolis to Austin route. When searching for Minneapolis to Austin auto transport services, it is essential to prioritize reputable companies with positive reviews and a proven track record of providing safe and reliable transport.
Request Quotes: Contact multiple car shipping companies to obtain quotes for transporting your vehicle. The cost of auto transport can vary depending on several factors, including the distance, type of vehicle, shipping method (open vs. enclosed transport), and time of year.
Book the Service: After choosing a car shipping company and receiving a quote that aligns with your budget, you can book their services. Before confirming the booking, it is essential to thoroughly review and comprehend the terms and conditions provided by the company.
Prepare Your Vehicle: To ensure a smooth transport process, preparing your vehicle before the scheduled pick-up date is essential. Some tasks to consider before returning the car include washing it, carefully noting any existing damage, removing personal belongings, and making sure the petrol tank is no more than a quarter full.
Pick-up: A carrier, which can be either an open or enclosed truck, will arrive at your specified location in Minneapolis on the scheduled pick-up date.
They will load your vehicle onto the trailer. The driver will conduct an inspection and generate a bill of lading, which is a document that provides a detailed account of your vehicle's condition before transportation.
Transportation: The carrier will transport your vehicle from Minneapolis to Austin. During this period, you can conveniently monitor the progress of your shipment and maintain communication with the shipping company to receive updates.
Delivery: After the carrier arrives in Austin, they will contact you to arrange the delivery. Upon delivery of your vehicle, it is important to thoroughly inspect it for any signs of new damage and proceed to sign the final paperwork.
Finalize Payment: Once your vehicle has been successfully delivered, you will proceed to finalize the payment with the car shipping company based on the previously agreed-upon terms.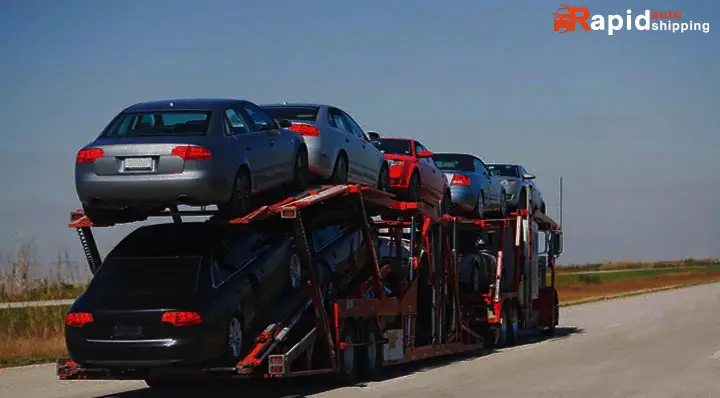 When considering Minneapolis to Austin auto transport, various types of services are available, each offering unique features, benefits, and costs. Here are several widely available auto transport services:
Open-Air Transport:
This option is well-known and offers a cost-effective solution. Your vehicle will be loaded onto an open-air trailer, exposing it to the elements. Although your car may be more affordable, it is essential to note that it may also be more susceptible to damage from weather conditions and road debris.
Enclosed Transport:
By choosing this option, your vehicle will be securely placed inside an enclosed trailer, ensuring protection against adverse weather conditions, debris, and any potential damage. This option is highly recommended for high-value, classic, or luxury vehicles.
Door to Door Transport:
The auto transport company will conveniently pick up your vehicle from your specified location in Minneapolis and deliver it directly to your desired destination in Austin. This option provides convenience, although it may come with a slightly higher cost.
Terminal to Terminal Transport:
To initiate the process, you must bring your vehicle to a specific terminal in Minneapolis. From there, the transportation service will transfer your car to a designated terminal in Austin.
Once your vehicle arrives at the Austin terminal, you can retrieve it. This option offers a more affordable alternative, but it does require you to drop off and pick up your vehicle personally.
Expedited Transport:
If you require fast transportation for your vehicle, you can choose expedited services. This option typically incurs higher costs but is well-suited for urgent situations.
The cost of Minneapolis to Austin auto transport may fluctuate due to various factors, such as the distance, type of vehicle, shipping method (open or enclosed carrier), time of year, and current market conditions.
To obtain a precise and current cost estimate, consider contacting auto transport companies directly or utilizing online auto transport cost calculators. Kindly provide comprehensive details regarding your specific requirements to ensure an accurate quote.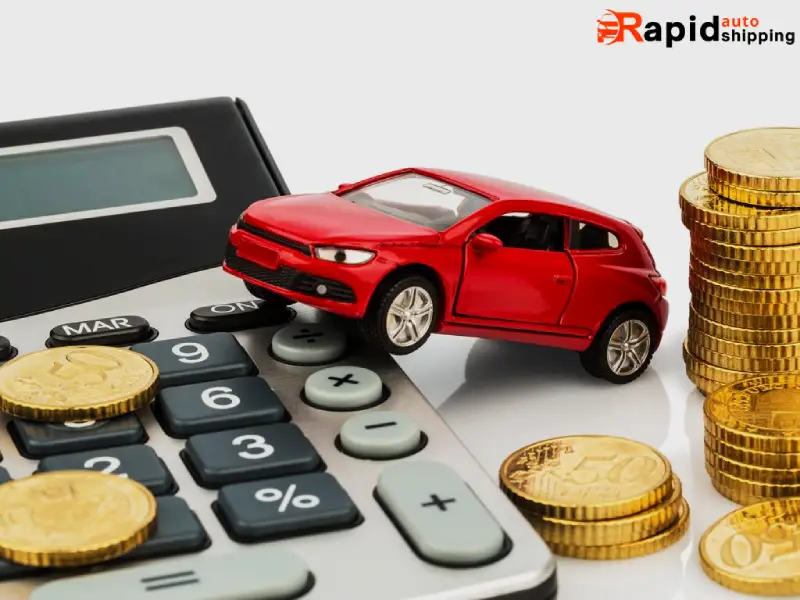 Here are several essential factors that may influence the cost of Minneapolis to Austin auto transport:
Distance: The distance between the pickup and delivery locations is essential in determining the cost. It is generally observed that increased distances often lead to elevated transportation expenses.
Type of Vehicle: The cost of Minneapolis to Austin auto transport may be influenced by the size, weight, and vehicle type. Larger vehicles or those that require special handling, such as oversized vehicles, luxury cars, or classic cars, may be subject to additional charges.
Vehicle Condition: The operational condition of the vehicle may influence the cost. If the vehicle is not currently in working condition, specialized equipment may be necessary for the loading and unloading process. This could result in an adjustment to the overall cost.
Transport Type: The decision between open and enclosed transport is a factor to consider. Enclosed transport is known for offering enhanced protection for the vehicle, albeit at a relatively higher cost than open carriers.
Season and Demand: The costs of Minneapolis to Austin auto transport can fluctuate depending on factors such as the time of year and the level of demand in the market. During periods of high demand, such as the summer season when there is increased relocation and travel, it is common for prices to reflect this demand.
Pickup and Delivery Locations: The Minneapolis to Austin auto transport cost may vary depending on the accessibility of the pickup and delivery locations. If the sites are situated in more secluded areas or entail navigating through intricate routes, the cost could experience an increase.
Time Frame: The timeliness of the transport may impact the pricing. Expedited or rush services may be subject to additional charges.
Fuel Prices: Fuel price changes can impact the overall expenses associated with auto transportation.
Transport Company: Auto transport companies may have different pricing structures and varying service quality. It is highly recommended to thoroughly research and carefully select a company with a strong reputation and track record of reliability.
Insurance Coverage: The extent of insurance coverage offered by the transport company may impact the overall cost. It is possible that opting for more extensive insurance coverage could result in a slightly higher price.
Additional Services: Please note that there may be additional charges associated with certain services, such as door to door delivery, terminal to terminal delivery, or special handling requests, which could affect the total cost.
The time it takes from Minneapolis to Austin auto transport can vary due to various factors such as distance, route, mode of transportation, weather conditions, traffic, and the policies and schedules of the auto transport company.
Driving Yourself: The distance between Minneapolis, MN, and Austin, TX, is approximately 1,200 to 1,300 miles if you operate the vehicle. The duration of the drive will vary based on your average speed and the number of stops you make.
Assuming an average rate of 65 to 70 miles per hour, a non-stop drive typically takes 18 to 20 hours. However, the duration of the journey can vary significantly depending on factors such as traffic conditions and the frequency of rest breaks.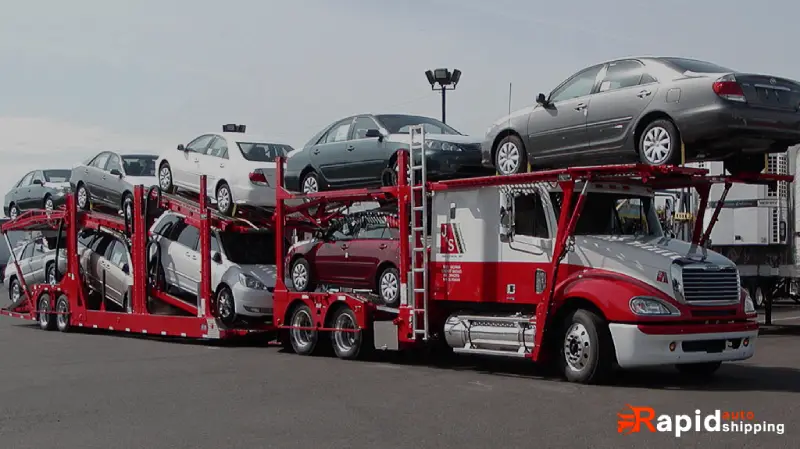 Auto Transport Carrier: When utilizing an auto transport carrier, whether open or enclosed, it is essential to note that the transportation process may require a few days. On average, auto transport carriers cover approximately 400-500 miles daily.
Based on the information provided, estimating that the Minneapolis to Austin route would take about 3 to 5 days is reasonable. Delays caused by weather conditions, road closures, or scheduling issues can impact the actual transit duration.
Seasonal Factors: It is essential to consider that the time of year can also affect the duration of transportation. Longer transit times may occur due to adverse weather conditions in winter or high demand during peak moving seasons.
Type of transport: The duration of your vehicle may also be influenced by the carrier you choose, whether it is an open or enclosed carrier. Open carriers are generally more prevalent and may offer slightly faster delivery times than enclosed carriers.
Scheduling and availability: Different auto transport companies have varying schedules and availability. To ensure accurate information, you must contact the auto transport company you are interested in and ask about their estimated transit time for the route from Minneapolis to Austin.
Preparation and Processing: It is also essential to consider the time required for arranging transportation, preparing the vehicle for shipping, and completing any necessary paperwork requested by the auto transport company.