Vehicle shipping in Texas operates through a network of transportation companies that specialize in relocating vehicles within the state or across long distances. To get started, you'll need to select a vehicle shipping method, such as open or enclosed transport, depending on your vehicle's needs and your budget.
After choosing a reputable vehicle shipping company in Texas, you'll request a quote and book their services. Prior to pickup, prepare your vehicle by cleaning it and removing personal belongings. When the carrier arrives for pickup, both you and the carrier will inspect the vehicle's condition and document it.
The vehicle is then transported to its destination, with tracking options available for you to monitor its progress. Upon delivery, you'll inspect the vehicle again, and once satisfied, you'll complete the necessary paperwork and pay any remaining fees. It's important to select a reliable company and keep all documentation for a smooth and secure vehicle shipping experience in Texas.
Customers in Texas have access to various transport options, including open and enclosed transport, and the convenience of door to door services. The seasonal demand for auto transport services can affect pricing and availability, with considerations like weather conditions and peak moving seasons playing a role.
Regulations set by the Texas Department of Motor Vehicles (TxDMV) ensure that companies meet safety and licensing requirements.
It's crucial for customers to research and choose reputable companies, review insurance coverage, and consider factors such as distance, vehicle size, and transportation type when making their transport arrangements.
Planning in advance and booking services from a licensed and insured company is advisable for a smooth and reliable vehicle transport experience in the state of Texas.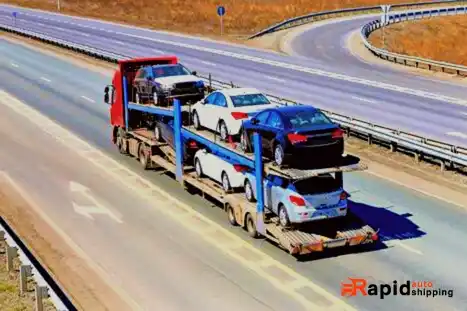 Auto shipping services in Texas encompass a range of options to transport vehicles within the state, to other states, or even internationally. Here are some of the primary auto-shipping services available in Texas:
Open Car Transport:
This is the most common and cost-effective method of auto transport. It's a suitable option for most standard vehicles.
Enclosed Car Transport:
Enclosed transport provides added protection as vehicles are transported in enclosed trailers. It's preferred for high-value or classic cars, as it shields them from weather, debris, and potential damage.
Door-to-Door Service:
With door-to-door service, the auto transport company picks up your vehicle from your specified location (e.g., home, office, or dealership) and delivers it to the destination address of your choice, offering convenience and ease.
Terminal-to-Terminal Service:
In this service, you drop off your vehicle at a designated terminal, and it is then transported to another terminal closer to your destination, where you pick it up. It may be a more cost-effective option but less convenient than door to door service.
In-State Auto Transport:
This involves transporting a vehicle within the state of Texas. Whether you're moving within Texas or buying/selling a vehicle within the state, in-state auto transport services can help.
Interstate Auto Transport-
If you're moving to or from Texas or need to transport a vehicle across state lines, interstate auto transport services are essential. Texas' extensive network of highways and interstates facilitates this.
International Auto Shipping-
For those relocating internationally or buying/selling vehicles overseas, international auto shipping services can help facilitate the transportation of vehicles to and from Texas.
Specialized Vehicle Transport-
Some auto transport companies specialize in transporting unique vehicles such as motorcycles, RVs, boats, or oversized vehicles. They have the expertise and equipment to handle these specific transport needs.
Military Auto Transport-
Texas has several military bases, and many companies offer specialized auto transport services for military personnel, ensuring seamless relocations for service members and their families.
Commercial Vehicle Transport-
Businesses in Texas often require the transportation of commercial vehicles, such as trucks, vans, or fleets. Auto transport services can handle the logistics of moving these vehicles.
When choosing an auto shipping service in Texas, consider factors such as your vehicle type, budget, timeline, and specific needs. It's crucial to research and select a reputable and licensed auto transport company that aligns with your requirements to ensure a smooth and secure vehicle transportation experience.
Car transport in Texas offers a range of services catering to diverse transportation needs. With its vast size and extensive network of highways and interstates, Texas plays a pivotal role in the auto transport industry.
Whether you're looking to move your vehicle within the state, transport it to another state, or even internationally, Texas has numerous options to choose from.
These services include open and enclosed transport, door-to-door or terminal-to-terminal options, and specialized services for unique vehicles like motorcycles, classic cars, or commercial fleets. Texas' auto transport industry serves individuals, businesses, and military personnel, ensuring reliable and convenient vehicle transportation solutions.
To make the most of these services, it's essential to research and select a reputable auto transport company that suits your specific needs while ensuring the safe and efficient transport of your vehicle.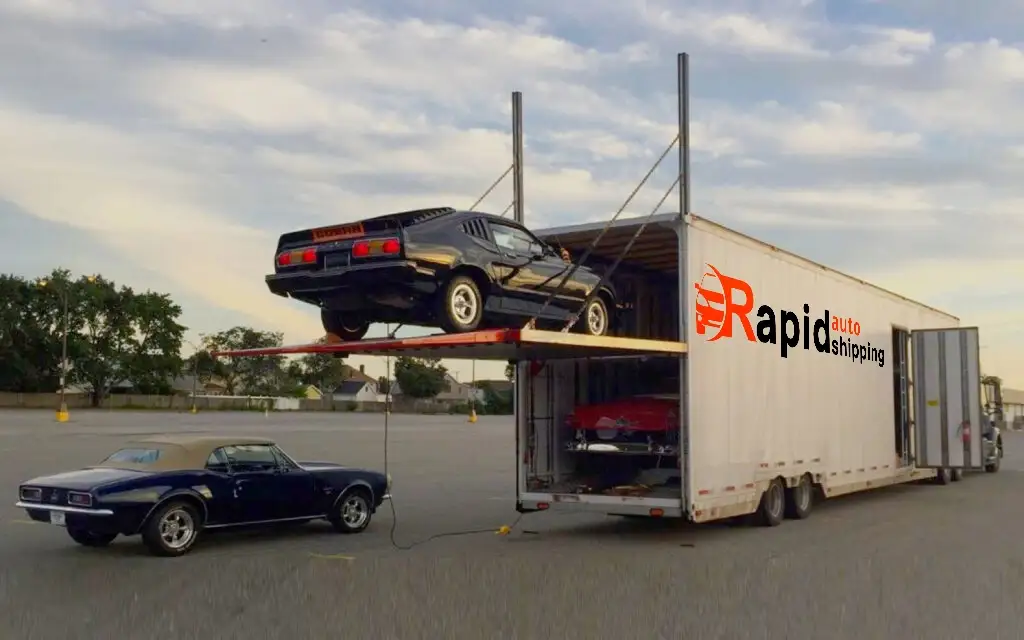 If you're looking for car movers in Texas to transport your vehicle, you have several options. Car movers, also known as auto transport companies or car shipping services, can help you move your vehicle within Texas or to/from Texas to other locations.
Shipping a car to Texas
Whether you're adding to your classic or luxury car collection, moving out for work or you're a service member with change of station orders, because shipping a vehicle to Texas requires professional skills as well as affordable cost too. Leave your Texas auto transport to the experts at Rapid Auto Shipping
Shipping a car from Texas
Finding Texas car shipping near you is easy with Rapid Auto Shipping. Our affordable car carrier network transports vehicles across the country or just over the Texas state line.
| Shipping to | Shipping from | Average distance | Time estimate | Price estimate |
| --- | --- | --- | --- | --- |
| Texas | California | 1,577 miles | 5-8 days | $1,349 |
| Texas | Florida | 1,206 miles | 5-6 days | $1,039 |
| Texas | New Jersey | 1,635 miles | 5-7 days | $1,276 |
| Texas | Washington | 2,128 miles | 6-8 days | $1,533 |
Online Search:
You can start by conducting an online search for "car movers in Texas" or "auto transport services in Texas." This will give you a list of companies that provide car shipping services in the state.
Check Reviews and Ratings:
Once you have a list of potential car movers, it's a good idea to read customer reviews and check their ratings on websites like Yelp, Google, or the Better Business Bureau. This can help you gauge the quality of their services and customer satisfaction.
Request Quotes:
Contact several car movers for price quotes. They will typically ask for information about your vehicle (make, model, year), the pickup and delivery locations, and the preferred type of transport (open or enclosed trailer). Getting multiple quotes will allow you to compare prices and services.
Verify Insurance and Licensing:
Ensure that the car mover you choose is licensed and insured. Ask for proof of insurance and any necessary permits to operate in Texas.
Ask About Services:
Inquire about the services they offer. Some car movers provide door to door service, while others may require you to drop off and pick up your vehicle at a designated terminal. Make sure the services offered align with your needs.
Schedule in Advance:
Car shipping services can book up quickly, so it's advisable to schedule your move well in advance, especially if you have specific timing requirements.
Prepare Your Vehicle:
Before the car mover arrives, you'll need to prepare your vehicle. This typically involves removing personal items, ensuring the vehicle is in good working condition, and documenting its current state through photos.
Sign a Contract:
Once you've chosen a car mover, carefully review and sign a contract that outlines the terms and conditions of the service, including the pickup and delivery dates, payment details, and any other relevant information.
Track Your Shipment:
Many car movers provide tracking services so you can monitor the progress of your vehicle's transport.
Receive Your Vehicle:
When your vehicle arrives at its destination, inspect it to ensure there are no damages during transport. Note any issues on the Bill of Lading provided by the car mover.
Remember that the cost of car shipping can vary depending on factors like distance, type of transport, and the size of your vehicle. It's essential to do your research and choose a reputable car mover that meets your specific needs.