Enclosed and Open car transport are two distinct transportation methods, each with unique characteristics. If you book open carrier car shipping, your vehicle will be transported on an open trailer.
Although the cost is lower, it is essential to note that your car will be exposed to the elements. Our customers prefer this method because it is easy, quick, and secure. Enclosed auto transport provides additional protection for your vehicle by enclosing it on all sides.
When deciding between enclosed transport and open auto transport, it is essential to consider the following factors. We have found that open carrier car shipping meets the needs of most vehicle owners.
Although there is a slightly higher risk of road damage, the associated risk is minimal, and opting for open auto transport offers a lower cost.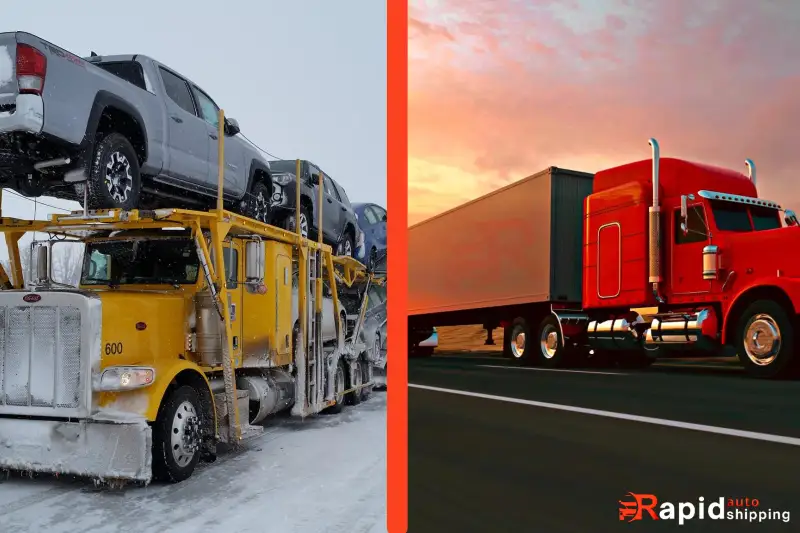 When it comes to choosing car shipping, there are plenty of options available. However, we recommend open transport car shipping if your vehicle is standard and you want to minimize costs. Car dealerships choose it because it is a safe, reliable, and fast option.
Both open and enclosed car transport options are viable, but they are suited for different circumstances. However, we have found that open transport car shipping suits most car transport.
Open or open carrier car shipping is a shipping method that involves transporting vehicles on an open trailer. Although alternative approaches exist, such as enclosed car transport, open auto shipping provides several benefits.
Cost-effective: Open car transport is typically more cost-effective than enclosed transport. The trailer's open design allows it to accommodate multiple vehicles simultaneously, which helps distribute the cost among several customers. This makes it a more cost-effective choice.
Wide availability: Open auto shipping is the most common and widely available method of shipping vehicles. Therefore, you can effortlessly locate carriers and make reservations for their services with minimal inconvenience. The wide availability of our services ensures that scheduling is convenient and delivery times are faster.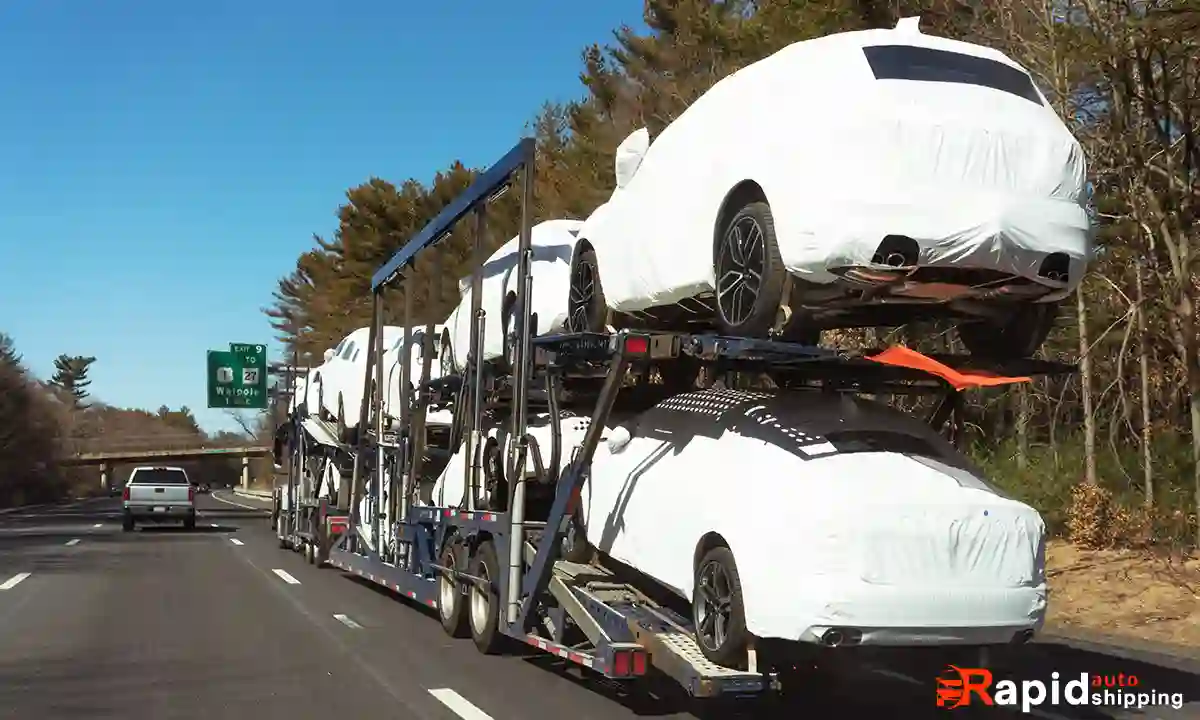 Efficient for standard vehicles: Open auto transport is ideal for transporting standard vehicles such as sedans, SUVs, and trucks. These vehicles are designed to endure weather conditions and road debris, making them highly suitable for open transportation.
If your vehicle does not need the additional protection offered by enclosed transport, open auto transport is a practical option.
Quicker transit times: Open auto transport is often more readily available, which allows carriers to offer faster transit times. More open carriers on the road increase the likelihood of finding a carrier whose route matches your desired delivery timeline.
Visibility and monitoring: During open auto transport, your vehicle is visible throughout the transportation process. This feature lets you conveniently monitor its condition and closely observe the loading and unloading process. The transparency of open transport can offer vehicle owners a sense of peace and reassurance.
Efficiency in large-scale shipping: Open auto transport is especially beneficial for shipping multiple vehicles simultaneously. Open transport is a convenient and cost-effective option for shipping multiple cars simultaneously, whether you're a car dealership, an auction house, or an individual looking to ship several vehicles.
Eco-friendly option: Open car transport is an efficient method of transportation that can carry multiple vehicles in a single trip. This saves time and resources and helps reduce the overall carbon footprint associated with transportation. Maximizing the trailer's capacity helps reduce fuel consumption and emissions per vehicle transported.
The number of days required will vary depending on factors such as the length of the route, weather conditions, and road conditions.
Open car transportation is generally faster than other types of transportation because of the abundance of open trailer vehicles. In other words, you can find your professional driver much more quickly.
The cost of shipping a car using open transport can vary between $500 and $2,000 or more, depending on several factors. The factors that affect the cost of shipping a vehicle include the number of cars being imported, the distance of the shipment, and the year, make, and model of the car.
To determine the potential cost of shipping a car using open transport, we recommend using our instant calculator to obtain a quote. Booking is not obligatory, so getting an instant quote for open transport car shipping carries no risk.
Once you provide all the necessary shipment information, you will receive multiple quotes from reputable transportation companies in your area.
Open car shipping is widely recognized as a highly cost-effective method for transporting vehicles, and this is attributed to several reasons:
Shared Transportation: Open auto shipping refers to the process of transporting vehicles on an open trailer that can carry multiple cars at the same time. Sharing the cost of transportation among multiple vehicles helps to lower the overall cost per vehicle, making it a more affordable option when compared to other methods.
Availability and demand: Open car carriers are readily accessible and frequently utilized in the automotive transportation sector. The strong demand for open car shipping services has intensified competition among carriers, ultimately driving down prices.
Furthermore, numerous open carriers make locating a carrier and arranging transportation more convenient and efficient, eventually leading to potential cost savings.
Lower Operating Costs: Open carrier car shipping has lower operating costs when compared to enclosed carriers. Enclosed carriers necessitate specialized equipment, such as fully enclosed trailers, with higher acquisition, maintenance, and operation prices.
On the other hand, open carriers offer a more straightforward and cost-effective solution, reducing transportation expenses.
Insurance Coverage: Although open auto shipping may not offer the same level of protection as enclosed transport, reputable carriers still provide insurance coverage for any potential damages or losses that may occur during transit.
This insurance coverage helps to reduce risks, making open shipping a cost-effective choice for numerous vehicle owners.
Suitable for Most Vehicles: Open car shipping suits various vehicles, such as sedans, SUVs, and standard-sized cars. Carriers can effectively utilize their open trailers, simultaneously transporting multiple vehicles and maximizing efficiency. The efficiency of open shipping reduces costs and makes it an economical choice for many.
When it comes to shipping a car, open auto shipping is widely recognized as the fastest method of transportation. The reason for this is that a majority of open carrier car shipping is readily available to transport your cars from one place to another.
Yes, it is a door to door transportation service. When you choose open carrier transport for shipping your vehicle, the carrier will pick it up from a location of your choice and deliver it right to your door.
The open car transportation company will make alternative arrangements if it is not safe or legal to do so. You can be confident that they will arrange pick-up and delivery locations as close to your door as possible.