The below table shows the approx time to ship a car
| Mileage | Transit Time |
| --- | --- |
| 0-500 miles | 1-2 days |
| 500-1000 miles | 2-3 days |
| 1000-1500 miles | 3-4 days |
| 1500-2000 miles | 5-6 days |
| 2000-2500 miles | 6-7 days |
| 2500-3000 miles | 7-8 days |
| 3000+ miles | 10-12 days |
Car transport services are specialized companies that offer the transportation of vehicles from one location to another. These services cater to a variety of needs and situations, ensuring the safe and secure transport of cars, trucks, motorcycles, and other vehicles.
Some are:-
Open-Air Auto Transport:
This is the most common and cost-effective method for car shipping. It's suitable for standard vehicles and short to medium distances.
Enclosed Auto Transport:
Enclosed carriers provide extra protection for high-value, classic, or luxury vehicles. They shield vehicles from the weather and potential road debris during transit, making them a preferred choice for valuable cars.
Door to Door Transport:
This service involves the pickup of the vehicle at the owner's location and the delivery to the specified destination. It offers convenience and reduces the need for the owner to transport the vehicle to a terminal.
Terminal to Terminal Transport:
In this service, the vehicle is dropped off and picked up at specified terminals. It's often more cost-effective but may require the owner to transport the vehicle to and from these terminals.
Inoperable Vehicle Transport:
These services specialize in transporting non-running vehicles, which may require special equipment or winching during loading and unloading.
International Car Shipping:
Companies that offer international car transport services handle the logistics of shipping a vehicle across international borders. This includes handling customs documentation and regulations.
Military Vehicle Transport:
Designed for military personnel and their families, these services cater to military vehicle relocations, often offering discounts and convenient options.
Expedited Shipping:
If you need your vehicle to arrive quickly, expedited car transport services can be arranged for faster delivery, although it may come at a higher cost.
Classic and Collector Car Transport:
Specialized services are available for transporting valuable and vintage cars, providing extra care and protection.
Online Vehicle Marketplaces:
Some online platforms connect vehicle owners with independent carriers for transportation services, allowing customers to request quotes and choose a carrier.
When selecting a car transport service, it's crucial to consider factors like cost, transit time, the condition of your vehicle, and your specific requirements. It's also essential to choose a reputable and insured car transport company to ensure the safety and reliability of your vehicle during transit.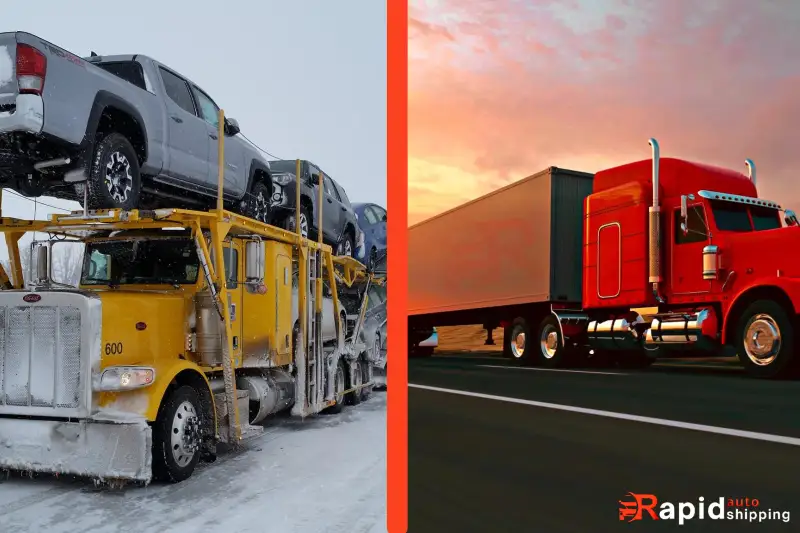 Shipping a car to another state is relatively straightforward; it's mainly about how long the truck driver takes to move your vehicle from one place to another.
However, when you're shipping a car to a different country, it becomes more complicated. There are several steps involved, including picking up the car at your home, moving it to a port, shipping it to a foreign country, and then possibly moving it again to its final destination. This whole international process can take anywhere from a couple of weeks to over a month, depending on how complex your move is.
Yes, you can ship your car to another state by following major steps, that are:-
Research State Requirements:
Investigate the specific regulations and prerequisites of your new state, especially concerning vehicle registration, emissions, inspections, and insurance.
Update Address and Documentation:
Notify your car insurance provider and the current state's DMV of your address change. Ensure your insurance policy and vehicle registration reflect your new location.
Vehicle Inspection and Emissions:
Confirm whether the new state mandates vehicle inspections or emissions testing. Complete these tests if required and obtain the necessary documents.
Registration and Driver's License:
Register your vehicle in the new state by submitting the relevant application and fees. Obtain a new driver's license from the new state if you are permanently moving there.
Decide on Car Transport:
Choose whether to drive your car to the new state or hire an auto transport service based on factors like distance, time constraints, and personal preferences.
Prepare Your Vehicle:
Ensure your vehicle is in good working condition before moving. Conduct necessary maintenance, clean the car, remove personal items, and verify all essential paperwork.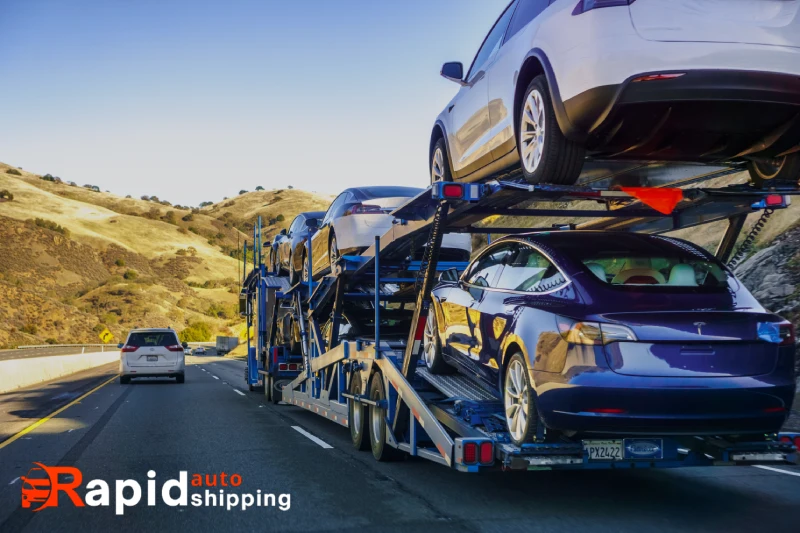 When it comes to getting your car delivered quickly, it's crucial to plan ahead. Whether you're selling your car, moving, or excited about a new purchase, here are some tips for faster car shipping:
Avoid Last-Minute Booking:
Car transport involves coordination and planning. To ensure on-time delivery, don't wait until the eleventh hour to schedule your car shipment. Ideally, book your car transport at least 2-3 weeks before your desired pickup date. This allows the transport company to find a suitable driver and coordinate the pickup efficiently.
Research the Company:
Before you entrust a car shipping company with your vehicle, do your homework. Check customer reviews and third-party review sites to gauge the quality of their service. Pay attention to any reports of multiple delays, as this could indicate potential delays for your delivery too. It's essential to choose a reputable and reliable company for a quicker and smoother process.